What Sanders surge? Clinton campaign still confident in Nevada
February 11, 2016 - 7:21 pm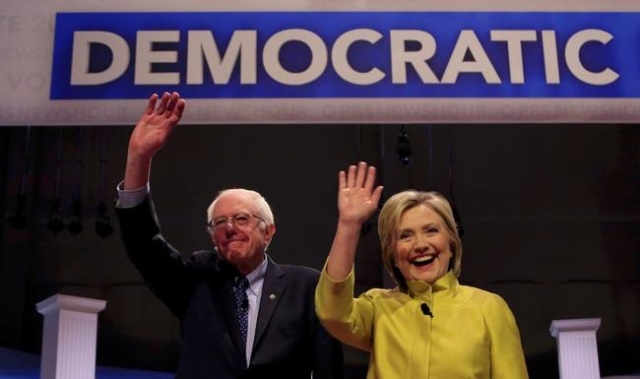 Just in case you had any lingering doubts about the Hillary Clinton campaign's expectations for the Nevada Democratic presidential caucus Feb. 20, let the campaign's state director put your mind at ease.
"We're incredibly proud of our precinct captains," said Emmy Ruiz. "I would bet on them any day of the week. Yes, I'm telling you we are going to win in Nevada."
What's the big deal, you ask? Wasn't Nevada — more diverse, more union and more western than the two earliest states to vote — always supposed to be Clinton country, the so-called firewall against any potential Bernie Sanders surge?
That was the conventional wisdom before Sanders battled to within three-tenths of a percentage point in Iowa, and delivered a decisive 22-point defeat in New Hampshire.
All of a sudden, tiny Nevada has become ever more important, Ruiz acknowledged. "I really feel that responsibility," she said. "There's a lot on the line here."
Doubts began surfacing recently, however. Just before New Hampshire's (fully anticipated) loss, Clinton campaign spokesman Brian Fallon went on MSNBC and appeared to play down expectations for Nevada.
"There's going to be a narrowing in both places [Nevada and South Carolina] — we're clear-eyed about that," Fallon said. "There's an important Hispanic element to the Democratic caucus in Nevada. But it's still a state that is 80 percent white voters. You have a caucus-style format, and he'll [Sanders] have the momentum coming out of New Hampshire presumably, so there's a lot of reasons he should do well."
In other words, don't be surprised if Clinton's firewall doesn't stop the Sanders Tsunami?
Leave aside for a moment the demographics — according to Census Bureau estimates, Nevada is currently about 30 percent Hispanic, with 9 percent black and 8 percent Asian. And leave aside the fact that Fallon was talking about the demographics of voters the Clinton campaign expects to turn out on caucus day. There's still a lot of bet-hedging and anticipatory told-you-soing happening in his remarks.
For her part, Ruiz is confident, relying on an organization that started up nearly a year ago in Nevada. But even so, she's not predicting a blowout. "We're really upbeat about the Nevada caucus," Ruiz said. "We know it's going to be a tight, tight race."
Unlike, say, the race for convention delegates, where Clinton has a commanding national lead, 394 to 44, with 2,382 needed to clinch the nomination, according to Bloomberg Politics. How is that possible, given Sanders' performance? Because Clinton has far more superdelegates (elected officials and members of the Democratic National Committee who can cast their votes for anyone they wish, regardless of what voters in their states do).
Clinton's lead is almost exclusively due to her strength earning superdelegate support. (Unlike delegates pledged in state primaries and caucuses, however, superdelegates are allowed to change their minds.)
The Clinton campaign is still operating under a key assumption: The more minority voters, the better things will go for Clinton. But Sanders has been able to lock up the votes of young people. If he succeeds in getting enough of them out on caucus day, he could upend the Clinton model.
"We're going to work really hard to earn the support of every person who participates in the Democratic primary process," Ruiz says, even as she acknowledges Sanders' acumen in reaching younger people.
In 2008, the Nevada caucus ended in a close, split decision, with Clinton winning the popular vote and Barack Obama winning more delegates. This year promises to be a close finish, too. In fact, the father of the Nevada caucus — U.S. Sen. Harry Reid — said on CNN on Thursday that a brokered Democratic convention (in which neither candidate has enough delegates to win) would be "fun." It's a good bet that, for once, plenty of Nevada Democrats disagree with him.
— Steve Sebelius is a Review-Journal political columnist and co-host of the show "PoliticsNOW" airing at 5:30 p.m. Sundays on 8NewsNow. Follow him on Twitter (@SteveSebelius) or reach him at 702-387-5276 or SSebelius@reviewjournal.com.