'Coincidences' point to partisanship in Burnett-tape probe
Updated May 15, 2017 - 7:30 pm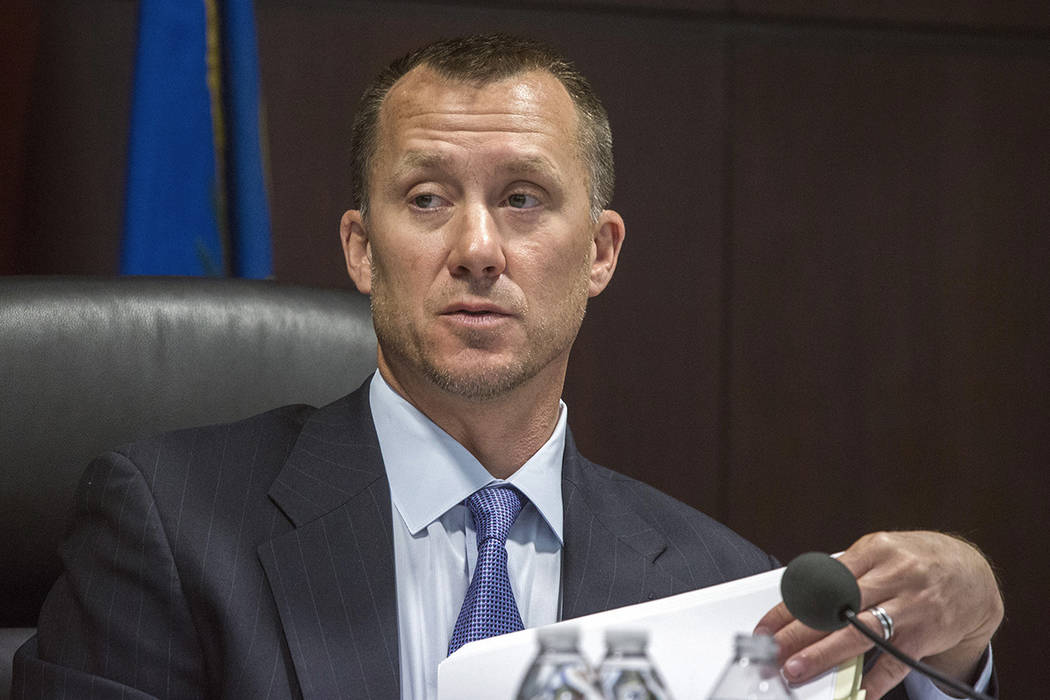 "Coincidences" keep piling up in the narrative liberals are spinning about Gaming Control Board Chairman A.G. Burnett's secret recording of a March 2016 conversation with Attorney General Adam Laxalt. Not so coincidentally, the more we learn, the more it looks like Burnett, not Laxalt, acted inappropriately.
Last week, Sean Whaley wrote about Burnett's recording and an affidavit Burnett created defending his clandestine operation. Burnett and Laxalt were discussing whether the Gaming Control Board, which is represented by the attorney general's office, should file an amicus brief defending the confidentiality of information obtained by the board from Las Vegas Sands Corp.
Sands ultimately settled the lawsuit.
The affidavit became public after Assembly Ways and Means Chairwoman Maggie Carlton subpoenaed the recording and "[a]ny document created by A.G. Burnett … which verifies the circumstances and events associated with any audio records described [previously]."
Carlton issued the subpoena on May 3. But Burnett just happened to create a 14-page affidavit giving his side of the story on April 27, months after Nevada Democrats filed an ethics complaint related to the recording. Who doesn't enjoy putting together detailed legal documents — under oath — in their free time?
Needless to say, the timing raised eyebrows.
"Leaving aside for the immediate moment the veracity of, or political motivations behind, your 14-page affidavit, I would like to know who asked you to draft, sign and cause to be notarized the affidavit?" Senate Minority Leader Michael Roberson, R-Henderson, wrote to Burnett on Monday, before concluding with this zinger: "I trust you understand that I would like your responses in written form rather than in a private meeting."
Carlton provided some explanation in her own Monday letter.
"On April 28th, I called the Chairman of the Gaming Control Board to see if he would voluntarily turn over the recording," Carlton wrote. "[I]t became clear that there were supporting documents to back up the tape—namely, an already-executed affidavit from the Chairman, though I was unaware of that prior to April 28th conversation."
So Carlton admits to calling Burnett just one day after Burnett seemingly, randomly, decided to complete an affidavit that would give his spin on his decision to record a conversation with an elected official. Coincidence, I'm sure.
Then the affidavit was leaked to the press. Attorney-client privilege appears to be preventing Laxalt from sharing his side of the story. Just another coincidence.
As I exposed last week, Burnett coincidentally failed to mention in the affidavit that there was nothing unprecedented about Laxalt's request for Gaming Control Board intervention in a private-party lawsuit, where one party was a gaming licensee, to defend the confidentiality of information held by the board. U.S. Sen. Catherine Cortez Masto did it in 2013, when she was attorney general, Burnett was the control board's chair and the information wasn't even requested from the board.
On Monday, Carlton asked Laxalt to attend a legislative hearing on the recording on Wednesday. Coincidentally, Laxalt had planned to attend an out-of-state fundraiser in support of his all-but-announced 2018 campaign for governor.
The one person on the record who'd already "moved on," coincidentally, is Burnett.
"I have to make sure everything is done absolutely appropriately," Burnett told the Review-Journal's Rick Velotta on Friday. "So after that, we moved on, and this all came as a huge shock to me when it was made public. It was something that we had moved on from."
That's too many coincidences, especially in politics.
The Gaming Control Board or Carlton should release the recording, and Burnett should release any attorney-client privilege.
Let's find out whether the coincidences point to actual wrongdoing or a partisan attempt to smear a future gubernatorial candidate — assisted by Burnett's attempts to salvage his credibility and trustworthiness.
The Review-Journal is owned by the family of Las Vegas Sands Corp. Chairman and CEO Sheldon Adelson.
Contact Victor Joecks at vjoecks@reviewjournal.com or 702-383-4698. Follow @victorjoecks on Twitter.
Roberson letter to Burnett by Las Vegas Review-Journal on Scribd
Laxalt Letter to Carlton – May 15 by Las Vegas Review-Journal on Scribd
Carlton response to Laxalt by Las Vegas Review-Journal on Scribd
Laxalt Letter Responding to Carlton – May 15 by Las Vegas Review-Journal on Scribd