Collective bargaining proposal would squeeze education funding
Updated April 19, 2017 - 11:30 am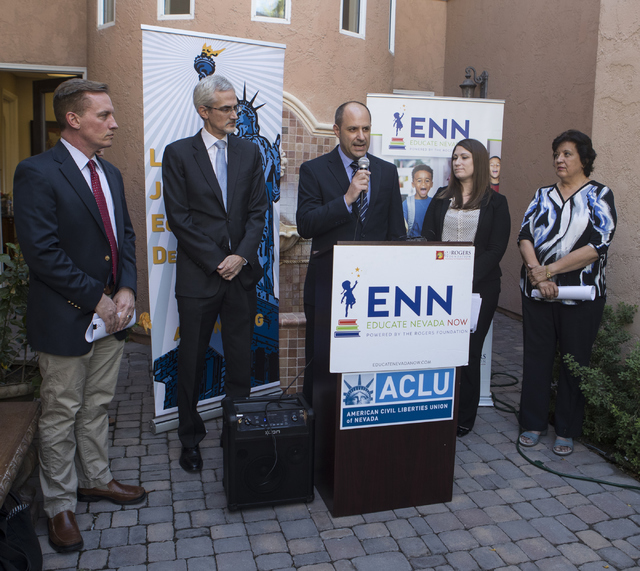 CARSON CITY
Rarely do you see a teachers union supporting a policy that would decrease future education funding, but that's what the Nevada State Education Association did recently at the Nevada Legislature.
The bill is SB486, which would give state workers the ability to bargain collectively. Currently, state government has given only local government employees the ability to bargain collectively. Local unions have leveraged this power to dramatically increase their pay. Just go to TransparentNevada.com and look at the thousands of employees, most working for local governments, making more than $200,000 a year in total compensation.
These wages are so high because of collective bargaining. Just consider the unsustainable 2006 contract with Las Vegas Metro that included 10 percent yearly raises for four straight years.
This is the often-ignored driving force behind the now-dead local government push for property tax increases. Now unions, including the Nevada State Education Association, want to bring those same problems to state government.
"Like many of my co-workers, I haven't had an increase in salary for over eight years," testified Harry Schiffman, an electrician at UNLV and president of AFCSME Local 4041. "The major contributor as to why we were forced into poverty wages during the recession is because we lack a mechanism to fairly negotiate with our employer."
Many Nevadans would love to have the "poverty wages" Schiffman sniffles about. In 2016, Schiffman made $50,634 in base pay and $88,106 in total compensation. Per-capita income in Clark County was $40,652 in 2015, according to the Federal Reserve Bank of St. Louis. If state workers had collective bargaining, though, those wages would be even higher.
That money would have to come from somewhere. During the last downturn, K-12 education funding emerged virtually unscathed, in part because state leaders put state workers on furlough. Per-pupil funding through the Distributive School Account dipped by around 1.5 percent a couple of times, but those decreases were offset by increases the next year. In contrast, Nevada's real per-capita income dropped by 11.9 percent in 2010, according to the U.S. Census Bureau.
That would change with collective bargaining. State lawmakers wouldn't have the flexibility to reduce or freeze state employee wages. Rather, they'd be locked into pay increases, which would mean less for other priorities, like K-12 education. Since Nevada requires two-thirds approval in both houses for any tax increase, taking more from taxpayers — who would be suffering while state workers got pay hikes — would be a hard sell.
Gov. Brian Sandoval's spokeswoman, Mari St. Martin, has all but guaranteed a veto of SB486, but if collective bargaining does pass in a future session, expect it to reduce K-12 education funding during the next downturn.
Victor Joecks' column appears in the Nevada section each Monday, Wednesday and Friday. Contact him at vjoecks@reviewjournal.com or 702-383-4698. Follow @victorjoecks on Twitter.