How Democrats could force Uber out of Nevada without a recorded vote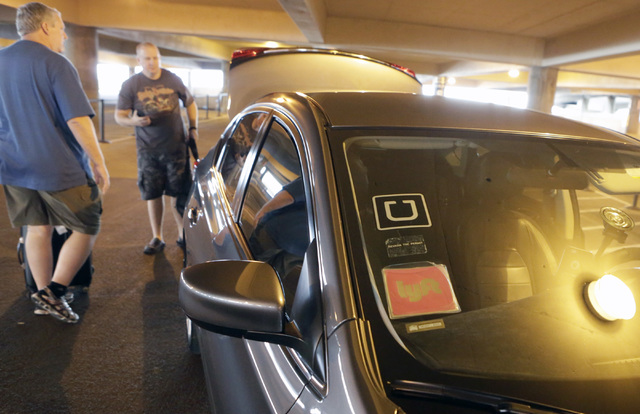 CARSON CITY — Democrats could put Uber out of business in Nevada without recording a vote on the final legislation.
Welcome to the last 128 hours of the 2017 Nevada Legislature.
The Review-Journal this week reported that regulations taxi companies want imposed on transportation network companies could drive Uber and Lyft from Nevada. Democratic leaders in the Assembly, who received hefty campaign contributions from taxi companies in 2016, kept the proposal alive late last week after it appeared to have died.
Senate Bill 226 is in the Assembly Ways and Means committee. On Monday, chair Maggie Carlton, D-Las Vegas, held a hearing on the fiscal impact of an Assembly floor amendment. This late in the session, if a bill gets a hearing, it's a worrisome sign for its opponents.
I wanted to find out from Carlton whether she plans to move SB226, but when I asked for a comment, she said, "Nope."
It's unlikely that the amended version of SB226 has enough support among Democrats to pass either house, which is why trickery fueled by taxi-industry influence might be its only path to passage. In April, SB226 passed the Senate 17-4 as a compromise aimed at ensuring that transportation network company drivers have business licenses.
Here's how the shenanigans could work:
Democrats adopt an amendment in Ways and Means that's acceptable to Uber and Lyft, but different from the Senate's bill. The now-uncontroversial bill passes committee and the Assembly, possibly by a margin as wide as the Senate's.
The amended version goes to the Senate for a concurrence, but the Senate doesn't concur with the amendment, and the Assembly doesn't recede it. Then the Senate and Assembly appoint a conference committee to meet and come up with language that's acceptable to both sides.
This is where the games begin. The members of the conference committee would have a little-noticed meeting where, as one insider put it, "They can do anything they want."
"Anything" includes putting regulations back into the bill — even outlawing transportation network companies entirely. If the amendment goes back to the Senate and Assembly floors late Monday evening, lawmakers will be swamped by an avalanche of amendments and rushed by a ticking clock — remember, the Nevada Constitution requires lawmakers to adjourn after 120 days. It's impossible to keep up with everything near adjournment. Lawmakers have to trust their leadership.
Because SB226 had passed both houses, the Senate and Assembly would only need to concur with the SB226 amendment via voice vote. This means the Legislature could outlaw Uber and Lyft without one lawmaker having to put their name on the record as voting for it.
It's not likely because alert Republicans could force a roll call vote. Sen. Kelvin Atkinson, D-North Las Vegas, has expressed opposition to the regulations, but resurrecting SB226 from the dead early Saturday morning didn't seem likely either.
This threat to Uber and Lyft isn't dead until sine die.
Contact Victor Joecks at vjoecks@reviewjournal.com or 702-383-4698. Follow @victorjoecks on Twitter.