Laxalt talks about his plans for health care, economic development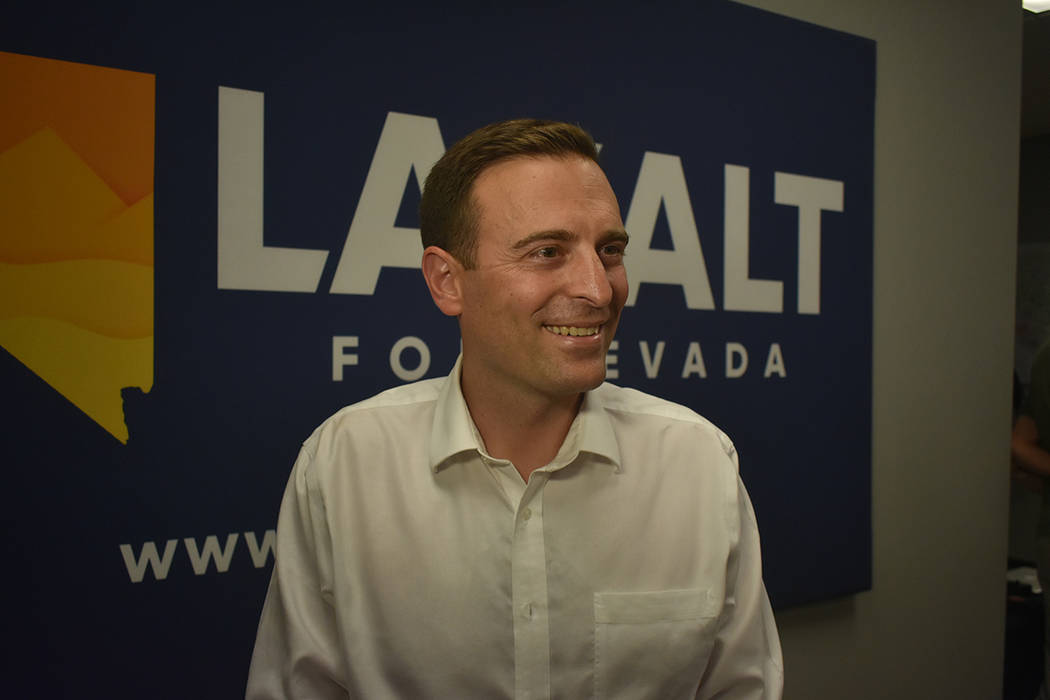 Nevada should institute Medicaid work requirements for healthy adults and encourage doctors to come and remain in Nevada, according to Republican gubernatorial candidate and attorney general Adam Laxalt. He also thinks Nevada should focus its economic development efforts on removing barriers to entry, instead of providing tax breaks to select companies
"While I've pledged that I'm not going to rollback the Medicaid expansion, we need to make sure that Medicaid is preserved for the people that most need it," Laxalt said while filming Nevada Politics Today. Medicaid "was created for people who can't work, people we all agree deserve a safety net. I certainly would sign Nevada up for the work requirement."
Laxalt said a work requirement would help people experience the "dignity of work." He proposed following the example of Kentucky and other states that have received waivers from the federal government to implement work requirements.
While Steve Sisolak, Laxalt's opponent, wants to convene a group to come up with health care recommendations, Laxalt said he's already done that.
"I have put together a group of professionals," he said. "We've been looking at that for many months. That's reflected in my policy. We've already identified the major issues.
"One of the major issues is we don't have enough doctors. We don't have enough medical professionals in this valley. We need to go to work on that. One thing I want to do is something we're calling doctors of tomorrow. We can incentivize doctors through loan-repayment programs to stay here."
Other ideas including supporting residency programs in Nevada, reciprocity, which would make it easier for health care professionals in other states to come to Nevada and streamlining regulations "where we can."
While Laxalt acknowledges the need for some regulation in health and safety occupations, he thinks many other professions shouldn't require someone to receive the government's permission. Reducing occupational licensing is a major part of his economic development platform.
"California is the worst state in America for occupational licensing," Laxalt said. "That may not surprise some of your viewers. But what is shocking is number 2 is Nevada. That makes absolutely no sense. I want to take a comprehensive look at what can be pulled back."
For instance, Laxalt thinks interior decorators shouldn't need to get a license.
"We are one of four states in America where you need a license to be an interior decorator," he said. "Does anybody think that people can't figure out for themselves whether they like how someone designs their home? Of course not. Another area is to be a licensed hair braider in Nevada takes hundreds of hours. I don't know if that makes any sense."
Laxalt's economic development plan also addresses affordable housing. He said he wants to work with local governments to lower entry fees and regulations. Doing that, he contends, will increase the supply of affordable housing by helping builders make more money on those units, which will increase supply.
A key part of Gov. Brian Sandoval's economic development plan was providing tax incentives to businesses moving to or expanding in Nevada. Laxalt thinks it's an appropriate time to pivot away from that strategy.
"I think we need to turn now more towards local businesses and try and find ways we can incentivize small business growth," Laxalt said. "This is where we create jobs — it's small businesses — it's not necessarily recruiting big companies.
"The other thing I'm very committed to is not raising taxes, including property taxes. My opponent has said all taxes are on the table. He's also said we need to raise property taxes. This is the exact wrong time to raise taxes, especially when small businesses are — for the first time — hiring that first or second employee are many years of struggling.
Asked about being arrested at 17-years-old for assaulting a police officer, Laxalt said he was a "being a mouthy 17-year-old that had been drinking." He said it was a nonviolent incident, which is why the charges were dropped.
"I've been very open about my indiscretions as a teenager," he said. "It's a part of my story. It's a part of who I am. It's what led me to gaining my sobriety at age 18. I'm proud of [being] able to get over that hurdle. It allowed me to do the things I've been doing in my life."