Nevada AG Adam Laxalt talks Q1, bump stocks, taxes and Burnett tapes
Updated February 15, 2018 - 12:52 am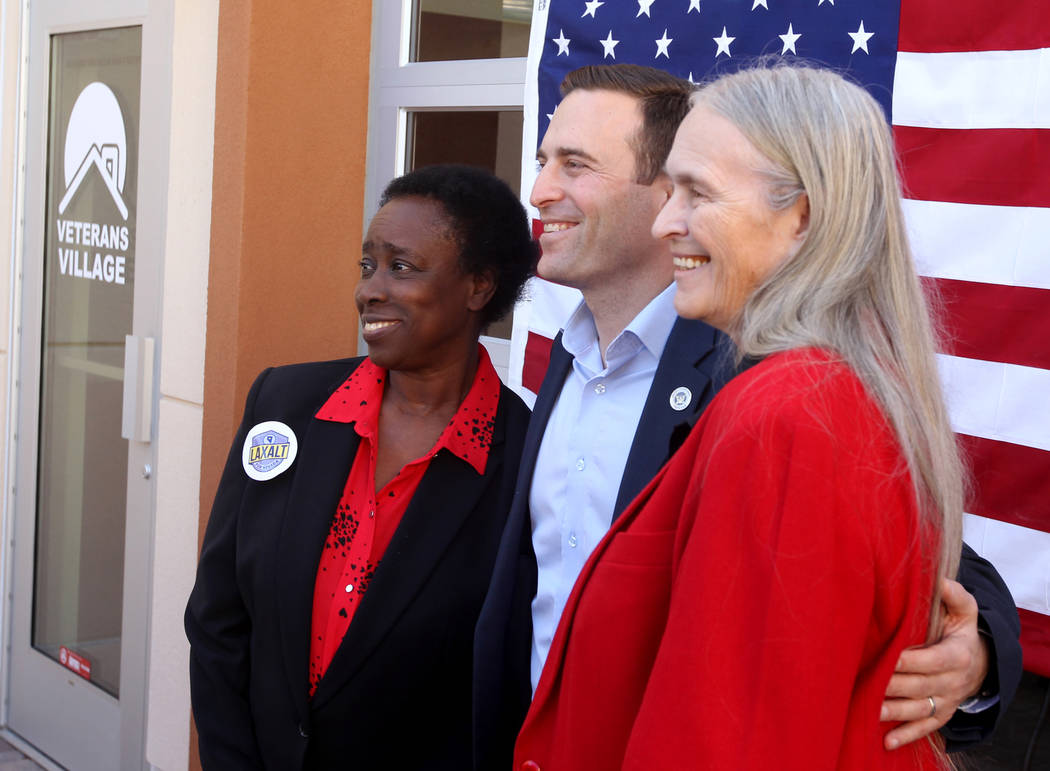 Background check supporters should blame Michael Bloomberg and Question 1 backers for the stalled initiative, said attorney general and Republican gubernatorial candidate Adam Laxalt. Laxalt also committed to opposing tax increases if elected. Laxalt made the comment while filming Nevada Politics Today.
"The attorney general does not implement ballot initiatives," said Laxalt. "I have no independent authority whatsoever to make this the law. We've made that clear in every possible meeting.
"Question 1 was simply not drafted properly. If [Democratic gubernatorial candidate Chris Giunchigliani] wants to be upset with someone, she should be upset with Michael Bloomberg and all the people who wrote this thing, because they wrote a faulty ballot initiative.
"They said FBI is going to do this. That's the way the ballot initiative is written and until the FBI agrees to do that — and all indicators are they aren't going to — that's it. I wouldn't change anything as governor."
Laxalt dismissed the idea of eliminating state-run background checks to solve the Question 1 stalemate. He said that would make Nevada "less safe." Using the state-run system is better, he said, because "[w]e have more data in it. We're allowed to add sexual assaulters and folks who don't end up in the national system."
Asked if he would support banning bump stocks, Laxalt said he joined a bipartisan group of attorney generals in asking the federal government to review how it regulates them. "My guess is you will see these things regulated at the federal level," he said.
Laxalt also questioned the effectiveness of additional gun control measures in preventing another October 1-type shooting.
"I think it's unfortunate that these type of incidents are used politically every time," Laxalt said. "This one is yet another example where there is no law, there is no background check law, that would have prevented this particular incident. This killer went through a background check."
Laxalt said he would not raise property taxes or any other taxes. Aside from wanting to repeal the commerce tax, Laxalt did not call for additional tax cuts.
"Right now, I can simply pledge that I'm not going to increase taxes," he said. "I would love from a philosophical perspective to be able to reduce taxes, which would hopefully create economic growth. But until we get a picture of how much spending we're going to be faced with, things like Medicaid and those things, it's hard to pitch that."
Fellow Republican gubernatorial candidate and treasurer Dan Schwartz has attacked Laxalt over a conversation he had with former Gaming Control Board chair A.G. Burnett. Burnett taped the conversation and sent it to the FBI. Before the tape came out, Laxalt's political opponents insinuated it showed that he was trying to inappropriately help Sands Corp. Chairman Sheldon Adelson.
"I was the last person to be able to hear this tape," said Laxalt. "And I was the one person in this situation, saying, 'Let's open this tape up.'
"I wanted that tape to come out. It was held and held, and there was a lot of Democrat grandstanding going on. Finally, they had no choice but to release the tape before they made me actually come speak to them about it. The tape 100 percent exonerated me.
"What the tape showed is the advice I gave to the gaming chair would have actually hurt Sheldon Adelson. It would not have helped Sheldon Adelson."
On the issue of transgender locker rooms in public schools, Laxalt said he wanted to find a way for every student to feel respected. He objected, however, to biological males changing in girls' locker rooms.
"To go the next step of mandating that kind of bathroom crossover … as a dad with two daughters that's not something I would want."
Laxalt said he's worried that sanctuary cities could "easily happen in this state" and noted that Giunchigliani has said she would sign a bill making Nevada a sanctuary state.
The endorsement of Gov. Brian Sandoval would be valuable in the governor's race, and Laxalt plans to ask him for it.
"I do plan on asking him. I plan on meeting with him in the next few weeks, and I look forward to it. I hope to have his support."
The Review-Journal is owned by the family of Las Vegas Sands Corp. Chairman and CEO Sheldon Adelson.