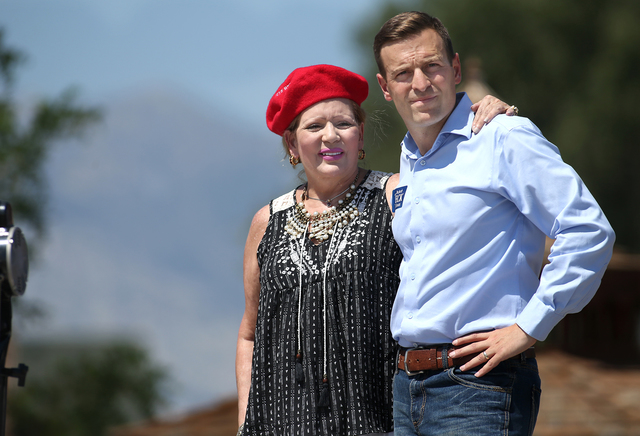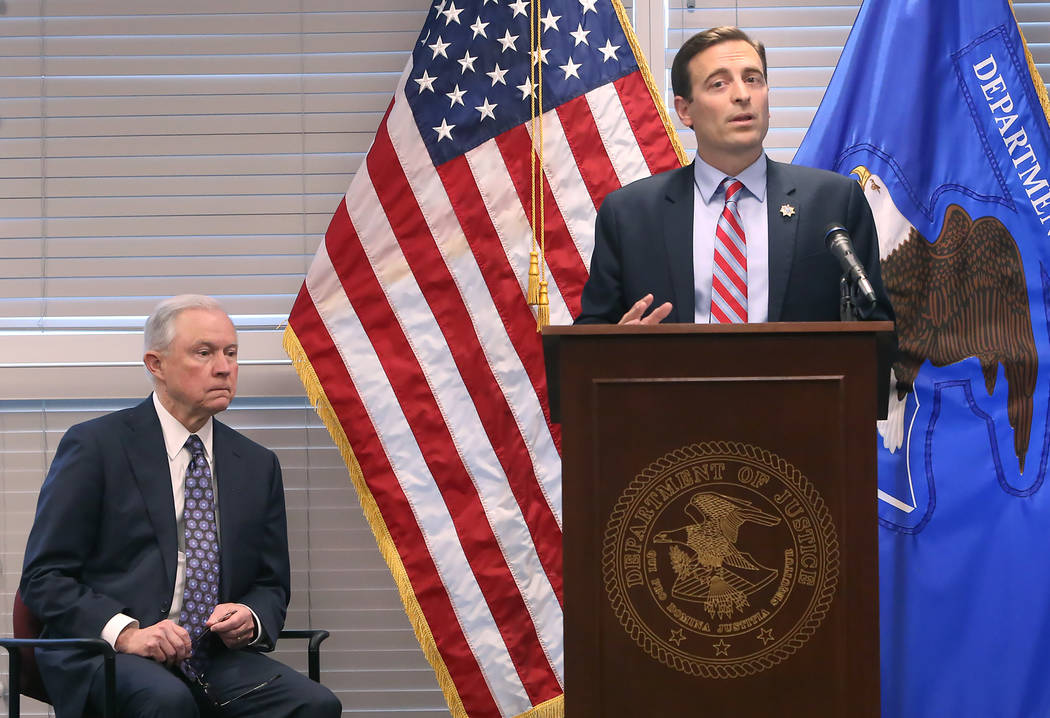 Three years ago, Adam Laxalt was a little-known, long shot candidate for attorney general. Today, he has emerged as the leading GOP gubernatorial candidate and the de facto leader of Nevada's Republican Party.
Friday's announcement that Vice President Mike Pence is coming to Nevada to headline Laxalt's Basque Fry punctuates Laxalt's ascension. A VP visit — at an event open to the public — is a sign as bright as the Las Vegas Strip that Laxalt has risen above his Republican peers.
It's unlikely another Nevada politician could have secured this visit. Gov. Brian Sandoval pointedly distanced himself from Donald Trump during the campaign, and Sen. Dean Heller looks ready to blow up Republicans' current efforts to replace Obamacare.
Patterned after events put on by his grandfather, former Nevada Gov. and U.S. Sen. Paul Laxalt, the Basque Fry raises money for Laxalt's PAC and boosts his name ID. Grassroots Republicans eat it up — literally. Attendees feast on Basque-themed barbecue, and a previous event attracted 1,500 attendees.
Pence's visit also boosts Laxalt's personal political ambitions. It signals to Nevada Republicans that Laxalt is aligned with the Trump administration despite any potential policy differences. This is important, because some Trump supporters take great umbrage at any disagreements with Trump, despite the president's own self-contradictory statements. In contrast, Sen. Dean Heller's almost nonexistent support for Trump during last fall's election continues to hurt him with grassroots Republicans.
Political leaders have to be able to raise money, and Laxalt has done well in that regard. He had $1.5 million in cash at the end of last year and has raised at least $600,000 so far this year. (He trails Democrat gubernatorial candidate Steve Sisolak, who has $3.8 million.)
All of those factors were enough to drive Heller and Lt. Gov. Mark Hutchison out the governor's race despite obvious interest.
Treasurer and fellow Republican Dan Schwartz, however, isn't budging despite Laxalt's efforts to clear the field. Schwartz told me he's likely to run.
"This will be a good primary against Adam," Schwartz said. "I'd like to see him stay as attorney general for another four years, but let's get it on. I think Republicans will have a good choice."
Schwartz has accomplishments that will appeal to Republican primary voters. He is a tireless champion for Education Savings Accounts and was one of the few elected officials to oppose government handouts to Faraday Future. That stance looks especially insightful with Faraday's recent announcement that the automaker is not coming to Apex.
Schwartz said he'll seed his campaign with half a million dollars of his own money if he decides to announce. That makes him a serious contender.
"It (a primary challenge) makes your campaign better," said a source close to Laxalt. "It makes you more disciplined. I think you want to show to voters that you can win an election."
The groundwork Laxalt has laid, highlighted by the VP's visit, shows the primary is his to lose.
Victor Joecks' column appears in the Nevada section each Sunday, Wednesday and Friday. Listen to him discuss his columns each Monday at 9 a.m. with Kevin Wall on 790 Talk Now. Contact him at vjoecks@reviewjournal.com or 702-383-4698. Follow @victorjoecks on Twitter.