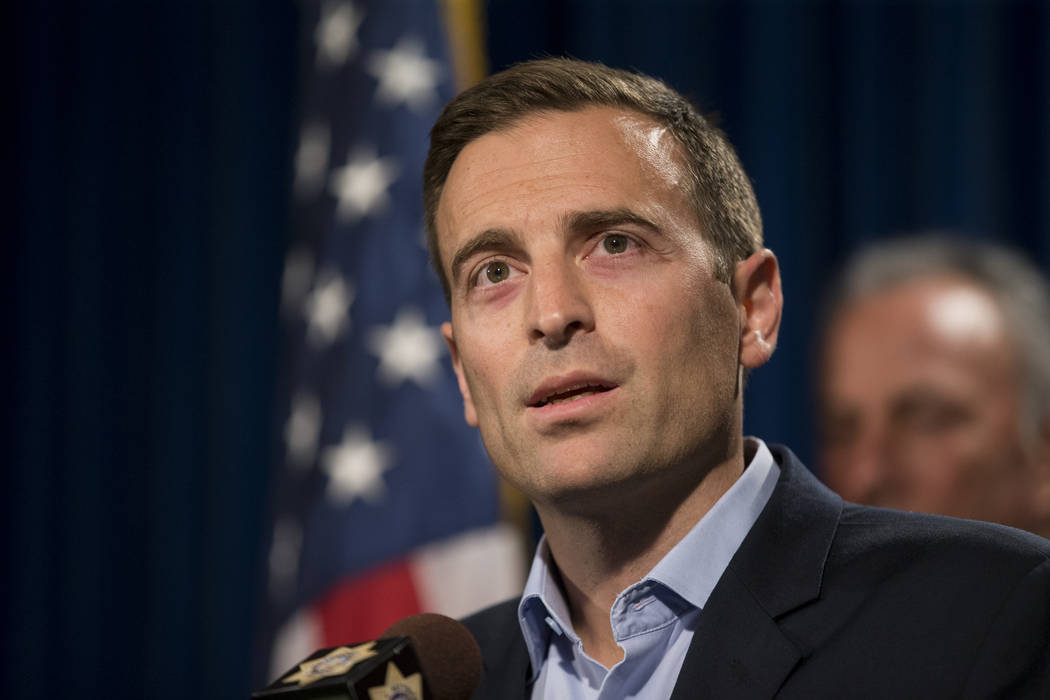 Gov. Brian Sandoval's recent attack on Attorney General Adam Laxalt for Laxalt's opposition to the commerce tax was both dishonest and desperate.
In 2015, Sandoval pushed through the largest tax increase in Nevada history, part of which was a new business tax on gross-receipts called the commerce tax. Sandoval claimed the state needed the tax hikes to fund his new education programs, despite voters rejecting a gross-receipts tax by a 4-to-1 margin in the 2014 election.
At the time, Laxalt and the majority of statewide elected Republicans opposed the commerce tax. A Laxalt spokesman confirms that "as a fiscal conservative, he continues to hold that position today."
On Oct. 2, Laxalt planned to announce his bid for governor. In the early morning hours, an updated version of his website went live and included his support for rolling back the commerce tax. Because of the Las Vegas Strip shooting, Laxalt canceled his campaign kick-off and changed his website to a message of support for the victims, which still remains.
Asked about Laxalt's commerce tax position a week later, Sandoval claimed that repealing that tax would take $391 million out of K-12 education and that the tax "goes straight into education."
He's wrong on both counts. Here's why:
The commerce tax gives businesses a 50 percent tax credit on the modified business tax (also known as the payroll tax), which means it nets Nevada $195.5 million. Since Nevada budgets on a two-year cycle, that's less than $100 million a year. The Economic Forum projects that Nevada will collect more than $4 billion in tax revenue in each of the next two years. The commerce tax, after MBT credits, makes up just 2.3 percent of that.
The commerce tax is more than a rounding error in the budget, but not by much.
Contrary to Sandoval's assertions, it doesn't specifically fund education programs. The commerce tax goes into the general fund. It's the eighth-largest tax source, after accounting for MBT credits.
Sandoval then demanded that Laxalt detail what he planned to cut if he succeeded in repealing the tax.
That's a fair question — and one that's easy to answer given how small the tax is — once Laxalt announces.
But Sandoval looks frantic and classless in attacking now. That's because Laxalt's delayed his political ambitions to focus on helping shooting victims. Laxalt's not talking policy, why is Sandoval?
Sandoval's spent the last seven years dodging hypothetical questions. How hard is it to say, "I'll be happy to talk about the merits of the commerce tax once Adam announces?"
Senate Democrats jumped into the fray as well, praising the commerce tax as a "bipartisan compromise." Compromise only works one way, apparently. Democrats spent the last session trying unsuccessfully to repeal bipartisan labor reforms and successfully denying funding for education savings accounts. Those were both elements of the compromise they now want to claim is sacrosanct.
Sandoval's need to use deception in defending the commerce tax shows how right Laxalt is to want to repeal it.
Victor Joecks' column appears in the Nevada section each Sunday, Wednesday and Friday. Listen to him discuss his columns each Monday at 9 a.m. with Kevin Wall on 790 Talk Now. Contact him at vjoecks@reviewjournal.com or 702-383-4698. Follow @victorjoecks on Twitter.