VICTOR JOECKS: DeSantis lays a clever trap for Trump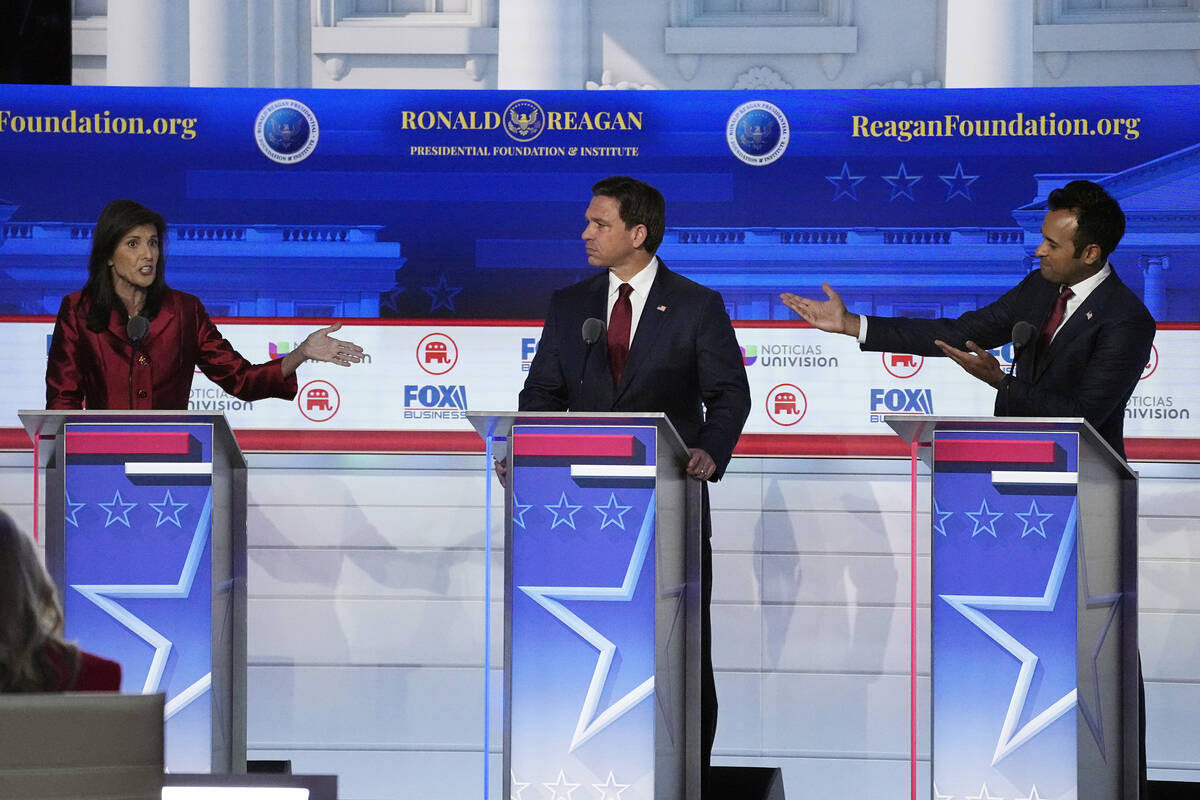 If Gov. Ron DeSantis manages to upset Donald Trump, we might look back at the trap he laid Wednesday as a major turning point.
Seven of the eight top Republican presidential candidates debated this week at the Reagan Library. Trump, the runaway front-runner, skipped the event, instead giving a speech in Michigan. Sitting on a big lead, Trump says he doesn't see the need to debate.
That strategy could work, but DeSantis has made it significantly riskier. After bashing President Joe Biden as missing in action, DeSantis opened up a new line of attack.
"And you know who else is missing in action? Donald Trump is missing in action," DeSantis said. "He should be on this stage tonight. He owes it to you."
He echoed that later in the debate, saying, "He should be here explaining his comments to try to say that pro-life protections are somehow a terrible thing." DeSantis was referring to Trump recently using that phrase to describe a six-week abortion ban.
After the debate, DeSantis continued this strategy in a Fox News interview: "He owes it to the voters to defend his record, to defend the decisions he's made. And also, to defend why is he running on the same program (from) 2016 that he did not actually implement."
This suggests that DeSantis is finally ready to be more aggressive in engaging the former president. It may not work, but the alternative — not going after Trump — definitely won't work.
Here's why this is a smart line of attack. First, "he owes it to you" isn't a direct broadside on Trump, which would turn off many Republican voters. DeSantis is positioning himself as a defender of their interests. The irony is that in this case their interest is in hearing from DeSantis' opponent.
Next, it sets up a more biting critique: Trump isn't showing up because he's got something to hide.
That could be his recent comments on abortion or his stumbling response when Megyn Kelly asked him, "Can a man become a woman?" Or it could be that he's promising to do things this time that he didn't accomplish during his first term. Again, it's a subtle dig. DeSantis is trying to give GOP voters space to appreciate Trump's presidential accomplishments while realizing DeSantis will do a better job delivering their priorities.
Finally, it sets up a double bind if Trump's polling numbers fall. Granted, Trump could waltz his way to the nomination. But his polling isn't as strong in early states, and most voters are just starting to pay attention. A recent CBS poll found more than 75 percent of voters in Iowa and New Hampshire aren't committed to voting for Trump. Expect those voters to be listening to debates and campaign appearances, not reading Truth Social.
If the race gets more competitive, doing a debate could stop Trump's polls from sliding. But if he does that, it will look like he gave in to DeSantis, boosting his main rival as the man who cowed Trump into showing up.
DeSantis' snare may never be sprung, but if it is, expect it to leave a mark.
Victor Joecks' column appears in the Opinion section each Sunday, Wednesday and Friday. Listen to him discuss his columns each Monday at 7 a.m. with Kevin Wall on AM 670 KMZQ Right Talk. Contact him at vjoecks@reviewjournal.com or 702-383-4698. Follow @victorjoecks on X.