COMMENTARY: Obama vendetta against Donald Trump is now revealed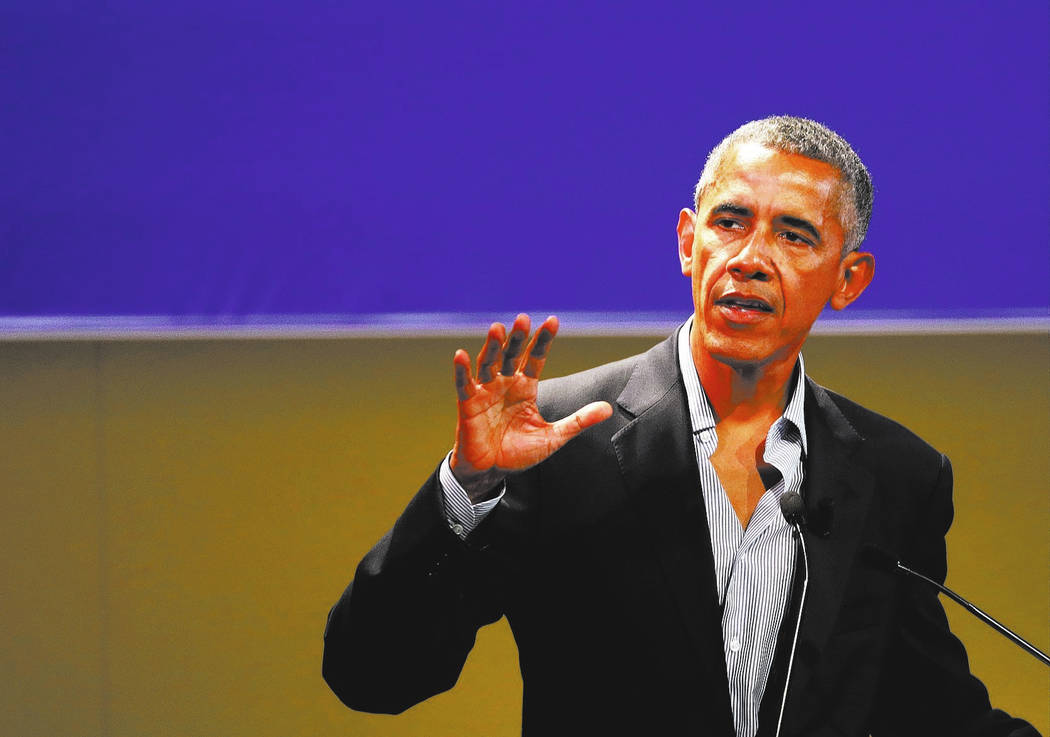 How did I know?
Today everyone is asking the question: "What did Barack Obama know and when did he know it?" President Donald Trump himself tweeted out that question earlier this week.
It's starting to dawn on everyone. This terrible mess … this fraud … this scandal of all scandals … this government conspiracy to frame candidate Trump … that turned into a conspiracy to impeach and remove from office President Trump … could not have happened without President Obama's full knowledge and approval.
This is Obama's scandal. This is Obamagate.
Everyone is starting to read the tea leaves now. But I read them before anyone else. Google "Obamagate." The earliest story that comes up on the first page at Google is my Review-Journal commentary last Sept. 23. Back then, I said, "This is our generation's Watergate. Except far worse … This looming Obamagate will make Watergate look like a misdemeanor … the Obama administration spied on the Trump campaign … It makes Watergate look like child's play … The real question is: What did Obama know and when did he know it?"
Today everyone is starting to understand what happened. Welcome to my world. Fox TV host Maria Bartiromo said earlier this week it appears that, during the Obama administration, "the DOJ, the FBI, the IRS, the CIA — they were all involved in trying to take down Donald Trump."
Fox News chief judicial analyst Andrew Napolitano said, "We may be on the precipice of exposing a very, very extraordinary political use of intelligence and law enforcement by the Obama administration."
Mark Penn, the chief pollster and campaign strategist for Bill and Hillary Clinton, this week accused Robert Mueller of engaging in a "deep state quasi-coup." He said Mueller's goal is to bring down Trump using "storm trooper tactics."
Penn noted he had spent a year working with President Bill Clinton against prosecutor Ken Starr. "That was child's play to what's going on here," he said.
The following headline summations show how bad it's getting, how the noose is tightening.
■ Devastating text from FBI's Peter Strzok found: "Obama's White House is running the Trump investigation."
■ DOJ confirms inspector general will probe "impropriety, political motivation" of Obama FBI spying on Trump.
■ Fired FBI boss James Comey will be savaged by Justice Department watchdog for not moving fast enough to get a warrant for the Hillary emails on Anthony Weiner's laptop.
■ FBI informant Stefan Halper was paid more than $1 million by Obama administration to spy on Trump.
■ Another "informant" attempted to infiltrate the Trump campaign.
■ Congressman Gaetz drops bombshell: House investigators have additional info about FBI's campaign infiltration the White House doesn't know about yet.
It all comes back to Obama. Obama was in charge.
How did I know before anyone else? Because Obama's IRS tried to destroy me. Judicial Watch took my case and forced the IRS to hand over my files. We can prove it was a political witchhunt. I was persecuted by Obama's IRS for my political beliefs. Obama was my Columbia college classmate. I believe he personally gave the criminal order to destroy me.
I know the real Obama. Obama hated Donald Trump. He had a vendetta against Trump over the birth certificate questions. He was in charge of this conspiracy to frame President Trump.
The tables have turned.
Contact Wayne Allyn Root at Wayne@ROOTforAmerica.com. Hear or watch the nationally syndicated "WAR Now: The Wayne Allyn Root Show" from 3 to 6 p.m. daily at 790 Talk Now and at 5 p.m. on Newsmax TV.