RUBEN NAVARRETTE JR.: Welcome to the Democratic primary
August 22, 2023 - 9:00 pm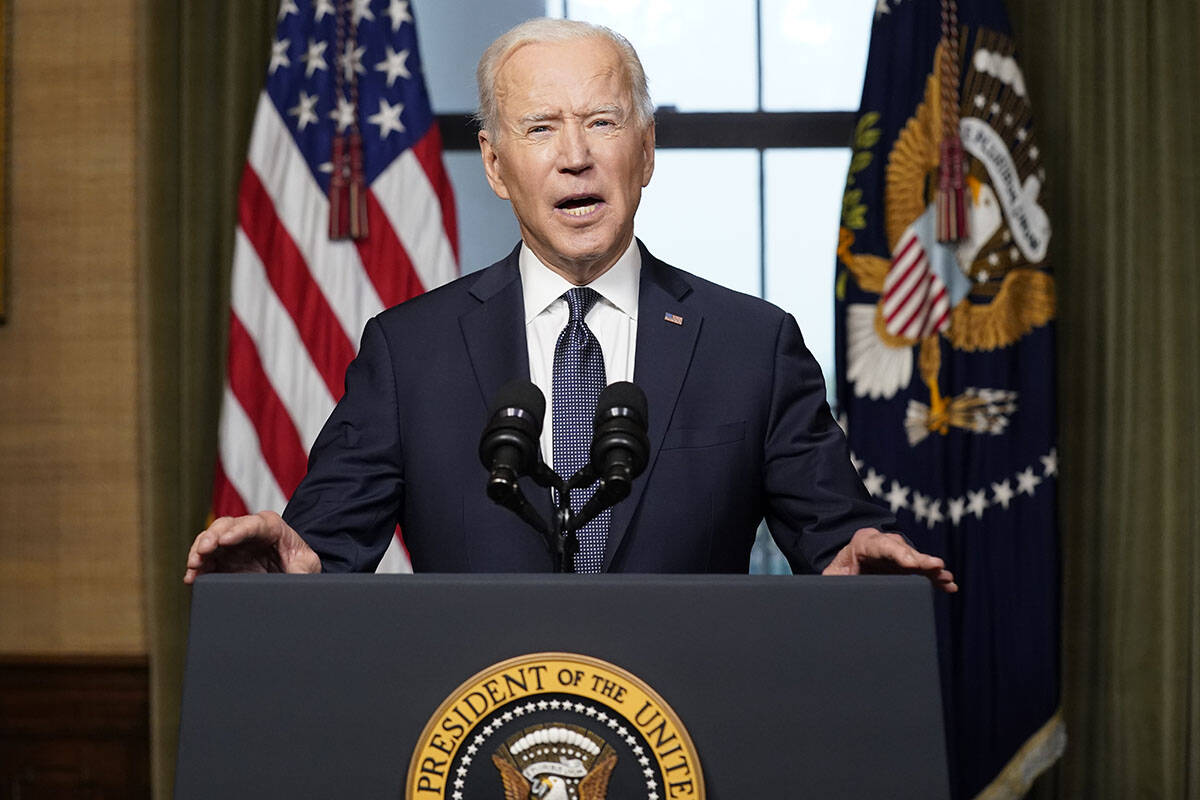 There is a Democrat running for president in 2024 who has a knack for saying the wrong thing.
A lot of what this candidate says is insulting, offensive and crude. The man needs a filter. Trained as a lawyer, and having spent most of his life around politicians, he ought to be better at communicating. He just can't get out of his own way. He says the craziest things, sharing whatever pops into his head.
But we know this. President Joe Biden has a long history of sticking his foot in his mouth.
Who did you think I was talking about? We'll get there.
A few weeks ago, in response to a reporter's question about the clumsy withdrawal of U.S. forces from Afghanistan in 2021, Biden said his administration is getting help from that country's Taliban government to "end" the threat posed by al-Qaeda.
A recent U.N. report says otherwise, insisting that the Taliban maintains "strong and symbiotic" ties with the terrorist group responsible for the 9/11 attacks on the World Trade Center and the Pentagon.
Biden has tried to rewrite history before.
In 2008, the senator from Delaware — who was then Barack Obama's running mate — told journalist Katie Couric: "When the stock market crashed, Franklin Roosevelt got on the television" to explain to Americans what happened. (Note: In 1929, FDR wasn't president. And television sets weren't produced and sold to the public until 1938.)
In 2007, in an interview with the New York Observer, Biden described Obama as "the first mainstream African American (presidential hopeful) who is articulate and bright and clean and a nice-looking guy."
In 2006, Biden was caught on a microphone saying: "In Delaware, the largest growth in population is Indian Americans moving from India. You cannot go to a 7-Eleven or a Dunkin' Donuts unless you have a slight Indian accent. I'm not joking."
I could list other examples, but this column has a word limit. In some quarters, Biden is a laughingstock. Yet he's in on the joke. In December 2018, on a visit to the University of Montana, the former vice president — who was then considering a 2020 White House bid — admitted that he doesn't have a silver tongue.
"I am a gaffe machine," Biden told the crowd. "But my God, what a wonderful thing compared to a guy who can't tell the truth."
The reference was to President Donald Trump, who makes so many gaffes that they are his normal mode of communication.
Speaking of telling the truth, columnist and former editor Michael Kinsley defined a gaffe as what happens when someone tells the truth — "or more precisely, when he or she accidentally reveals something truthful about what is going on in his or her head."
A good gaffe from an elected official can be refreshing. Most of them talk so much and yet say so little, because they're afraid they might unintentionally say something interesting.
Robert F. Kennedy Jr., who is running against Biden for the Democratic nomination, is always interesting.
As House Minority Leader Hakeem Jeffries, D-N.Y., sees it, Kennedy — who spreads conspiracy theories about many things, including vaccines — is "a living, breathing, false-flag operation."
Like Biden, Kennedy has the gift of gaffe.
Recently, Kennedy told an NBC News reporter during an interview at the Iowa State Fair that while "a decision to abort a child should be up to the woman during the first three months of life," he envisions a role for the government after that. "Once a child is viable, outside the womb, I think then the state has an interest in protecting the child," he said.
That doesn't seem too controversial. Yet many Democrats were outraged, so saying it during the Democratic primary was a mistake.
Sure enough, the Kennedy campaign tried to roll back the comments, claiming the candidate didn't understand the question. Kennedy makes messes faster than his aides can clean them up.
Last month, during a media event in New York, the candidate pointed out that some people argue that the coronavirus was "ethnically targeted" to "attack Caucasians and Black people" while sparing "Ashkenazi Jews and Chinese."
Kennedy tried to clarify his remarks by claiming that he "never implied that the ethnic effect was deliberately engineered."
In June, during an interview with the Daily Wire, Kennedy claimed that "chemical exposures," including in the water supply, contribute to "sexual dysphoria" and essentially make teenagers — especially boys — more likely to identify as transgender.
The 2024 Democratic primary is shaping up to be a gaffe a minute.
Ruben Navarrette's email address is crimscribe@icloud.com. His podcast, "Ruben in the Center," is available through every podcast app.