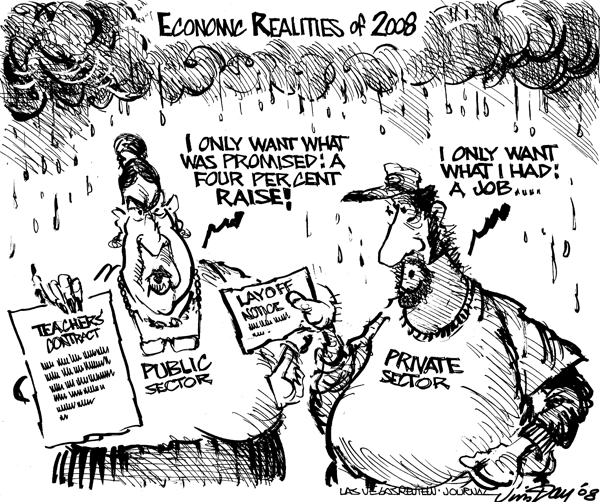 Thursday
Budget history repeating itself
A governor facing a multimillion-dollar budget shortfall. Public employees scheduled to receive 4 percent "cost-of-living" raises despite shrinking state revenues. A fierce debate over whether lawmakers should be called into special session to address the budget woes — and whether axing the raises or layoffs should be part of the solution. …
Sound familiar? Certainly — except it's a scene from 1992, not present day Nevada. …
Back in late 1991, the popular Gov. Bob Miller, a Democrat, faced a $52 million hole. He could have called a special session to let lawmakers address the matter, but they wanted no part of voting for "cuts." So the governor acted unilaterally, rescinding scheduled raises for public employees.
State workers sued, saying Gov. Miller had no authority to kill their pay hikes without legislative approval. The state Supreme Court agreed. So Gov. Miller found his savings by laying off 250 state employees (and) trimming 8 percent from the university system's anticipated spending plan. …
Yes, both Gov. Miller and Gov. Jim Gibbons faced the usual wrath over budget reductions from pressure groups that feed at the public trough. But while Gov. Miller in 1992 was winning "praise" from lawmakers for his leadership, Gov. Gibbons today has faced nothing but disdain from legislators on the other side of the aisle even as he has attempted to bring them into the process.
The contrast reveals much about the slash-and-burn culture dominating today's political discourse. …