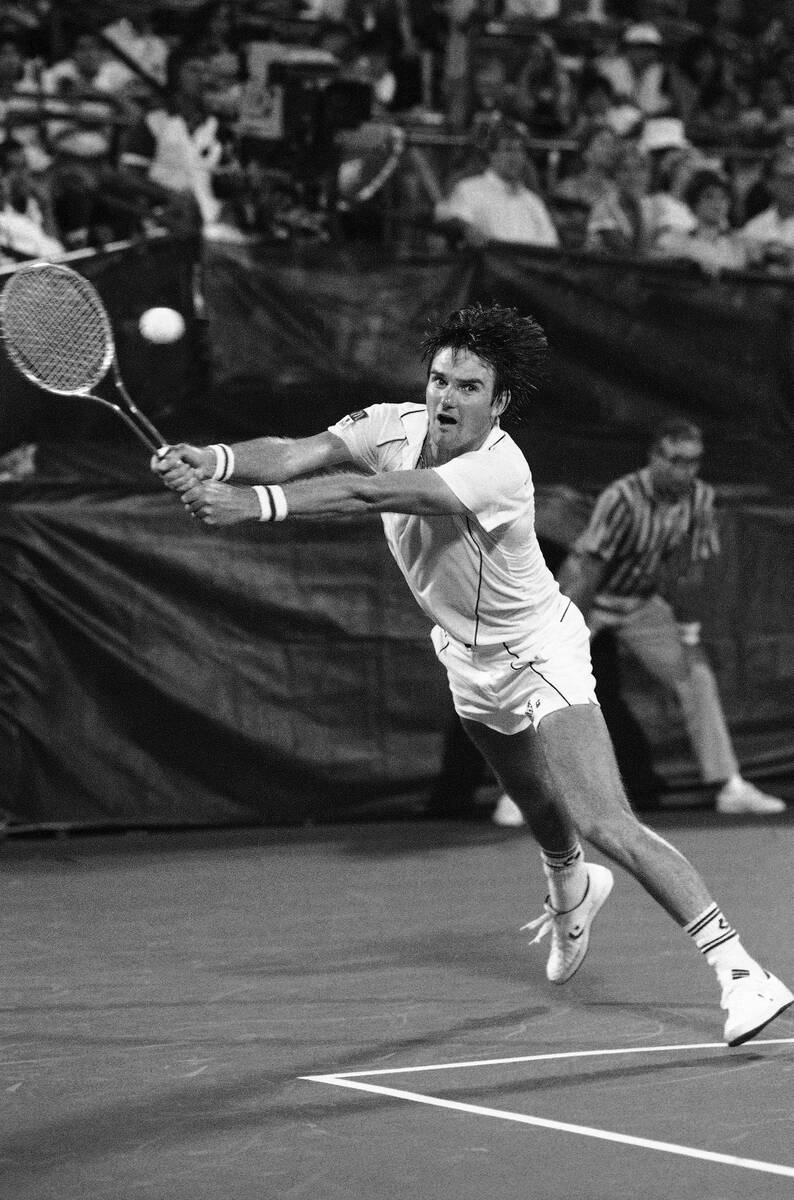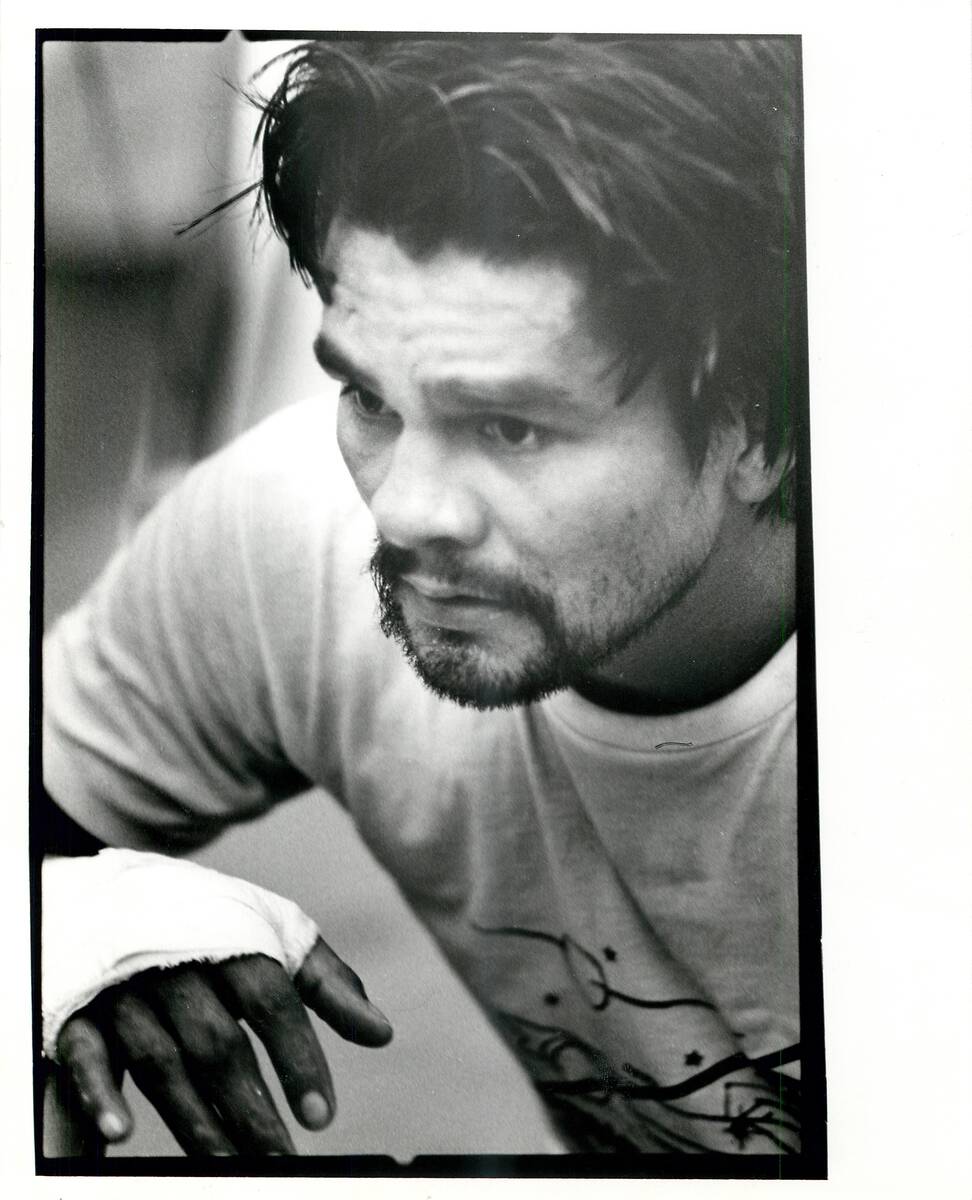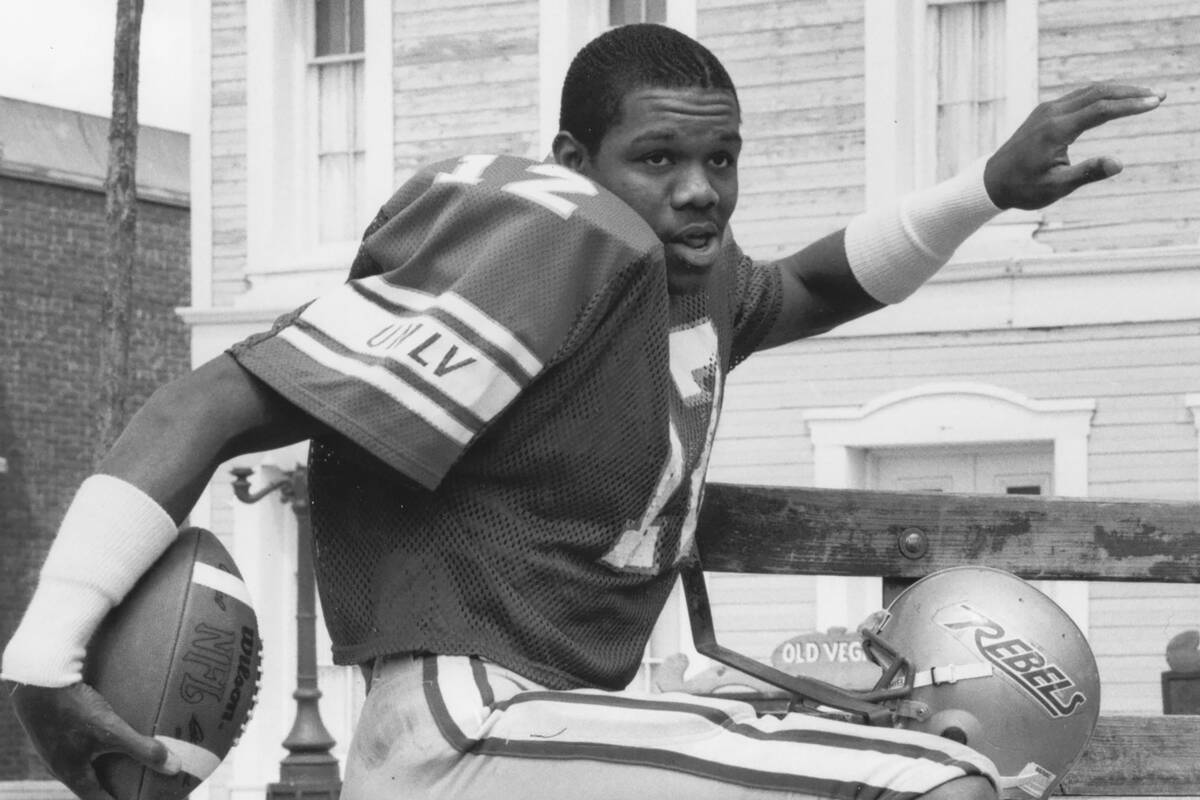 This is still a bit hard to grasp, but the 2023 Stanley Cup champions reside in Las Vegas. As do the 2022 WNBA champs. If that's not wild enough, Formula One race cars will be ripping down the Strip at 200-plus mph in November. And the Oakland Athletics are in the process of bringing major league baseball, or at least a product that represents major league baseball, to our city. Oh, and the Super Bowl is headed here in February.
So let us consider: Is Las Vegas now the center of the sports universe?
Wait, while you ponder that question until we get an NBA franchise (give it a few weeks), let's pry open the archival time machine and see how our city got here. Our journey into the past reveals one year that stands out as the launchpad for the city's ascent into the sportosphere: 1983.
Forty years ago, Las Vegas had bigger issues than sports to deal with. The Aladdin, Riviera, Dunes and Landmark hotels all were suffering from severe financial complications. The economic and media environments were still wobbling in the wake of the infamous November 1980 MGM Grand hotel fire that resulted in 85 deaths. Former gaming figure Frank "Lefty" Rosenthal had just narrowly survived a car bombing in October 1982. And the legal battles of mobster Anthony Spilotro were regularly playing out on the front pages of local newspapers.
Meanwhile, Clark County employees faced potential furloughs, and union unrest sparked strikes on Fremont Street and protesters marching down Las Vegas Boulevard. To make matters worse, Atlantic City, which had legalized casino gambling in 1978, was hoping to overtake Las Vegas as the nation's gaming capital.
Sports, too, were struggling in Las Vegas as 1983 dawned. South Korean boxer Duk Koo Kim had died at Desert Springs Hospital in November 1982, five days after being knocked out by lightweight champion Ray "Boom Boom" Mancini in their world title fight at Caesars Palace. And just a few years after reaching the NCAA Final Four in 1977, the UNLV men's basketball team was coming off the two worst seasons in Jerry Tarkanian's Rebel coaching career.
But somehow things began to change in 1983, when a confluence of events — the resurgence of UNLV basketball, the arrival of the Las Vegas Stars, the opening of the Thomas & Mack Center, the Vegas residency of the Utah Jazz — began to reshape Las Vegas as a sports city. Here is a timeline with the evidence for that case, along with other context-setting odds and ends from a year that changed our city.
January 1. The 15th-ranked UNLV men's basketball team edges Utah 71-68 at the Convention Center before a crowd of 6,380 to improve its season record to 10-0. Senior Sidney Green leads the way with 20 points and 10 rebounds, surpassing Lewis Brown as the Rebels' career leader in rebounds. The game is played with the Pacific Coast Athletic Association's new 3-point line and 30-second shot clock, although the Utes as the visiting team had the option of playing without the experimental rules.
January 3. Richard Bryan is sworn in as Nevada's 25th governor in Carson City.
January 6. The Consumer Electronics Show gets underway at the Convention Center. More than 78,000 people will attend the four-day event, making it the largest convention ever held in Las Vegas.
January 14. Lake Mead fills to its greatest depth since 1941, at 1,207 feet.
January 17. After starting the season unranked, UNLV (14-0) climbs to No. 5 in The Associated Press college basketball poll as one of just two remaining unbeaten teams in the country. It is the Rebels' highest ranking since they were No. 3 in the 1976-77 season.
January 27. Reputed Las Vegas mobster Anthony Spilotro is charged with the 1962 Chicago torture-murders of two petty criminals, William McCarthy and James Miraglia, known as the "M&M Boys."
January 31. UNLV moves up to No. 2 behind North Carolina in The Associated Press college basketball poll, the highest ranking in the school's history, and is ranked No. 1 by Sports Illustrated.
February 3. University of Nevada regents approve a $3.8 million budget for the UNLV athletic department in 1983-84, a $500,000 decrease from the current budget of $4.3 million. Included in the budget is $1.2 million for UNLV football, a decrease of $400,000 from the current year. UNLV President Leonard Goodall says he considered recommending the discontinuation of football.
February 12. No. 2 UNLV improves to 22-0 with a 66-59 victory at Fresno State in a nationally televised game.
February 14. UNLV is voted No. 1 in the Associated Press college basketball poll for the first time in school history.
February 19. Before a sellout crowd in the Rebels' last-ever game at the Las Vegas Convention Center, top-ranked UNLV crushes Utah State 111-78 to clinch the Pacific Coast Athletic Association regular-season title. The win improves the Rebels' overall record to 24-0, breaking the school mark for most consecutive wins to start a season.
February 22. The Rebels top the AP poll for the second straight week, receiving 41 of 57 first-place votes and 1,110 of a possible 1,140 points from a nationwide panel of sportswriters and broadcasters.
February 24. With freshman forward Eldridge Hudson out with a knee injury and junior point guard Danny Tarkanian slowed by bronchitis, the Rebels suffer their first loss of the season, falling to 24-1 with an 86-78 defeat at Cal State-Fullerton.
February 27. The Rebels lose their second straight, 87-78 at West Virginia in a nationally televised game originally scheduled for Las Vegas but relocated to accommodate a convention. With 24 points in the loss, Sidney Green passes Silas Stepp for second place on UNLV's all-time scoring list behind Eddie Owens.
February 28. The Rebels fall to No. 9 in the AP poll, with Houston claiming the top spot. Also: The final episode of M*A*S*H, after 11 seasons, draws a record 106 million viewers.
March 1. Anthony Spilotro agrees to return to Chicago where he has been indicted on two murder charges.
March 9. Senior guard Freddie Banks leads Valley High School to an unprecedented fourth consecutive state basketball championship with a 70-51 victory over Clark at the Convention Center. Banks, who scores 31 points, is named the tournament's Most Valuable Player for the third consecutive year as the Vikings finish 90-8 over those three seasons.
March 12. Eric Booker hits a long 3-pointer at the buzzer to give the Rebels a 66-63 overtime victory over Fresno State in the PCAA Tournament championship game in Inglewood, California. UNLV rallies from 17 points down, marking the sixth time this year it has won after trailing by at least 12 points. Tournament MVP Sidney Green finishes with 74 points and 34 rebounds in three games, including 23 points and 11 rebounds in the finale, to secure the Rebels' first NCAA Tournament appearance since their Final Four run in 1977.
March 15. The UNLV baseball team loses 16-8 to top-ranked Arizona State and freshman outfielder Barry Bonds, who goes 2-for-4 with an RBI, in the first-ever night game at Roger Barnson Field.
March 17. Making his varsity debut, junior right-hander Greg Maddux tosses a seven-hit complete game with 11 strikeouts to lead Valley High to an 8-0 victory over Eldorado.
March 20. UNLV's magical basketball season comes to a close with a 71-70 loss to North Carolina State in the second round of the NCAA Tournament in Corvallis, Oregon. The Wolfpack overcomes a 12-point deficit in the second half, capped by Thurl Bailey's tip-in basket with four seconds left, and go on to win the national championship. While the Rebels' season ends at 28-3, it is the first of nine consecutive NCAA Tournament appearances for Jerry Tarkanian's program.
March 22. Mobster-turned-informant Frank Cullotta tells a Chicago jury that he shot alleged con man Sherwin Jerry Lister in the victim's Las Vegas home after Anthony Spilotro told him that Lisner was a police informant.
March 24. Jerry Tarkanian is named United Press International Coach of the Year. It is the first major national honor of Tarkanian's career.
April 1. A crowd of 13,878 watches the San Diego Padres and Seattle Mariners play to a 1-1 tie over 10 innings in the first professional baseball game at Cashman Field. (Valley High beat Western 9-1 in an exhibition the previous night.)
April 10. The city's new AAA baseball team, the Las Vegas Stars, defeats the Salt Lake City Gulls 11-8 in the first game in franchise history before an overflow crowd of 10,622 at Cashman Field. Also: LPGA Tour star Nancy Lopez defends her title with a one-stroke victory in the J&B Scotch Pro-Am at the Desert Inn Country Club.
April 11. Gandhi and E.T. The Extra-Terrestrial are the big winners at the 55th annual Academy Awards, winning eight and four Oscars, respectively.
April 13. Valley High guard Freddie Banks, the most accomplished prep basketball player in Nevada history, signs a letter of intent to attend UNLV. He will become one of the greatest players in UNLV history, hitting 10 3-pointers in the team's 1987 Final Four semifinal loss to Indiana and ranking fourth in career scoring with 2,007 points. UNLV retired his No. 13 jersey in 2021.
April 18. A suicide bombing at the U.S. Embassy in Beirut, Lebanon, kills 63, including 52 Lebanese and American embassy employees.
April 24. For the fourth time in five appearances, Jimmy Connors wins the championship of the 12th annual Alan King/Caesars Palace Tennis Classic, gaining a 7-6, 6-1 victory over Mark Edmondson. The tournament field is headed by Connors, the No. 2-ranked player in the world, No. 3 John McEnroe and No. 4 Vitas Gerulaitis. McEnroe loses in the first round of the tourney in an expletive-filled match against unranked replacement opponent Trey Waltke, 3-6, 6-3, 6-4.
April 27. Frank Sinatra, a fixture at Caesars Palace since 1968, signs a three-year contract to appear exclusively at the Golden Nugget's Las Vegas and Atlantic City resorts, with the announcement being made by a certain Stephen A. Wynn, chairman of Golden Nugget Inc.
May 3. Bill Briare wins a third term as Las Vegas mayor, capturing 61.5 percent of the primary vote to avoid a runoff in June.
May 4. Valley High pitcher Greg Maddux throws a three-hitter with nine strikeouts in a 4-0 victory over defending state champion Basic in the Southern Zone tournament at UNLV.
May 9. An estimated 3,000 to 4,000 disgruntled union members and their families march down the Strip, sparked by the failure of Teamsters Local 995 and Operating Engineers Local 501 to reach a contract with the Nevada Resort Association.
May 13. Greg Maddux allows just two hits in an 8-0 victory to lead Valley past Reno in the opener of the best-of-three state championship series and improve his season record to 8-1. The Vikings win the state title the next day when Maddux relieves Mike Greer in the final inning and, after walking his first batter to load the bases, retires the next three, including two on strikeouts, to secure a 5-2 win. In a sign of things to come, Maddux completes the season with a 1.63 earned-run average. Also: The state Public Works Board gives Thomas & Mack Center director Dennis Finfrock permission to enlarge the arena floor from 124 feet to 184 feet, which will allow UNLV to book events such as rodeos, hockey and indoor soccer, among others. Also: The Stars become the first minor league baseball team of the season to reach 100,000 in total attendance.
May 15. WBC super featherweight champion Bobby Chacon wins a unanimous 12-round decision over Cornelius Boza-Edwards at the Caesars Palace Sports Pavilion in a bout later named as Ring Magazine's Fight of the Year. Referee Richard Steele stops the fight twice to have cuts over both of Chacon's eyes checked, but Chacon, who is knocked down in the third round, puts Boza-Edwards on the canvas in the 12th to secure the decision.
May 19. The Nevada Gaming Commission approves a regulation preventing legal betting on pro baseball teams based in Nevada. Baseball Commissioner Bowie Kuhn asked for the law in September 1982 as a condition to allowing the transfer of the Spokane, Washington, franchise to Las Vegas.
May 20. The Dunes hosts boxing's first world heavyweight title doubleheader as Larry Holmes barely retains his WBC championship with a 12-round split decision over Tim Witherspoon, and Michael Dokes defends his WBA crown in a rematch with Mike Weaver in a 15-round draw in a specially constructed 20,000-seat outdoor arena behind the hotel.
May 25. Return of the Jedi, the conclusion of George Lucas' Star Wars trilogy, hits theaters nationwide.
June 11. The NBA's Utah Jazz announce a proposal to play 11 regular-season games and three exhibitions at the new Thomas & Mack Center during the 1983-84 season.
June 18. Thousands of people line the Strip to watch the annual Elks Helldorado Parade, which is traditionally the first major event of the Western celebration. The parade is led by grand marshals Siegfried & Roy. The 49th Elks Helldorado Rodeo begins that evening at the Convention Center and runs through June 26.
June 19. The Stars win at Tucson 9-8 and earn the Pacific Coast League's Southern Division first-half championship. Outfielder Tony Gwynn goes 3-for-4 and drives in the go-ahead run in the final at-bat of his 20-day rehab assignment before heading to San Diego, finishing 17 games with the Stars with a .343 batting average. Gwynn will go on to bat .338 with 3,141 hits and earn eight National League batting titles in 20 major league seasons, all with the Padres, and be inducted into the Baseball Hall of Fame in 2007, his first year of eligibility.
June 21. The NBA Board of Governors approves the Utah Jazz's plan to play 11 regular-season games and three exhibitions at the Thomas & Mack Center during the 1983-84 season by a vote of 21-2 (the league requires 75 percent approval).
June 28. The Chicago Bulls select UNLV forward Sidney Green with the fifth overall pick in the NBA Draft. Green will go on to play for six teams in 10 NBA seasons, averaging 7.5 points and 6.1 rebounds per game.
July 4th weekend. Thousands of tourists and locals visit Hoover Dam to watch Lake Mead overflow the dam for the first time in 42 years.
July 11. UNLV basketball coach Jerry Tarkanian signs a three-year contract extension, dispelling rumors that he might be leaving Las Vegas.
August 5. In just his second game with the Stars, left-handed slugger Rick Lancellotti hits a grand slam onto the berm in right field in a 9-5 victory over Tucson, the Stars' first grand slam at Cashman Field. Lancellotti, who was released earlier in the season by both Montreal and Texas, will be named 1984 PCL Player of the Year after hitting 29 home runs with a professional baseball-leading 131 RBIs for Las Vegas.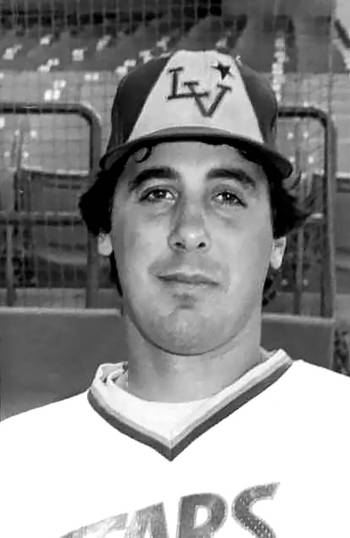 August 10. Las Vegas is hit with its worst flash flood in eight years, carrying away dozens of cars and sending water into condominiums east of the Strip.
August 19. Thirteen-year-old Las Vegan Andre Agassi, who was the nation's third-ranked player as a 12-year-old, begins a six-city tour of Australia as part of McDonald's International Tennis Challenge. Agassi will turn professional at age 16 and go on to become one of the most iconic and greatest tennis players ever, winning eight major championships and an Olympic gold medal, and reaching No. 1 in the world.
August 24. The Riviera Hotel becomes the first major Strip casino to file for Chapter 11 debt reorganization under the U.S. Bankruptcy Code.
September 3. Armon Gilliam, a 6-foot-9 power forward who led the national junior college tournament in scoring the previous season, says he has transferred to UNLV. Gilliam will go on to average 17.3 points and 8.3 rebounds per game in three seasons with the Rebels, lead the team to the 1987 Final Four, and be named second-team All-American and PCAA Player of the Year before being selected by Phoenix with the No. 2 overall pick in the 1987 NBA Draft. Gilliam, who will average 13.7 points per game in a 13-year NBA career, remains the Rebels' seventh all-time leading scorer and sixth-leading rebounder. UNLV retired his No. 35 jersey in 2007.
September 6. Water drops below the top of the spillway gates at Hoover Dam for the first time since July 3.
September 7. The Stars' inaugural season comes to an end as Albuquerque scores three runs in the eighth inning to gain a 4-1 home victory in the finale of an exciting best-of-five playoff series. Las Vegas draws more than 365,000 fans for the season, which leads the PCL in attendance and is exceeded nationally by only Louisville, Nashville and Denver.
September 9. Unbeaten Aaron Pryor knocks out Alexis Arguello in the 10th round to defend his WBA junior welterweight championship at Caesars Palace's outdoor arena. Also: Center Richie Adams re-enrolls for classes at UNLV. Adams, who played for the Rebels in 1981-82 before leaving school, will go on to lead UNLV in points, rebounds and blocks per game over the next two seasons, and earn consecutive PCAA Player of the Year awards.
September 13. State Sen. Floyd Lamb is convicted for attempting to extort $20,000 from an undercover FBI agent in return for the senator's potential help in securing a loan from the Public Employees Retirement System of Nevada (PERS).
September 14. Anthony Spilotro is charged with ordering a murder and overseeing a multimillion dollar burglary ring in two federal indictments unsealed in Las Vegas. This brings the number of indictments he faces to four.
September 18. Fuzzy Zoeller wins the PGA Tour's Las Vegas Pro Celebrity Class, which is held at four courses and finishes at Las Vegas Country Club. It is golf's richest event and the first PGA Tour event held locally since the Sahara Invitational in 1976. Celebrating its 40th anniversary in 2023, the tournament, which has had several name changes, is now the Shriner's Children Open.
September 22. New York real estate mogul Donald Trump announces he has purchased the United States Football League's New Jersey Generals.
September 26. Longtime state Sen. Floyd Lamb resigns following his felony conviction earlier in the month.
October 1. UNLV earns its first football victory over a Pacific-10 Conference opponent, winning 35-21 at Oregon State to improve to 3-2 on the season. Rebels junior quarterback Randall Cunningham passes for 285 yards and a touchdown, and runs for another score.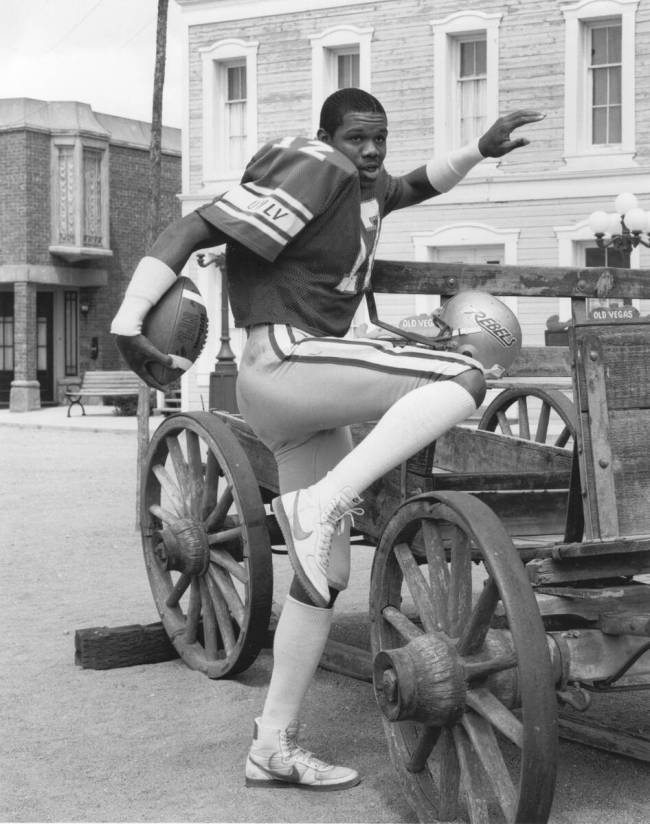 October 8. Motor sports legend Mario Andretti edges rookie John Paul Jr. by two seconds to win the Indy car portion of the third annual Caesars Palace Grand Prix before about 25,000 fans. Andretti's 36th career Indy car victory highlights the four-day racing event at Caesars.
October 20. The Nevada Gaming Commission votes 4-1 to ban betting on 11 home games in Las Vegas for the NBA's Utah Jazz. David Stern, the NBA's executive vice president for business and legal affairs (and future commissioner), had warned that the league wouldn't allow the Jazz to play in Las Vegas without the ban.
October 23. More than 300 U.S. Marines and Navy, and French military personnel are killed in Beirut, Lebanon, when two pickup trucks packed with explosives strike buildings where the troops are stationed.
October 25. Nearly 2,000 U.S. Marines and Army paratroopers invade Grenada in airborne assaults, clashing with Grenadian troops and armed Cuban workers in order to protect hundreds of Americans on the eastern Caribbean island.
October 27. In a Thursday night game televised nationally on TBS, UNLV quarterback Randall Cunningham passes for 347 yards and three touchdowns, runs for another score, and averages 47 yards on three punts in a 28-10 victory over San Diego State at the Silver Bowl. Also: Anthony Spilotro is acquitted in a bench trial in Chicago of the torture slayings of two men more than 20 years ago.
November 1. Caesars Palace signs 87-year-old comedian George Burns to a five-year contract. Burns signs the contract, which is in the form of an ancient scroll, as it is held against the back of a Caesars "goddess" waitress. Says Burns: "The first time I played Caesars Palace, Julius was the owner."
November 2. Former Clark County Sheriff Ralph Lamb is hired by Golden Nugget Chairman Steve Wynn to become director of security for the resort. Lamb served as sheriff for 17 years, losing re-election in 1978.
November 9. A controversial new gaming device that combines the elements of a slot machine and a video arcade game is recommended for a 60-day test in a 2-to-1 decision by the Gaming Control Board. Says dissenting board member Richard Hyde: "This is the first time in Nevada we have ever approved an electronic device that looks like a slot machine that doesn't use those traditional symbols (like cherries and plums). I have a fear this type of device is only the beginning of an onslaught of other video devices."
November 10. Marvelous Marvin Hagler comes on strong in the last two rounds to gain a 15-round unanimous decision over Roberto Duran and defend his undisputed world middleweight championship before a crowd of 14,600 in an outdoor arena at Caesars Palace. Hagler, making his third title defense of the year, prevents Duran from becoming the first boxer to win world titles in four weight classes.
November 18. A Christmas Story is released in theaters nationwide.
November 19. The UNLV football team's California Bowl hopes end when Long Beach State scores on fourth down with seven seconds left in the game to gain a 24-21 win at the Silver Bowl. The Rebels finish 7-4 overall, 5-2 in their second PCAA season.
November 20. A television audience of more than 100 million people watch the ABC movie The Day After, which portrays a fictional nuclear exchange between the United States and the Soviet Union.
November 21. The Thomas & Mack Center debuts as more than 7,000 people watch UNLV beat the University of Victoria 84-67 in an exhibition basketball game.
November 23. The NBA arrives in Las Vegas as the Chicago Bulls, with former UNLV stars Reggie Theus and rookie Sidney Green, defeat the "hometown" Utah Jazz at the Thomas & Mack Center. The attendance of 13,186, including celebrities such as Shecky Greene, Lola Falana and Don Rickles, is the largest ever for an indoor sporting event in Nevada as well as the largest "home" crowd since the Jazz moved from New Orleans to Salt Lake City in 1979.
November 26. UNLV opens its first regular season in the Thomas & Mack with a 92-71 victory over UNR before a record crowd of 15,227. Senior guard Jeff Collins scores a personal-best 30 points to lead the unranked Rebels.
November 28. Stars slugger Kevin McReynolds is named the national Minor League Player of the Year by three separate organizations. McReynolds, who also played 39 games with the Padres in 1983, will go on to play 11 more major league seasons and bat .265 with 211 career home runs. Also: UNLV quarterback-punter Randall Cunningham is named to the Kodak All-America Football Team, earning the distinction at punter after averaging 43.5 yards on 56 punts. He is the first UNLV football player to be honored as a first-team All-American at the major college level.
November 29. The Jazz get their first win in Las Vegas, defeating Phoenix 114-110 before 7,143 fans at the Thomas & Mack Center as Adrian Dantley and Darrell Griffith each score 24 points to lead Utah. Also: Sheldon Adelson, director of the five-day Comdex convention running at five Las Vegas locations, says the city needs to expand its exhibit space to continue to attract the world's largest trade shows. Says Adelson: "Las Vegas makes claim that it's one of the major convention facilities, but the city needs more space or they're not going to keep people like us."
December 4. Concluding a two-year investigation of alleged skimming at the Stardust Hotel, state gaming officials hand owners Allan Sachs and Herb Tobman complaints seeking their ouster from the gaming industry and fines totaling a record $4 million.
December 5. A week after being named the PCAA Offensive Player of the Year and earning first-team all-conference honors at quarterback and punter, UNLV's Randall Cunningham is named Associated Press All-America second-team punter and honorable mention at quarterback. Cunningham will earn All-American punting honors again and lead UNLV to its first bowl victory in 1984 before being picked by Philadelphia in the second round of the 1985 NFL Draft and playing 16 seasons in the league, including four Pro Bowl selections and being named 1998 NFL Offensive Player of the Year while with Minnesota.
December 7. Despite a strong bid from Las Vegas, the National Finals Rodeo will return to Oklahoma City in 1984.
December 11. Larry Holmes resigns his WBC heavyweight title and says he will fight as champion of the fledgling International Boxing Federation.
December 13. Sophomore guard Greg Anthony scores 15 points to lead Rancho High to its first victory of the season, 84-81 at home against Bonanza. Anthony will become a standout point guard at UNLV and help lead the Rebels to back-to-back Final Four appearances, including the 1990 NCAA national championship, before being selected by New York in the first round of the 1990 NBA Draft and playing 11 seasons in the league with six teams, averaging 7.3 points and 4.0 assists per game. UNLV retires his No. 50 jersey in 2006.
December 16. Frank Sinatra, Dean Martin and Diana Ross perform at the "Christmas With Class" grand opening celebration for the Thomas & Mack Center. Ross replaces Sammy Davis Jr., who had fallen at his home in November and fractured three ribs.
December 30. In a nationally televised game, unranked and unbeaten UNLV (9-0) takes No. 5 Georgetown and All-American center Patrick Ewing to overtime before losing 69-67 in front of the first sellout crowd of 18,500 at the Thomas & Mack. It is UNLV's first home loss in 22 games and their first at the T&M, and the Rebels will not lose again at home until February 1986 (following a 41-1 start). UNLV will remain one of the nation's premier programs for nearly a decade, reaching three Final Fours and winning the 1990 national championship, until coach Jerry Tarkanian is controversially ousted following the 1991-92 season. ◆
The Review-Journal is owned by the Adelson family, including Dr. Miriam Adelson, the majority shareholder of Las Vegas Sands Corp., and Las Vegas Sands President and COO Patrick Dumont.