On May 18, 1980, Mount St. Helens erupted about 400 miles west of Spokane, Washington, plunging the city into darkness within four hours and leaving it coated in a blanket of ash.
The city's Triple-A baseball franchise, the Indians, postponed its early season games, and when they returned attendance never recovered. One of the owners of the Spokane club was a former Gonzaga University baseball and basketball standout named Larry Koentopp. He had gone on to become the school's baseball coach and athletic director — a local kid made very, very good. But Koentopp knew that his franchise could no longer flourish without a change.
Meanwhile, a growing city 1,000 miles to the south had an appetite for baseball. Rossi Ralenkotter and Roy Woofter of the Las Vegas Convention and Visitors Authority set out to find a team for a town that had grown tired of its Sin City image.
"We went to the baseball winter meetings," Ralenkotter says. "And in those days we still had to overcome the fact that we had gaming and sports betting, and so forth. We talked about the community of Las Vegas and how people raise their children here, and that baseball is played all over Southern Nevada. Roy and I spent practically two years going to the East Coast, West Coast, southeast, north, looking for ownership that might want to move to Las Vegas."
Then along came Koentopp and the Spokane Indians. "The Mount St. Helens thing really prompted them to take a hard look at everything," says current Aviators President/CEO Don Logan, who began working for the Stars as an account executive in 1984. "It really impaired their ability and impaled them as a franchise. They were struggling just to make it work. Coincidental with that, the San Diego Padres' Triple-A affiliate was in Honolulu. The expense was really tough, getting players back and forth. It was kind of a perfect storm. Mount St. Helens made it impossible to really survive and thrive in Spokane, the Padres wanted to get out of Hawaii, and the Convention and Visitors Authority was on the case here."
The LVCVA approved a lease for the Spokane franchise in August 1982. By September, it became official as the city signed a 10-year contract with the team, which in turn signed a five-year affiliation agreement with the Padres.
"We were struggling," Koentopp told the Spokane Chronicle in January 1983. "We did everything (we could) to promote … the Indians, and we looked down here and felt, businesswise, it could be a pretty dang good decision. Only time will tell if it was."
A contest was held to rename the transplanted team, and more than 2,000 entries were submitted. Top contestants included Knights, Outlaws, Rattlers, Aces and Heat. But when it came time for a panel of sports editors, club executives and Ralenkotter to pick the winner, one name — which had been nominated by 78 entrants — stood apart: Las Vegas Stars.
Las Vegas had decided to build its new stadium on the site of the original Cashman Field, home of the Class C Las Vegas Wranglers baseball team — the city's first pro team in any sport — from 1947-52 and again in 1957-58. The old Cashman once hosted an Oakland Raiders-Houston Oilers exhibition football game in 1964, and had more recently been used for American Legion baseball and the Helldorado Rodeo. "When we first went to level Cashman," Ralenkotter said, "it still had the dugouts and fences because it was still used for Legion baseball and some of the Southern Nevada championships. I played ball there in junior league, so it was a community baseball park and already had that tradition."
The new Cashman, nestled downtown at Las Vegas Boulevard and Washington Avenue, quickly became the jewel of minor league baseball stadiums. Tickets were affordable for Las Vegas families, ranging from $4.50 for field level (which sold out before opening day) to $3 for general admission, $2 for seniors, military and high school students, and $1.50 for children 14 and under. The fun actually began outside the stadium, where, descending from the upper parking lot to the main gate was a glorious grass hill that no kid could resist rolling down at least once before the game. The $26 million sports and convention facility had 9,370 seats, plus room for fans to sit on a grassy berm perched over the outfield fence, which was just 10 feet high for the stadium's first two seasons before a second tier of advertising was added atop it. With dimensions of 330 feet down the foul lines, 364 feet in the power alleys and 433 feet to dead center field, Cashman soon gained a reputation as a hitter's dream and a pitcher's nightmare.
"It was a lot of fun for everybody because it proved to be a different type of baseball than what we were used to because we had the lower fence — they hadn't put the upper fence up yet — so there was a lot of offense and no lead was safe," said original Stars catcher and current Texas Rangers manager Bruce Bochy, who won World Series championships in 2010, 2012 and 2014 managing the San Francisco Giants. "We were unbelievable at coming back. We'd get down by six runs, that was nothing in that ballpark, (and) we could find a way to come back and win."
"Balls flew out of there," says original Stars reliever Larry Brown. "Hitters loved it; pitchers kinda shook their heads and said, 'It is what it is.' But if you were going to play minor league baseball at the Triple-A level in 1983, there was no better city than Las Vegas. From the welcome we got to the playing conditions to the travel, it was perfect. It wasn't the big leagues, but it was real close."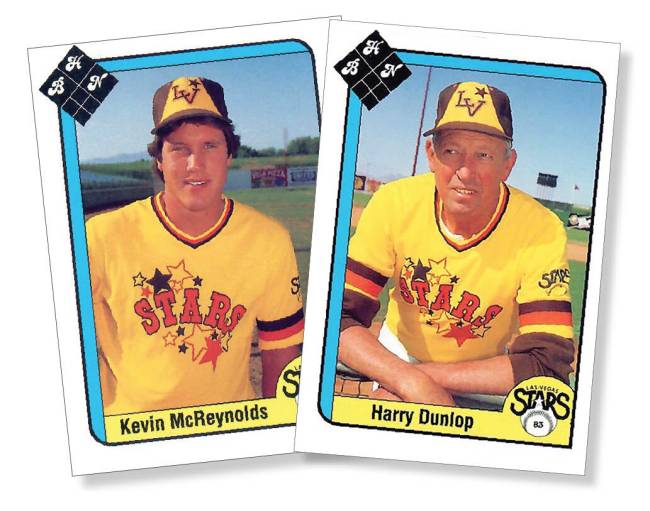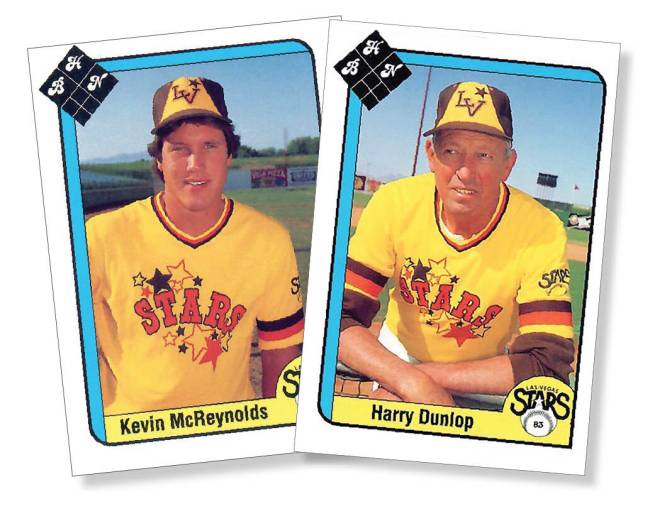 On April 1, 1983, Cashman hosted an exhibition game between the Padres and the Mariners. They played to a 1-1 tie after 10 innings before an overflow crowd of 13,878, with thousands of fans scattered along the grass berm behind the outfield fence. The field was ready, the fans were ready. Now it was time for Las Vegans to greet a team of their own.
On April 10, Salt Lake Gulls second baseman Harold Reynolds stepped up to the plate at Cashman and became the first batter in the modern history of Las Vegas baseball. The stadium hosted 10,622 fans for a game that would set the tone for the season, with the Gulls coming back from an early 5-0 deficit to take an 8-7 lead on back-to-back homers before the Stars rallied late, led by Joe Pittman's two-run go-ahead single, to win 11-8.
In that opening win, the Stars got 13 hits, including three doubles, two triples and a two-run blast by Bochy in the third inning, which was the first home run in Stars history. Asked if he remembers hitting the franchise's first homer, Bochy didn't hesitate: "Remember it? It's the highlight of my career," he said. "That was a pretty cool moment. They were giving out so many gifts, rewarding us for first base hit, first double, triple, home run. I had limo service, I was getting all these show tickets. I hit the first double, too, so I kinda double-dipped on that one and got a lot of free meals they were giving out."
The new Stars swiftly created a strong relationship with fans in the Valley. Aesthetics were part of the appeal — Stars swag was bright and, in true 1980s fashion, loud. It was also often free — game after game, promotions filled fans' wardrobes, wall-space, and collections with pennants and T-shirts and school knapsacks. The baseball cards for the inaugural Stars season showed the players in bright yellow star-spangled batting practice jerseys rather than their regular uniforms. In those shirts, the players looked more like members of a casino-worker beer league than guys just a step down from the big leagues, but the jerseys were so joyfully goofy that the cards still reflect the unique synchronicity between team and city in 1983.
Manager Harry Dunlop's pitching rotation to start the season was anchored by right-hander Andy Hawkins, who would go on to win 84 games in 10 major league seasons, along with Steve Fireovid, Tim Hamm and Bill Long, and left-hander Cecilio Ruiz. Also on the staff were lefties Mark Thurmond, who would become a key starter for the Padres; and Larry Rothschild, who had spent time with Detroit the previous two seasons; along with Stars closer Floyd Chiffer, who had spent much of the '82 season with the Padres. The staff also benefited from working with pitching coach Tom House, who would go on to become one of pitching's great innovators.
"We were lucky we had some experienced pitchers, because that was a tough park to pitch in," Bochy says. "You could lose your confidence real easily there if you weren't able to handle it. And we had a staff that could."
The Stars offense featured Kevin McReynolds, a center fielder who had been selected by the Padres as the No. 6 overall pick in the 1981 MLB Draft. McReynolds lived up to and surpassed the hype, hitting .372 with 12 homers and 45 RBIs in his first 52 games with the Stars before he was called up to the Padres on June 2. He homered against the Phillies that very day. Taking McReynolds' place in the Stars lineup was a young outfielder who had arrived a few days earlier on a rehab assignment — Tony Gwynn, the future eight-time National League batting champion.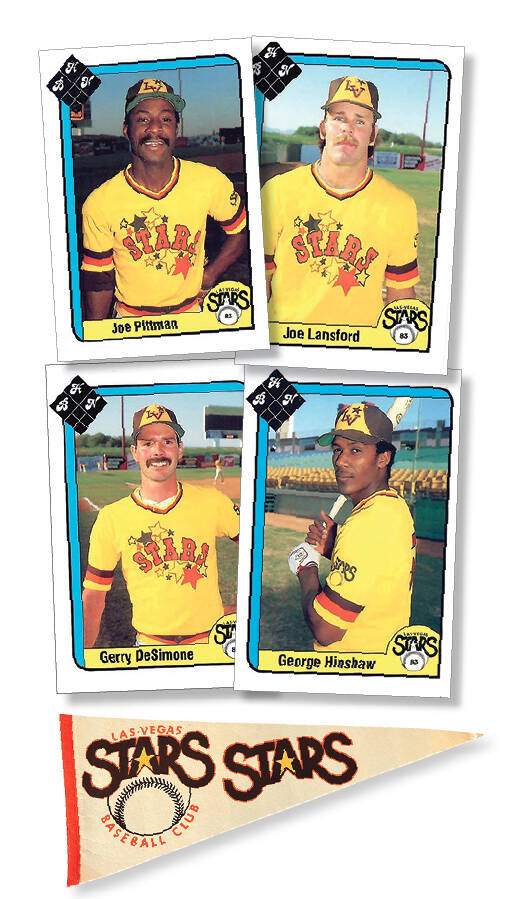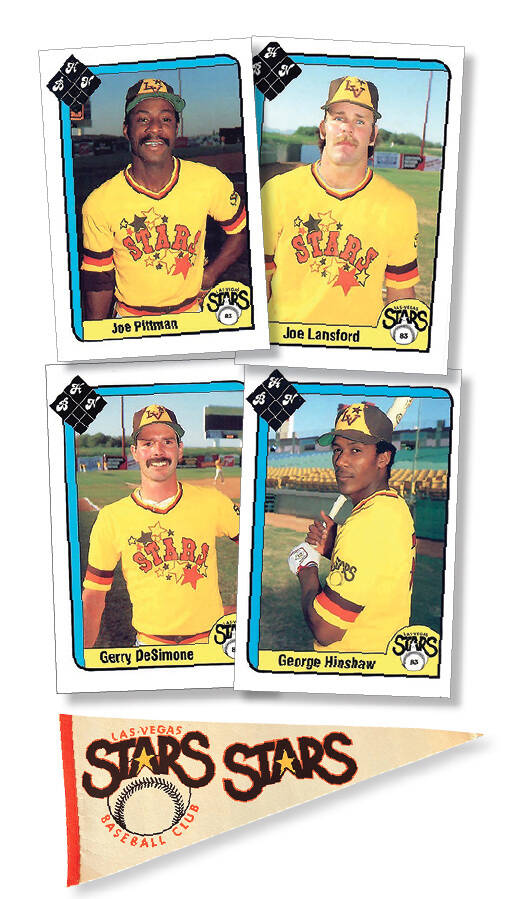 The Stars clinched the Pacific Coast League Southern Division first-half title on June 19 with a 9-8 comeback victory at Tucson, complete with a champagne celebration in the clubhouse after the game. It was Gwynn's last game with the team before heading to the Padres on June 20, and the future Hall of Famer drove in the go-ahead run in the eighth on an RBI groundout, going 3-for-4 in the game to finish with a .341 average with no homers and eight RBIs.
The Stars' 45-26 first half came with plenty of crowd-pleasing drama: Nearly half of their wins came with the team being tied or trailing heading into the seventh inning. Fixtures such as first baseman Joe Lansford, second baseman Pittman, shortstop Jerry DeSimone, third baseman George Hinshaw, left fielder Bobby Brown and right fielder Gerry Davis offered opposing pitchers little rest.
By season's end, the versatile offensive attack totaled 172 home runs and a franchise-record 174 stolen bases in 143 games.
Padres general manager Jack McKeon had loaded the roster with players with more professional experience than most Triple-A teams, including guys with time in the majors such as Bochy, Pittman, outfielders Bobby Brown and Larry Harlow, and relief pitcher Rothschild, all of whom were at least 28 years old.
Larry Brown was 26 and making his Triple-A debut in 1983, having worked his way up the ladder since being selected by Houston in the 14th round of the 1979 MLB Draft, and being traded to the Padres after the 1981 season. After playing on the first two Stars teams, Brown retired as a player and has remained in Las Vegas, serving as a city councilman from 1997-2008 and as a Clark County Commissioner from 2009-20. He has stayed active with Las Vegas' baseball franchise, currently as the Aviators' director of business development.
"I think there was real intent on the Padres to put a roster at Cashman that not only would be competitive on the field, but certainly represent the organization well off the field," Brown says, "especially being new to Vegas."
Bochy was one of the most seasoned players on the Stars' opening day roster in 1983, having been a rookie with the Astros in 1978 and a member of their playoff team in 1980. At 28, he had hoped his days in the minor leagues were behind him, but he quickly embraced his new surroundings, although even the veteran made a rookie mistake upon arrival.
"There was a little disappointment when I was sent down to Triple A out of spring training, but the disappointment was softened by the eagerness to see Las Vegas," Bochy says. "I think the fact that we were sent down to Las Vegas, it softened the blow for everybody, that we were going to experience something that was new — new to Las Vegas, new to the league and new to us who hadn't spent any time in Las Vegas. It was almost like being in the big leagues. And that's how we were treated when we got there."
However, Bochy added, "I still remember going to the hotel to check in when we got there. I had some money I was planning on using for my deposit for an apartment, and I lost that in the first hour. I said, 'Well, I think I've learned that this gambling thing is not going to work.' So my wife came in and bailed me out. We had to go find an apartment and get me away from the Strip."
In late June, Bochy and Thurmond were recalled to the Padres, who were in the midst of a .500 season and not in playoff contention, and Hawkins and McReynolds were demoted to Las Vegas. McReynolds struggled during his first stint in the majors, but back in Las Vegas he regained his stroke and was homering on a seemingly daily basis, hitting seven in five games during one stretch in late July.
"The numbers he put up were pretty remarkable," said Larry Brown, who was roommates with McReynolds in Las Vegas. "And he was a well-built guy, borderline husky, but he could fly and was a great defender in center field. And at the plate, his power alley was to right-center. He would turn on one (to left field) every once in a while, but his bombs were to center field and right-center. He was just a natural. Whenever we needed that big hit, Kevin came through."
On July 29, the Stars got an unexpected boost to their lineup. Padres first baseman Steve Garvey dislocated his left thumb in the first game of a doubleheader against Atlanta and was placed on the disabled list. Upon seeing this, first baseman/outfielder Rick Lancellotti, who had played in Hawaii in 1982, offered up his services to Padres GM McKeon after having been released earlier in the season by both Montreal and Texas.
McKeon didn't give Lancellotti the big league spot he was hoping for, but he offered the left-handed slugger a ticket to Las Vegas and it immediately paid dividends for all involved. Lancellotti hit a bases-loaded double in his debut with the Stars on Aug. 4 and hit the Stars' first grand slam at Cashman the following night, an eighth-inning bomb onto the berm in right field in a 9-5 victory over Tucson. Then it was Lansford's turn to torture the Toros as the powerful first baseman went 5-for-5 with three homers and eight RBIs in a 12-9 win. It was his second three-homer game of the season, following one against Phoenix on July 1.
The Stars briefly took the second-half division lead in early August, but the Albuquerque Dukes — the affiliate of the Los Angeles Dodgers — took six of the eight games between the teams in the second half, including three of four to close the Stars' home schedule, and won 12 of 13 overall to earn the title, setting up a postseason showdown between the teams.
The best-of-5 series was a thriller in which the teams exchanged shots like boxers. McReynolds homered twice in the opener, but the Dukes lit up Stars pitching for three homers in a 12-8 Albuquerque win. In Game 2, Davis hit a three-run homer just over the outstretched glove of Dukes center fielder Ed Amelung to cap a five-run ninth inning and give the Stars a 12-11 victory after Albuquerque had rallied from a 7-2 deficit heading into the eighth inning to take an 11-7 lead.
In Game 3 at Albuquerque, McReynolds homered for the fourth time in the series, and Lansford and Lancellotti also homered as Steve Lubber pitched the Stars to a 14-4 win. The Dukes evened the series at 2-all the next night when Franklin Stubbs homered off Chiffer in the 10th inning to give Albuquerque a 5-4 triumph.
In the finale, McReynolds hit his sixth home run in five games, but it was all the Stars could muster and the Dukes won 4-1 to end the Stars' magical first season. The new Las Vegas squad had succeeded wildly, compiling a record of 83-60 — still the third-best in franchise history. The excitement translated into a PCL-leading attendance of 4,878 fans per game (with a first-half average of more than 5,300) in a Las Vegas metropolitan area that had a population of just over 500,000 in 1983.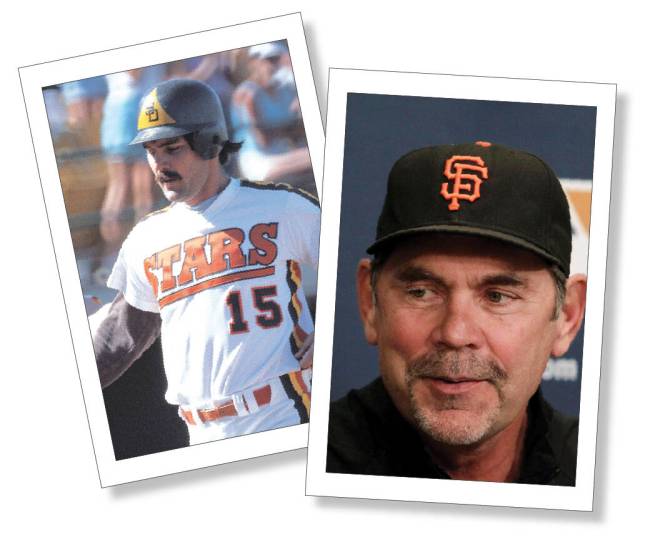 Many of the '83 Stars ended up paying quick dividends with the parent club, as the Padres earned their first trip to the World Series in 1984. Gwynn won the first of his eight National League batting titles that year, and McReynolds became a fixture in center field until breaking his left wrist in the National League Championship Series. Bobby Brown played in place of McReynolds in the World Series, Thurmond took the mound to start Game 1 and Hawkins, Booker and Bochy also saw action as the Detroit Tigers defeated the Padres in five games.
The 1983 Stars were inducted into the Southern Nevada Sports Hall of Fame in 2007, not only for their success that inaugural season, but for the lasting impact they have had on bringing pro baseball to Las Vegas. Cashman Field would go on to host the 1990 Triple-A All-Star Game, as well as the short-lived Triple-A World Series from 1998-2000. And the Oakland Athletics played their first six games of the 1996 MLB regular season in Las Vegas while renovations at their stadium were completed. In 2001, the Stars became the Las Vegas 51s, and in 2019 they changed their name once again to the Aviators as they moved from Cashman to the new Las Vegas Ballpark.
"All of those building blocks led to the ability for professional sports to look to come to Las Vegas," Ralenkotter says. "And look what's happened: We have the Golden Knights, we have the Raiders, we have the Aces, talk of Major League Baseball, the NBA Summer League, more discussion about an NBA franchise here. Las Vegas has always been a can-do city and asked 'How can we make that happen?' And you can see that reflected in where we are today and where we're going to go in the future. And baseball played a very important part in that." ◆