Russ Burkey says he's not angry at God that his daughter, Emma, was crippled by a rare side effect from Johnson & Johnson's Covid-19 vaccine.
Instead, he credits God for her astonishing recovery from a series of strokes triggered by blood clots in her brain. When the hospitalized then-18-year-old came out of an induced coma, the only movement she could make was to stick out her tongue.
"It's God. What else would it be?" he says on a hot July afternoon, a Christian radio station playing, as he drives across the valley in a van equipped for a wheelchair to pick up Emma from a therapy session.
Russ, who works as a day trader, acknowledges that his daughter has a lot of fight in her. She has needed it. Two and a half years ago, Emma, who'd been having severe headaches since she'd been vaccinated days earlier, had a seizure and was rushed to the hospital. Thirteen days later, she awoke from the coma.
Emma would later say that she has had to fight to get her life back every day since.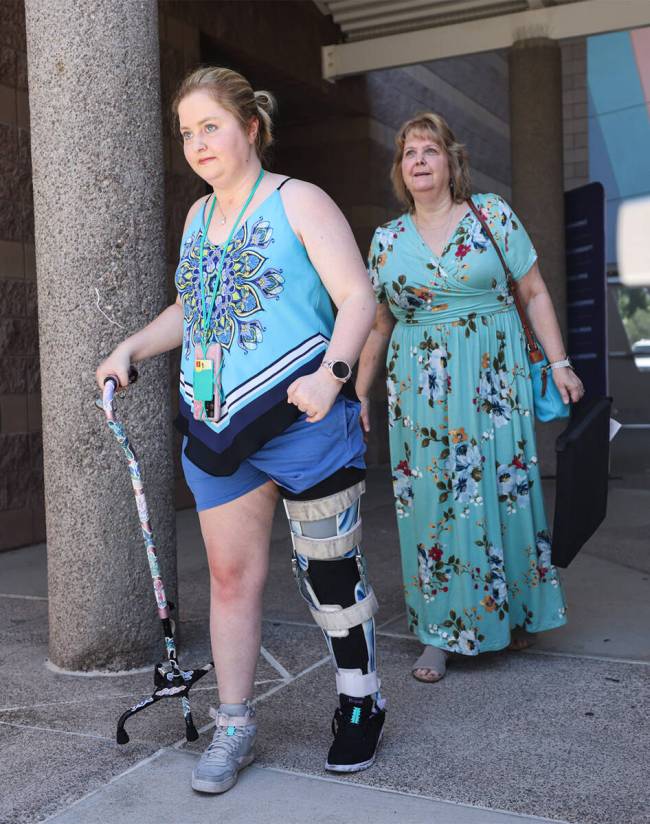 On April 2, 2021, Emma was rushed to St. Rose Dominican Hospital, Siena campus in Henderson. The medical team there puzzled over why a healthy young woman would have developed the blood clots along with low platelets, the blood cells that form clots – a disorder called thrombosis with thrombocytopenia syndrome, or TTS.
Within hours of her admission, doctors suspected Emma might be experiencing a rare vaccine reaction. A small number of cases of TTS had been identified in other countries in patients who'd gotten a vaccine developed by AstraZeneca, which like Johnson & Johnson's vaccine uses viral-vector technology.
St. Rose's medical team tried in vain to reach federal health authorities for guidance on treatment, Dr. Brian Lipman told the Review-Journal at the time. Later that month, U.S. health authorities would publicly link the J&J vaccine to TTS and pause its use.
Five days after admitting her, St. Rose transferred Emma to a California hospital that could provide more specialized care. Otherwise, "She would have been dead in 10," Russ says.
A bed had been found for her at Loma Linda University-Health medical facilities, where top experts in the world in vascular strokes and rehabilitation would be treating her.
It would be more than three months before Emma, her mother, Kathy, and Russ would return home to Henderson, where the young woman continues to receive intensive physical and occupational therapy almost daily.
Russ arrives to pick up Emma as she's ending a session of occupational therapy, a misnomer in that it's designed to help with everyday activities, not job skills. Emma is smiling and chatting with an aide sitting with her at a table, button-up shirts and jackets piled in front of them. Emma, who is now 20, slowly buttons and folds the garments, a cumbersome task because her hands, especially the left one, remain clumsy from the strokes. Russ wisecracks that she is learning how to "fluff and fold." His daughter laughs, then tells a visitor she is learning to be independent.
As she works, Emma talks about an upcoming trip to Southern California, where she wants to ride the Grizzly River Run Ride at Disney California Adventure Park. This should be manageable, her therapist tells her, as long as someone can assist her if she needs help climbing out of the ride. After wrapping up formal therapy for the afternoon, Emma zips in her motorized wheelchair to an adjacent room to show a visitor the projects she's working on to improve the dexterity in her fingers.
Emma, who wants to work professionally with babies and children, is using a knitting board to make a baby blanket. She also is making a "diamond painting" of her brother, Cooper, who this year graduated from college, and his girlfriend.
She uses a small tool to place tiny rhinestones on a photo outline of the couple, creating a paint-by-number mosaic. On the way out of the building, she and her dad pause at a diagram of the brain hanging on a wall. Russ points to the various portions of his daughter's brain damaged by the strokes. Yet Emma's cognitive abilities, speech and personality are now fully restored.
She considers herself lucky. "I know who I am still," she says.
After exiting the building, Emma drives her wheelchair up a ramp into the back of the van. On the drive home, she talks about how she had a sleepover with a friend for the first time since what she refers to as "I Didn't Die Day."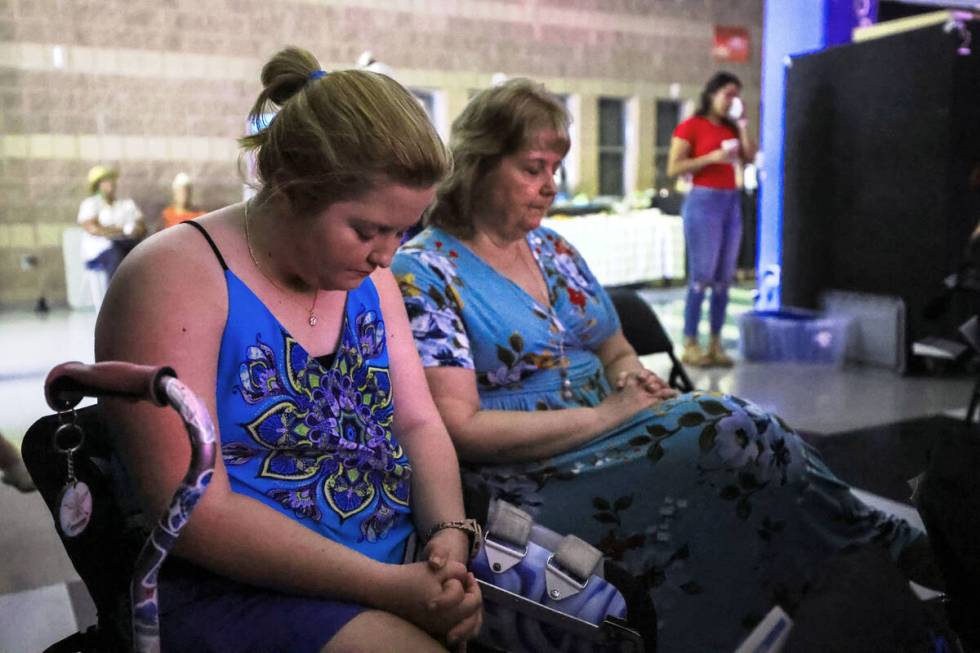 Her friend, Bella West, has learned how to help Emma put a heavy, foot-to-hip brace on her left leg. The brace allows Emma to walk increasingly longer distances. Because Bella can also help take the uncomfortable brace off, the young women will be able to go see Barbie without Kathy tagging along.
Like legions of girls and women everywhere, the friends plan to wear pink.
Dr. G. Kashef treated Emma at St. Rose when she was in very critical condition and continues to see her as a patient.
"It's surprising that she's alive," he says. "That is, I would say, a miracle."
Kashef, a hematologist oncologist, ran a series of tests to try to identify whether Emma had any risk factors for the blood clots, such as a genetic mutation or protein deficiency. No abnormality was found to explain her condition, he says.
Emma's case was one of half a dozen that prompted U.S. authorities later that month to pause the use of the Johnson & Johnson vaccine. The suspension was lifted after 10 days, as regulators determined that the vaccine's benefits outweighed its risks.
In December 2021, the CDC took the unusual step of recommending the Moderna and Pfizer-BioNTech vaccines over the J&J vaccine. The Moderna and Pfizer vaccine are based on mRNA technology and have not been shown to cause TTS.
By then, there had been 54 cases of TTS linked to the J&J vaccine — a rate of less than four cases per million doses — nine of them resulting in death. (A representative of the Centers for Disease Control and Prevention said he could not provide updated case and death numbers.)
In May of 2022, the U.S. Food and Drug Administration limited the emergency use authorization of the J&J vaccine primarily to people 18 and older for whom other vaccines weren't suitable. The agency said it made the change because of the risk of TTS. The vaccine wasn't formally taken off the market. But in May of this year, the CDC announced that all remaining doses had expired and directed that they be disposed of.
Emma says she got vaccinated to protect the children she watched in the church nursery and babysat for. She decided on the J&J shot because it was a one-dose vaccine and she trusted the maker of baby products. "And so I kind of felt betrayed by the fact that something that takes care of the thing that I love so much could hurt me in that way," she says.
Russ says he's angry at Johnson & Johnson but more so at the government. The family does not expect to receive compensation for Emma's injuries after a lawyer dropped their case. The Public Readiness and Emergency Preparedness Act shields vaccine manufacturers from liability in public health emergencies.
The family has received $100,000 from fundraisers, says Kathy, a partner in a construction company. The money has helped pay for medical bills that insurance doesn't cover, as well as expenses such as moving to a wheelchair-accessible home, and purchasing and maintaining necessary equipment, including the van. Kathy predicts the couple will never retire because of ongoing expenses.
"This shouldn't have happened to me or anyone in the first place," says Emma, who is not opposed in general to vaccination.
"The vaccine shouldn't have been as rushed as it was. Yes, people needed it," she says, and she's heard the odds of injury were one in some incredibly high number. "But when you're the one, it's a really big deal to you."
Emma is slowly but surely recovering, Dr. Kashef says. "I hope she recovers fully, but I don't think she ever goes back to her baseline" because of the severity of her injuries.
Bret Johnson, a friend of the Burkeys, has been surprised by the strength that Emma has shown throughout her recovery. "I think a lot of people in that situation would just get depressed and fall into a malaise," says Johnson, founder of a Henderson-based Christian ministry where Russ volunteers as his right-hand man. "She's done just the opposite. She's been super aggressive at her physical therapy."
Emma and her family have been encouraged by prayers from people around the globe, Johnson says, and strive to remain positive. Her Christian faith and the support of her family have sustained her, Emma says. When she gets down, she'll talk with her mom to feel better.
"It will hit them," Johnson says. "Mom and (Emma) will cry together."
Kathy recalls how grueling the early days of Emma's recovery were, when six therapists at a time worked with her "because she could not control any part of her body whatsoever."
"They're pushing her to do things, and she's crying. That was hard," she remembers.
Emma says she decided early on to try to do whatever her therapists thought would help make her better. She stays motivated by setting both short- and long-term goals. She started small. "So at a point, it wasn't, like, 'I want to be able to walk now.' It was, 'I want to be able to move my finger so I can tap things on my phone.' Or, like, 'I want to be able to hold a spoon so I can eat soup.' This little, simple stuff. And then as time went on … I go from lifting my finger to being able to lift my leg."
Emma goes to therapy five days a week, five hours a day, to be able to live on her own one day. She has progressed to where she can now shower by herself, but her mom needs to turn the faucet on and off for her. She gets dressed by herself and puts on her own makeup. "I never thought I'd be able to get this far," she says. "And it's incredibly hard now, because you think about things that you should be able to do. But you have to take a step back and be, like, 'Two years ago, I couldn't move a single thing in my body and now I can walk places by myself and eat by myself.'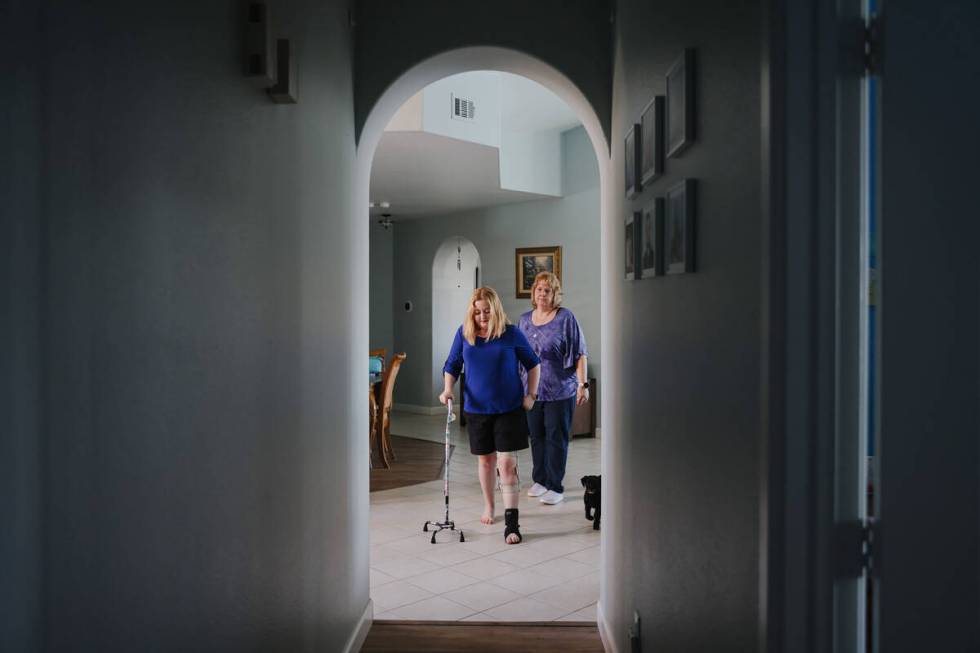 "So what my hopes are is that I'll be able to get really close to what I was before. I'd like to get a job, and I'd like to take care of kids and be a mother and get married and all that kind of stuff. As to the timeline, I don't really know about that."
She's currently taking online classes at College of Southern Nevada toward a degree in psychology. Her aim is to one day work as a speech therapist, an occupation that would allow her to work with kids without requiring as much movement as other jobs with children.
One afternoon at home, Emma demonstrates how she has progressed to walking in her house with a cane and with smaller, lighter braces on her knee and ankle. Kathy walks behind her to catch her if she stumbles.
In the afternoon after therapy sessions, which she says are exhausting, Emma likes to read to relax. A recent favorite book is the bestselling fantasy novel Fourth Wing by Rebecca Yarros, about a young woman who struggles with a serious health condition that makes her weaker than her peers. Through extraordinary heart and grit, the character, Violet Sorrengail, time after time beats the odds to triumph as a rider of the fiercest of dragons.
Emma says she was struck by a passage in which Violet says, "I wouldn't be standing here if I'd quit every time something seemed impossible to overcome. I will not die today." ◆
Visit lvrj.com/rjmagazine to watch Rachel Aston's video about Emma's continuing battle for recovery.