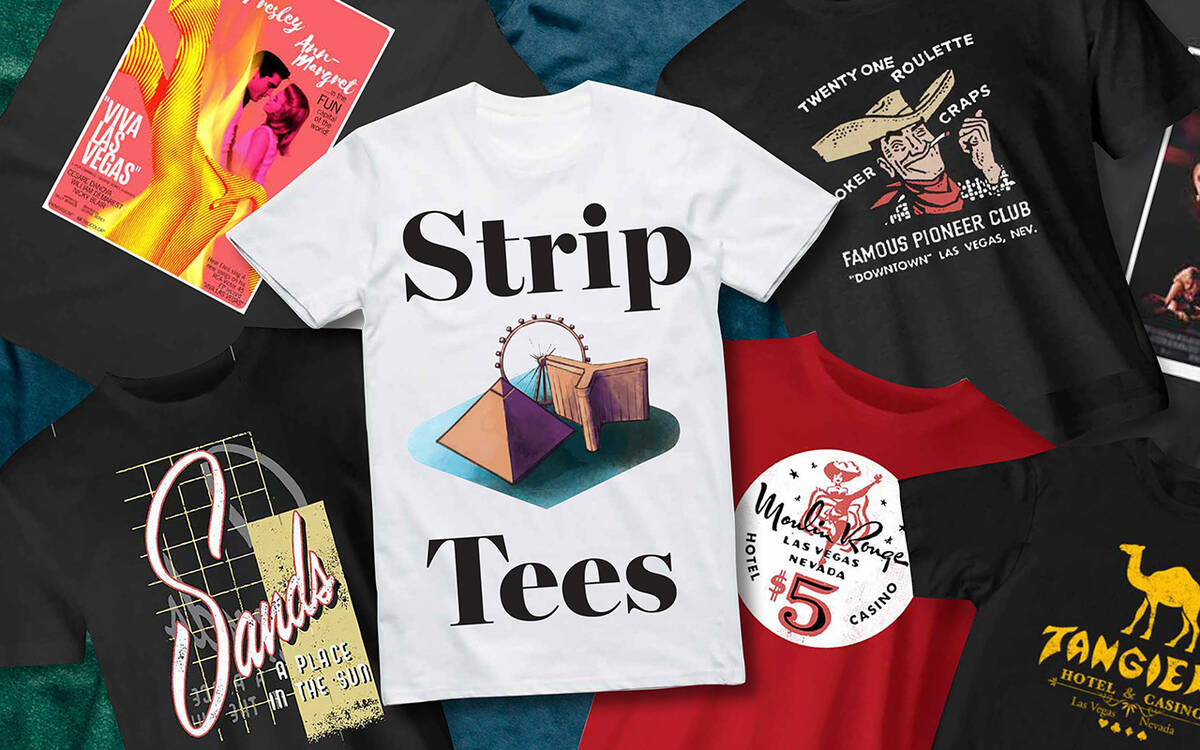 Why would I want to escape one of America's great escapes? Yeah, I get it, summer is approaching, so I'm supposed to leave town on vacation, Clark Griswold-style. Here's the thing, though: As a proud Las Vegan, I already have all the culture and cuisine a true epicurean could ever ask for — namely, zombie burlesque, cotton candy burritos and Carrot Top. But just because I won't be hitting the road doesn't mean I won't be compiling a killer souvenir wardrobe that will surely be the envy of any and all gift shop visitors nationwide. As they say — well, nobody says this — if you can't go touring, dress like a tourist.
Just check out all these sweet Vegas tees I've scored thus far …
Showing that local love
What defines being a true Las Vegan? Playing video poker at a gas station? Living next door to a showgirl? Sporting the quizzical look of a dog being taught a card trick when someone explains the foreign concept of "last call"?
Above all else, being a bona fide, tried-and-true Sin City denizen means being perpetually, irrationally agitated by visiting Californians — especially their driving habits. If you haven't shaken your fist and let the expletives fly at a car with Golden State plates while barreling down I-15, then move back to Toledo where you belong.
As such, my "Don't California My Nevada" (zazzle.com) tee is particularly awesome and apt. Truth be told, I've been spending a lot of time of late celebrating my love of Las Vegas with chest-covering fabrics. If you're anything like me — go ahead, dare to dream, plebes — you like shouting at strangers about the town from which you hail. This explains my exclamatory "Yo! I'm from Las Vegas" shirt (teepublic.com). Who knew cotton could yell?
I'm also really digging my "Las Vegas Looks the Way You'd Imagine Heaven Must Look at Night" shirt (redbubble.com), even though — like most folks — when I think of the Pearly Gates come sundown, I picture Christ in a Snuggie.
And who could argue with my "You Can't Buy Happiness But You Can Go to North Las Vegas and That's the Same Thing" T-shirt? (teepublic.com) OK, there is one minor counterargument to that one: Happiness can most definitely be purchased. It's called "beer." Hence, my "Las Vegas Beer King" shirt (teepublic.com). Crown me.
Remembering iconic Vegas spots of the past
OK, let's all bow our heads for a moment of respectful silence in fond remembrance of Las Vegas' first nude ice skating show — yes, there were more to come. It was called, naturally, "Spice on Ice" and ran for four years in the mid-'70s at the Hacienda.
That grand feat of human ingenuity alone — right up there with the advent of the wheel and cheese in a can — makes the Hacienda, imploded in 1996 to make way for Mandalay Bay, worth remembering. Of course, the iconic Hacienda neon horseman sign (redbubble.com) lives on downtown — and on my badass Hacienda T-shirt.
While we're on the subject of old signs on new T-shirts, here's a trifecta I need in my wardrobe: In the '60s, the Dunes (m00nshot.com — those are zeros, not O's) had for a time the tallest, free-standing sign in the world at 181 feet. In terms of sheer star power, the Sands marquee (m00nshot.com) was hard to beat, regularly featuring such Rat Packers as Frank Sinatra, Dean Martin, Sammy Davis Jr. and, naturally, Son of Lassie star Peter Lawford. And who could forget 40-foot neon cowboy Vegas Vic (m00nshot.com), the last man standing among this holy neon trinity?
There's a bevy of now-shuttered properties of the past I'm commemorating via some sweet threads. How about the Pussy Cat A Go-Go (different designs available at m00nshot.com and teepublic.com), Vegas' first rock 'n' roll casino, where Sly and the Family Stone held a residency in 1967 — the funk greats recorded their debut album A Whole New Thing on their off days — and where Doors singer Jim Morrison once got arrested after getting in a fight with the doorman. It happens!
Then there's the Moulin Rouge (carolyncarsonpianoo.com ­— yes, those are two o's at the end), which lasted but six months on the outskirts of downtown in 1954, but whose legacy is more far enduring: It was the first fully integrated casino in the country. And let's not forget Westward Ho (different designs at m00nshot.com and teepublic.com), which once billed itself as the world's largest motel and was the last low-slung lodging available on the Strip before closing in 2005. Neat bit of Sin City movie trivia: The interior of the Westward Ho was featured in the great Leaving Las Vegas.
Speaking of which…
Celluloid Las Vegas
Gotta say, I feel like the kling-klang king of the rim-ram room in my must-have Leaving Las Vegas T-shirt (redbubble.com). In case you missed it, this classic Vegas film features a perpetually jittery Nic Cage waterboarding his liver in vodka as he (successfully) attempts to drink himself to death alongside his prostitute companion Sera (played by Elizabeth Shue) in some of the seediest stretches of our fair city. But as near-perfect as the film is, it might not even be the best Vegas-set movie of 1995.
Also released that year: Martin Scorsese's Sin City mob epic Casino, where Robert De Niro plays ace bookmaker "Ace" Rothstein, who comes to town to run the fictionalized Tangiers casino, which was based on the Stardust. "For guys like me, Las Vegas washes away your sins," Rothstein famously says in the flick. "It's like a morality car wash." I'm getting in on the action and cleansing my soul with a cool Tangiers logo tee (printerval.com).
Of course, my wardrobe can't ignore classic films like Viva Las Vegas (redbubble.com) and Ocean's 11 (printerval.com), though both are united by a fatal flaw: a bizarre shortage of zombies. Thankfully, there's my undead-enhanced Army of the Dead (tillys.com) shirt to feast on whatever brains you have left after reading this. ◆