5 secrets to keeping your sanity this school year
August 28, 2014 - 3:05 am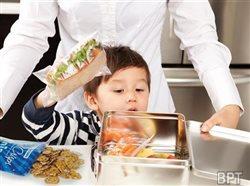 (BPT) – The summer months are over and the school year is in full swing. As a parent, this means you've traded those lazy summer days for school sports and activities, colder temperatures and the morning rush to the bus stop. If you feel like your home's organization is hanging on by a thread, take heart; there are some simple things you can do to return order and make the rest of your school year run smoothly. Here are a few ideas to get you started:
* Take the hectic out of those hectic mornings. Let's be honest, the mornings are pure chaos. There's breakfast to prepare, school supplies to collect and outfits to pick out. It's a whirlwind. However, you can return some sanity to your mornings by accomplishing some simple tasks the night before. Before they go to bed, have your children pick out their school outfit for the following day and pack their backpacks – this will reduce the risk of forgetting something.
* Make snacking simple. Snacking is a mainstay for families on the run. Whether it's an addition to a lunchbox, an option for an after school snack or something to eat at halftime, your kids' snacks need to be simple. Snack Factory Pretzel Crisps Minis are the perfect choice for kids on the move. Pair them with nuts, dried fruit and chocolate for a delicious snack mix, or serve them individually when you're on the go. Available in Original and Cheddar flavors, and at just 110 calories per serving, Pretzel Crisps Minis are a better option for your children than greasy potato chips.
* Create a homework station. As a parent, nothing is more frustrating than learning your child received a failing grade simply because they lost their assignment. Keep your home organized and your child's assignments accounted for by creating a designated homework area in your home. A space in your office, a desk in the kitchen or a spot at the dining room table works great. You can even add a calendar to help your students keep track of the due dates for larger projects.
* Adjust the bathroom routine. Of all the routines that create morning chaos, the battle for the bathroom is king. Simply put, this space is a one-at-a-time area, and if you have more kids than bathrooms, tension will arise. You can circumvent this by putting some of your children – or even yourself – on the evening shift when it comes to showers. Small children or children who require less mirror time in the morning are the logical choice, but you may want to set up a rotating schedule to keep the peace.
* Have a plan. If you have multiple kids in multiple activities, it can be impossible to keep track of who needs to be where and when, so don't try. When your child joins a new activity, ask to see the schedule and instantly add the appropriate dates and times to your calendar. Don't rely on your kids to remember when they need to be somewhere; they won't remember until they are already 15 minutes late. You simply don't need the headache.
The school year is a far cry from those relaxing days of summer, but you don't have to let the crazy control your life. Institute these simple changes to maintain some order, and you'll reach the following summer with a smile on your face and your sanity intact.