7 ways to pair seafood and wine this holiday
December 3, 2015 - 3:08 am
(BPT) – This holiday, gather inspiration for your table from the historic Italian "Feast of the Seven Fishes" tradition, which centers around enjoying fish-focused dishes for Christmas Eve dinner. The feast originated with serving seven courses made up of classic Italian seafood dishes, and today, many families create their own customized versions of this tradition, often including a palate cleanser between courses and a dessert course at the end. Paired with authentic Italian wines from DaVinci, any of these dishes will enhance your own Feast of the Seven Fishes-inspired holiday meal.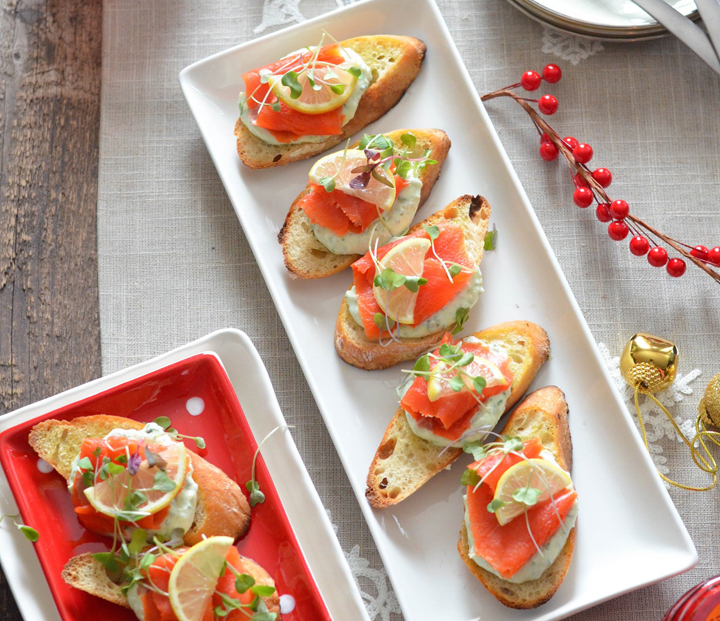 Welcome your guests with small-bite appetizers paired with a glass of crisp, refreshing Pinot Grigio. Herbed ricotta cheese served on a crostini with smoked salmon makes for a perfect first bite on a holiday evening.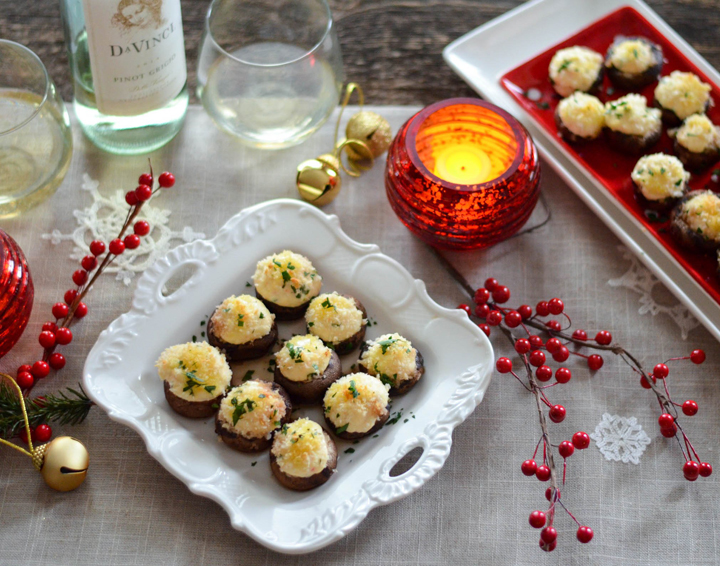 Consider a light appetizer of crimini mushrooms stuffed with a flavorful blend of fresh crab, cream cheese, garlic, lemon zest and fresh herbs, topped with breadcrumbs for a crisp finish. The lemon zest in the dish will bring out the tropical and citrus fruit flavors in Pinot Grigio.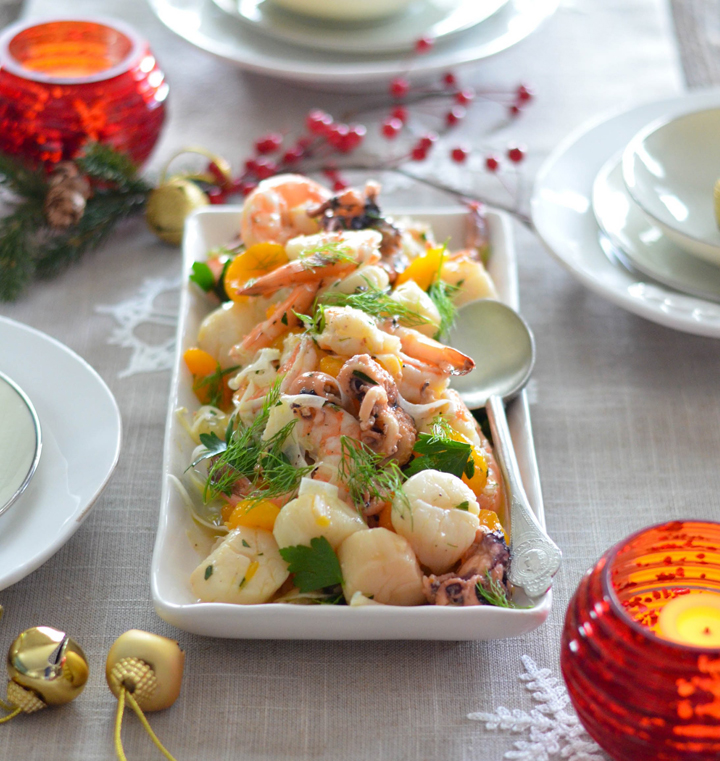 Enhance a first course featuring grilled seafood salad with the likes of octopus, shrimp, scallops, mussels and white fish. DaVinci Pinot Grigio pairs well with this course, too. Crisp, balanced Pinot Grigio grapes grown in the Trentino region in Northern Italy create a versatile wine with lively acidity that pairs well with a variety of foods.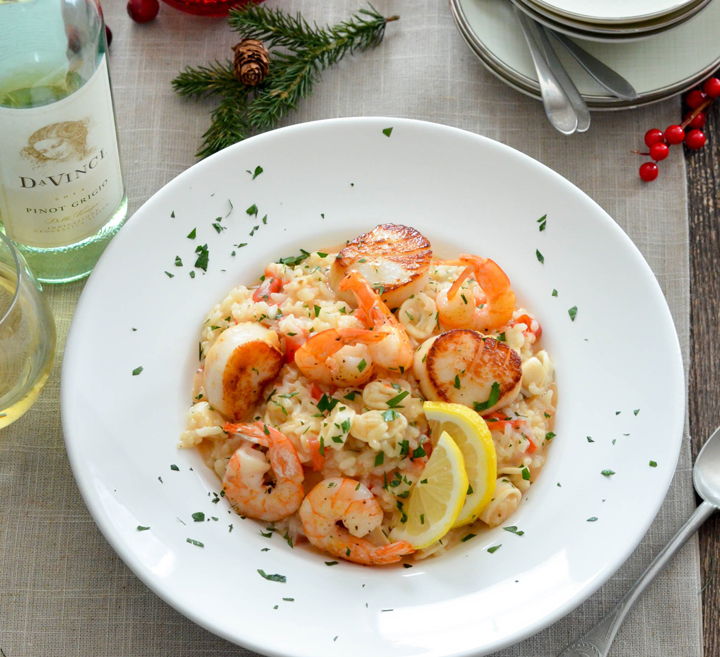 This aromatic dish is made with Arborio rice prepared with Pinot Grigio, herbs and an assortment of seafood including oysters, bay scallops, shrimp, clams and calamari. It also pairs well with Pinot Grigio, or can also be accompanied by a glass of Chianti.
5. Spaghetti Vongole with Red Sauce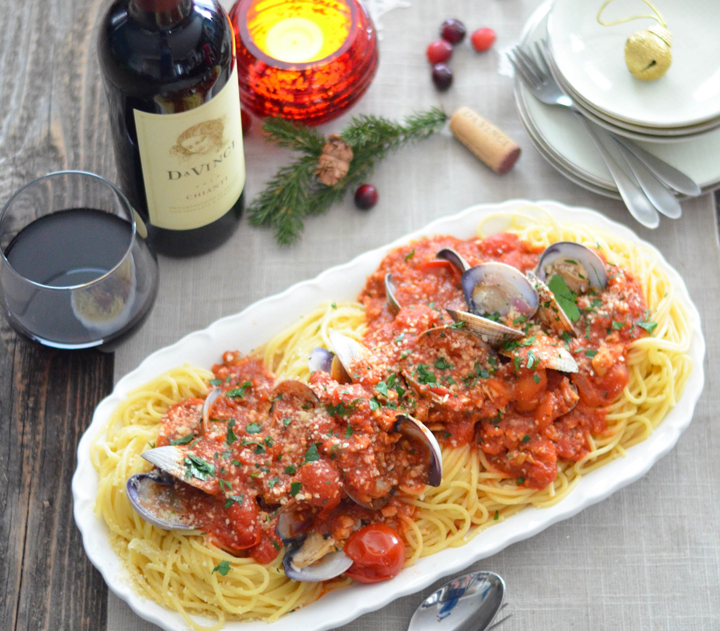 Poach fresh clams in a Pinot Grigio-based broth and stir them into a spicy, Chianti-based tomato sauce to create this traditional Italian dish. Serve with DaVinci Chianti, crafted by a historic cooperative of 200 growers who work together to produce the wines in Vinci, Italy, Chianti's heartland.
6. Italian Shrimp and Sausage Stew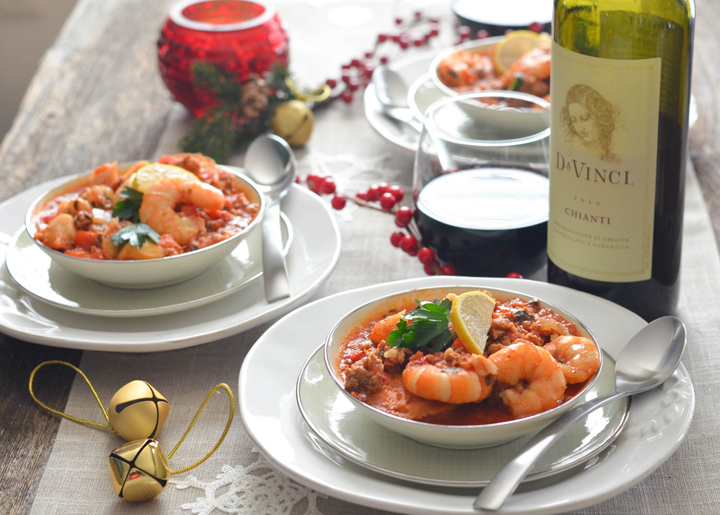 Similar to a traditional cioppino, this shrimp-based stew can be augmented with spicy sausage for high-end comfort food that your guests will enjoy. Chianti's rich flavors of ripe plums, cherries and red fruit make ideal complements to this spicy, hearty dish.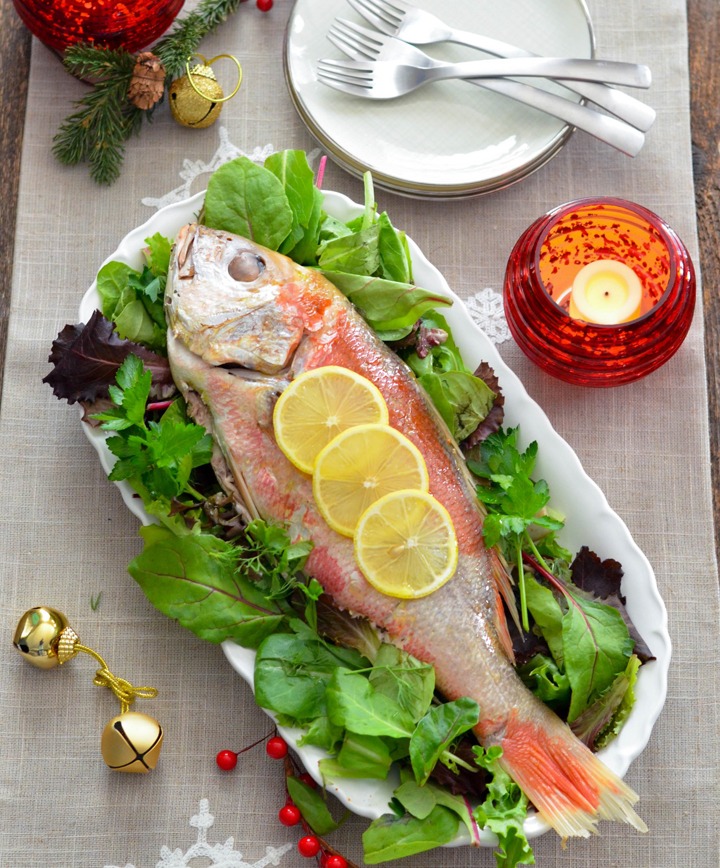 For a show-stopping main dish, red snapper served whole on a platter is perfect for family-style sharing. Pesce all'Acqua Pazza, or "fish in crazy water," can also be made with sea bass or turbot and is simple to prepare but makes for stunning presentation. Serve over a dressed arugula salad and enjoy with a glass of DaVinci Pinot Grigio or Chianti as the evening winds down.
Rooted in centuries of winemaking tradition, DaVinci wines are produced by 200 passionate winegrowers in the Tuscan hillside town of Vinci, birthplace of Leonardo da Vinci. To learn more, visit www.davinciwine.com and www.facebook.com/davinciwine.
Note to Editors: Italian Table Wine, ©2015 DaVinci USA, Healdsburg, CA. All rights reserved.