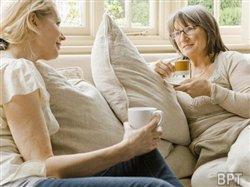 (BPT) – A breast cancer diagnosis at any stage can be devastating. However, women with advanced breast cancer are also faced with the overwhelming reality that they must begin additional therapy, or that they will receive treatment for the remainder of their lives. There are an estimated 150,000 women in the United States living with stage IV metastatic breast cancer. Stage III locally advanced breast cancer and stage IV metastatic breast cancer – collectively referred to as advanced breast cancer – are the most progressed forms of the illness.
In a society that has built a culture of breast cancer support around pink and "survivors," this view is not always embraced by women with advanced breast cancer. Similarly, patients whose breast cancer has metastasized often struggle with feelings of guilt and confusion over why their cancer has progressed, even when they tried to do everything right. This, unfortunately, has caused many with the disease to feel isolated and alone.
Ginny Knackmuhs, 61, of Wyckoff, N.J. was diagnosed with stage IV metastatic breast cancer in 2009. She remembers well the frustrating experience of searching for information and trying to identify with resources based on others' recommendations. Ginny is now a board member of Metastatic Breast Cancer Network, one of 13 advocacy organizations that worked with Novartis Pharmaceuticals Corporation to create Count Us, Know Us, Join Us, a campaign that was created to amplify the voice of people living with advanced breast cancer. The campaign aims to educate others about the unique challenges and needs of advanced breast cancer patients in part through the revitalization of www.advancedbreastcancercommunity.org, a website that serves as a strong support system for those impacted by the disease.
"It's wonderful to have a central site that incorporates so much information for a patient diagnosed with advanced breast cancer," says Knackmuhs. "The beauty of this site is that it has great information with links to a wealth of resources, all in one place, for caregivers and patients."
According to Knackmuhs, many people whose breast cancer has recurred, or whose initial diagnosis is advanced breast cancer, often do not feel understood by early breast cancer support groups. Due to the aggressive nature of the disease, these people must make permanent, life-altering changes in order to stay alive. Yet vital information and guidance about living with advanced breast cancer – crucial for the person and their family following this diagnosis – has typically not been as prevalent as resources offered to those with early breast cancer. This lack of information confronts people living with advanced breast cancer at a time when self-education is extremely important for making decisions that ultimately impact quality of life, she says.
Count Us, Know Us, Join Us also aims to help bring more recognition to advanced breast cancer by encouraging others to learn more about the disease and how to support those faced with it. Patients, supporters, caregivers, friends and family members are encouraged to visit the website and "be counted" as part of the advanced breast cancer community digital mosaic.
"The Count Us mosaic is a visual representation of supporters and those living with advanced breast cancer, as well as a symbol of unity for community," Knackmuhs says.
Adjusting to an advanced breast cancer diagnosis can be overwhelming, and those impacted can feel that there is nowhere to turn for information tailored to their needs. The website offers the advanced breast cancer community a central location for people to address the many obstacles that come with this diagnosis.