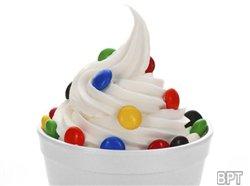 There's nothing like a cool, refreshing and healthy treat to chase away the summer heat or the winter dreariness, no matter if you're 80 or 8. And it's rare for a person to turn down a delicious snack when celebrating a birthday. Frozen yogurt is a popular treat for all ages and celebrations in life, which could explain why businesses offering it reported significant growth over the past five years.
From 2006 to 2011, the industry grew 5.9 percent, even during the tough economy. Restaurants, gas stations, catering companies and even hotels are delving into the frozen yogurt market, setting up shop thanks to low start-up expenditures and low overhead maintenance costs. These frozen yogurt bars range in offerings from a selection of flavorings – including low fat – to a variety of fruit and nut toppings to enhance the treat.
"Frozen yogurt is a quick and versatile element businesses have been able to add to their services, without expending a lot of costs or effort," says Raphael Doromal with Donper America, an industry-leading manufacturer of quality frozen yogurt machines. "As a result, the industry has grown, and customers are finding new places serving their favorite frozen treat."
For example, catering companies can expand their menus with soft-serve machines. Frozen yogurt machines are portable and can be taken to birthday parties, businesses, weddings, schools and even fundraising events. Mixes for the treat come in either liquid or dry options, providing businesses with a couple of long-term storage choices as well.
Even hotels are jumping on the frozen yogurt bandwagon. The Palms Las Vegas has a frozen yogurt bar do-it-yourself operation keeping visitors cool in the desert heat and satisfying their dessert cravings. Guests have all the options they want for either healthy or decadent desserts.
And the next time you fill up for gas, there is a chance you might be able to purchase and enjoy a frozen yogurt treat at the convenience station before you head on down the road again. For example, RaceTrac has incorporated the entire frozen yogurt shop concept – toppings included – in some locations.
Another reason for the popularity and growth in this industry is because frozen yogurt is often seen as a healthy snack, especially when served low-fat with fruit toppings. It's a great dairy supplement with a meal, is a delicious dessert and can be considered a lower-calorie mid-afternoon snack on those hot summer days.
IBISWorld projects that demand for frozen yogurt stores will continue to grow over the next five years because of new markets joining the industry. So the next time you're in the mood for a delicious and cold treat, you probably won't have to go far to find a business serving frozen yogurt with fresh fruit, nut and candy toppings.