Career-switchers find an opportunity to make a difference in education professions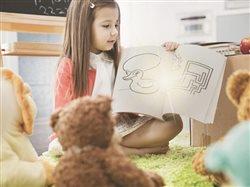 (BPT) – An ex-law enforcement officer, a legacy teacher who grew up in a family of educators, and a professor who recalls being the student no teacher wanted in a class – though they come from very different places, today's educators cite a common influence for choosing education careers.
"It's that moment when you know you're making a difference in someone's life," says Dr. Phyllis Schiffer-Simon, a professor at Kaplan University's School of Graduate Education. Schiffer-Simon's mother was also a teacher. "It's what draws teachers to the profession and keeps us there. It's definitely not the salary or the challenges in today's classrooms. It's watching that light come on in that one student."
Teachers empower communities by caring for and educating children. Sadly, teaching in general has been losing favor among top graduates and established professionals. According to federal data cited in the New York Times, the number of student candidates enrolled in teacher training programs fell 12.5 percent from 2010-2103. We need qualified teachers and it's time to act.
Many educators come to the profession from other careers, such as Gaetano Perilli, an exceptional student education specialist at Bonita Springs Preparatory and Fitness Academy in Naples, Florida. "I always had a love for teaching and working with kids, so after almost a decade in law enforcement, I took a big leap and headed back to school to pursue my true passion," Perilli says. "Every morning I don't feel like I'm getting up to head into work. I feel like I get to go have fun."
Others, like Sharon Klop and John Lustig, found a surprising fit in the world of education. Although Klop came from a family of teachers, she initially studied psychology in college. "I thought I wanted to be a psychologist. Although I resisted for a long time, in the end the want to teach prevailed. It was at my first summer job at a residential facility for the severely and profoundly disabled where I decided I wanted to teach. Once I started working with these individuals, I found it fascinating, fulfilling and exciting. Teaching is a creative adventure and I was hooked."
Lustig credits the intervention of a good teacher during his freshman year of high school for not only putting him on the path toward an education career, but also rescuing his own educational experience. "I was one of those students that teachers did not want in their classroom," he recalls. "Sometimes I would arrive to a class and a referral would be waiting for me already. It was very discouraging as a student going through school like that because I really did want to learn."
A high school art and music teacher pulled Lustig aside in a study hall and encouraged him to start living up to his potential. "It was after that one encounter that I started really working hard in school," he says. "I ended up graduating from high school, which I hadn't intended to do, and went on to get my bachelor's and master's degrees."
Online degree programs like Kaplan University's School of Education have provided a way for career switchers to enter the field of education, pursue their passion, and earn or complete a degree while fitting their studies into their current lifestyle. Visit www.kaplanuniversity.edu to learn about degree programs and certification courses. Explore a special series of video and articles that shine a light on what it means to teach from Kaplan University alumni and faculty just in time for Teacher Appreciation Week. The university also invites you to share the teachable moments in your career on social media using the hashtag #TeachableMoments.
"I believe that teaching is still the most rewarding profession because every day you get to see the benefits of your investments in your students," Schiffer-Simon says. "The profession needs people who not only have the desire to teach, but the dedication and the belief that all students can succeed."