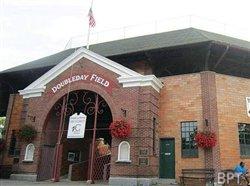 With spring in the air, sports fans everywhere are turning their thoughts to the 2013 baseball season. Spring training already has excitement levels pumped, and soon the call of "play ball" will echo through the air.
To celebrate opening day and all the excitement of baseball, check out a new baseball tour in Cooperstown, N.Y., crafted by the legendary filmmaker Ken Burns. Baseball aficionados will recall that Burns's PBS film "Baseball" earned nearly 20 different awards and award nominations and spawned a critically-acclaimed sequel, "The Tenth Inning."
Working in partnership with Tauck, a leader in premium-quality guided travel, Burns has crafted "The Tauck Baseball Event: America's Pastime." This special one-time, four-day baseball tour (June 27 to 30, 2013) will be highlighted by opportunities to meet former players, including members of the National Baseball Hall of Fame, enjoy presentations by authors and other noted baseball experts and attend an exclusive, after-hours evening inside the Hall of Fame.
Among other insider experiences, attendees will:
* During your baseball tour, meet Baseball Hall of Fame members Phil Niekro and Ozzie Smith. Niekro, nicknamed "Knucksie" for his famed knuckleball, won 318 games during a 24-year career. He twice led the National League in wins, and was elected to the Hall of Fame in 1997. Smith is the all-time assist leader at shortstop with 8,375 assists, and the all-time leader at turning double plays, with 1,590. He was also the recipient of 13 consecutive Gold Glove Awards, and the starting shortstop for 10 consecutive All-Star Games. At the plate, he recorded 2,460 hits during his 19-year career.
* Another exciting aspect of this baseball focused tour is getting to meet and mingle with Ken Burns during an exclusive night at the Baseball Hall of Fame. Burns will deliver the event's keynote speech and greet guests during an exclusive after-hours evening inside the National Baseball Hall of Fame & Museum. The evening also includes a cocktail and dessert reception, plus the once-in-a-lifetime opportunity to tour the Hall of Fame's exhibits when the facility is closed to the public.
* Meet author, ESPN commentator, and former major league outfielder Doug Glanville. Glanville collected an even 1,100 hits over a nine-year major league career, and amassed a 293-game errorless streak. He is also author of the baseball book, "The Game From Where I Stand," was a featured expert in Ken Burns's baseball films, and is a current analyst and commentator for ESPN.
* Meet other baseball experts – Also attending Tauck's special baseball tour event are Daniel Okrent, author, editor, inventor of Rotisserie League (a.k.a. "Fantasy") Baseball and a featured expert in "Baseball," along with baseball historian Tom Heitz.
* Attend special baseball-themed activities. Guests will also enjoy an exclusive interactive experience with Niekro and Smith at Cooperstown's iconic Doubleday Field, attend a period "Town Ball" game played with 19th-century rules, and even take a few swings in historic batting cages.
To learn more call 800-468-2825, or visit Tauck online.