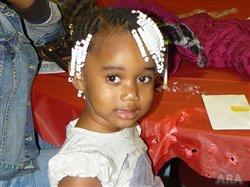 For many families, the Christmas season is a flutter of present buying, gift wrapping, spreading hints and rumors about the packages under the tree, and finally – on the big day – a whirlwind of bows and torn paper scattered everywhere with much frivolity and laughter.
But for children with incarcerated parents, the situation can be much different. Sixteen-year-old Shae remembers a time when Christmas was a period of tears. The first phase of her life included her father being sent to prison when she was 3, her mother losing custody of her when she was 6, and living with her grandmother who had back-to-back surgeries.
"I had no friends," Shae remembers. "I didn't know what was going on. I cried every day."
Things shifted in Shae's life when her dad signed up for Prison Fellowship's Angel Tree, a program that connects incarcerated parents with their children through the delivery of Christmas gifts.
"I got a new Barbie truck with a CD player in the back and pajamas," she recalls. "And the Angel Tree volunteers prayed for my grandma, and she started to get better."
Shae's father continued to sign her up for the program year after year, making the holidays a much brighter time for his daughter.
Since 1976, Angel Tree has delivered more than 17 million Christmas gifts to more than 8 million children nationwide. These gifts are given to children in the name of their incarcerated parent, helping to maintain and heal relationships. This year the program's goal is to reach 475,000 children with Christmas gifts. Thanks to a matching grant, by donating $12.58, you can help reach two children with a gift and the joy of Christmas. Christmas is just weeks away and Angel Tree is still falling short of its goal of reaching all of the children whose incarcerated parents want to be able to give them a gift this Christmas. But you can help make sure every one of the 41,952 remaining boys and girls get an Angel Tree Christmas. Donations are being collected through Dec. 24. Visit HelpAngelTree.com to learn how you can help.
Children with incarcerated parents can undergo many feelings of separation, including traumatic stress, survivor guilt, developmental regressions and poor self-concept. For older children, these feelings can lead to intergenerational crime and incarceration, according to a report from the Urban Institute Justice Policy Center.
One in three prisoners is a parent, and an estimated 1.7 million children will spend Christmas this year separated from their incarcerated mom or dad.
Shae has grown greatly since her father signed her up for the program many years ago. She now is involved in her community, participating in the cheer team, the dance team, basketball and flag football at her school.
"I hope to have a big family and a big career in criminal justice and law enforcement ahead of me," she says. "And of course, I will always be helping other people and volunteering, just like Angel Tree did for me."
Join thousands of others who have donated to Angel Tree and help make this Christmas one of hope by visiting HelpAngelTree.com.