Concrete basin doubles as a planter and cooler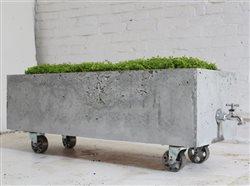 (BPT) – Homeowners enjoy their backyards in different ways and two of the most popular are gardening and entertaining. Homeowners who love gardening often use planters for their flowers and vegetables. Those who entertain often use a cooler for refreshments when hosting family and friends. A fun and functional way to do both is with a concrete basin.
Concrete is a beautiful, durable and dynamic alternative to wood, metal and other popular planter materials. Concrete can also bring out the funky and whimsical DIY-side of homeowners as an unusual alternative to an ordinary plastic cooler. Adding wheels to the bottom makes it easy to move your combination planter-cooler around despite the inherent weight of concrete. And placing a spigot on one end makes draining excess water and cleaning your planter-cooler a breeze. For an even more decorative look, use an integral liquid cement color or a concrete stain to help your planter-cooler grab the attention of neighbors.
This inexpensive do-it-yourself project starts with packaged concrete like QUIKRETE that only requires the addition of water. The project also calls for an old laminate or melamine cabinet, foam insulation, plywood, heavy duty caster wheels, a piece of threaded brass pipe and a spigot.
Here's how you can build a multi-functional concrete planter:
Note: When working with cementitious products, always wear eye protection and gloves.
* Cut multiple pieces of rigid foam two inches smaller than the perimeter of the cabinet.
* Create the form by gluing multiple pieces of rigid foam on top of each other in the center of the cabinet to the desired depth.
* Drill a hole for the spigot, insert the pipe, use silicone to seal any cracks and duct tape the pipe down to the foam.
* Mix QUIKRETE concrete mix based on the instructions on the bag and pour into the mold.
* To color the concrete, add the desired liquid cement color to the water being mixed with the concrete.
* Make sure the concrete reaches all corners and fills up under the pipe.
* Use a rubber mallet to shake and vibrate the mold to release any air bubbles.
* Place plywood on top of the wet concrete and push it down so it is level with the surface of the concrete.
* Cover with a plastic sheet while you let the concrete cure for at least four days.
* Remove the cabinet mold and remove the foam insulation with a pry bar.
* Apply an acrylic concrete cure and seal to protect and waterproof the basin.
* To stain the concrete, apply the desired color stain with a sponge or brush.
* Screw in the spigot and use silicone to seal it.
* Screw the wheels into the plywood on the bottom and flip the piece over.
For more comprehensive step-by-step video instructions for building a combination concrete planter-cooler, visit QUIKRETE.com.