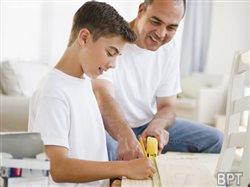 (BPT) – With Father's Day right around the corner, give Dad a break from his "to do" list by taking care of the easier DIY tasks for him. From simple fixes to bigger projects, sometimes all you need is the right tool at the right time, to get the job done.
Here are some helpful ideas to get you started.
Fix that door that won't stay open: Having a door that shuts when you want it to stay open can be a real annoyance. Try tightening the screws on the top door hinge with a power screwdriver like the new 360 Quick-Select from SKIL. This tool comes with 12 of the most commonly used screwdriver bits in a rotating compartment located at the front of the tool so you don't have to put your project on hold to switch bits.
Put together a ready-to-assemble (RTA) piece of furniture: RTA furniture looks like an easy project in the store, but once you get it home it can quickly get the best of you. But with a little patience and the right tool, the project can provide self-satisfaction besides a new piece of furniture. In fact, using a power screwdriver can help eliminate frustration and get the project finished even faster, plus you'll know each screw is secure to avoid anything falling apart later.
Give old furniture a new life: If the desk in Dad's office is looking shabby (or maybe it's a table or dresser), give it an easy makeover. Use sandpaper to take off old varnish and help the new paint adhere to the piece. Wipe off any dust with a clean dry cloth, then apply one to two coats of fresh paint with a brush, roller or spray can. Let the paint dry thoroughly then seal with a coat of polyurethane for a protective finish.
Update ceiling fixtures: Most of us don't realize how ceiling fixtures can quickly change the look of a room. Always turn the power to the circuit off before changing a fixture. Remove the old fixture by unscrewing the cover plate and disconnecting the electrical wires. Reconnect the new fixture according to the directions included in the box. Using a lightweight power screwdriver for this project will prevent your arms from getting tired while working above your head.
Day to day repairs: Keeping a power screwdriver in the kitchen drawer will let you make those little repairs as they happen. And that means less things to put on Dad's to-do list. So when that drawer knob or towel bar comes loose again because the kids are forever pulling on them too hard, grab the power screwdriver out of the draw and get it fixed on the spot. Lithium ion batteries can stay charged for up to 18 months so the power screwdriver will be charged and ready when you need it.
Not so handy, but looking for the perfect gift for Dad this month? SKIL Tools has all the tools you need to complete at-home projects whether he's a beginner or has advanced DIY skills. SKIL has lots of free project plans, tool tips available too. Visit www.SKILTools.com/360 for more information on the new 360 Quick-Select, and take advantage of the Where To Buy feature to get one for Dad in time for Father's Day.