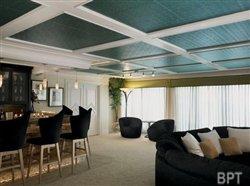 In planning a basement remodel, your goal is to carve out living space that feels comfortable and looks like a natural extension of your home. As you explore design ideas for your basement remodeling project, make sure to include a new basement ceiling. While drywall is always an option, suspended ceilings offer many more benefits – both in style and performance features.
Suspended basement ceilings beautifully conceal your home's electrical, plumbing, and HVAC systems, yet allow complete access to those systems when necessary for repair or maintenance. Suspended ceilings can also offer other functional benefits such as noise reduction, mold and mildew resistance, and high light reflectance to brighten basements with little natural light. Decorative basement ceilings introduce style to the lower level of your home, and, best of all, they're usually an easy DIY project that you can complete over a weekend.
Advantages of a suspended ceiling
Here's how suspended ceilings can meet all your design, budget and performance needs in a basement remodel project:
Design options – Let the interior designer inside you spring into action. You'll find an amazing variety of decorative options for basement ceilings, including:
* Pressed metal panels that recreate the look of vintage tin ceilings and add an elegant sparkle to a traditional or contemporary finished basement. You'll find 2-foot-by -2-foot rust-free panels in authentic historical patterns, plus a range of metallic finishes to match your decor.
* Architecturally arresting coffered ceilings feature recessed panels, or "coffers," that add visual depth and make basement ceilings appear taller. Choose black coffered panels which enhance the sculpted effect. Black is ideal for home theatres or urban man caves.
* Classic and tasteful 2-foot-by -2-foot ceiling panels with relief designs add subtle texture and are very affordable. Choose a tegular edge if you want to minimize grid visibility in your basement remodel.
Easy installation – Installing a suspended ceiling is much easier than installing drywall. Drywall is heavy and bulky and difficult to maneuver into place, while all the pieces for a suspended ceiling, including panels and grid, are lightweight. Installation kits for suspended basement ceilings contain the metal frames and accessories you need to fasten a hanging grid to exposed joists or an existing drywall ceiling. After the grid is installed, simply place the decorative panels, purchased separately, into the grid to finish the ceiling. Watch DIY installation videos for suspended ceilings to learn more.
Special performance features– Decorative basement ceilings offer exceptional performance benefits that drywall can't match.
* Resistance to mold, mildew, odor- and stain-causing bacteria
* Extra sound reduction – acoustical panels can absorb up to 70 percent of sounds that strike their surface
* Sag resistance
* High light-reflectance – White ceiling panels increase illumination by reflecting incidental light back into the room, thus reducing the need for more light fixtures
* Fire-resistance
For your basement remodeling project, choose a high-performance, decorative suspended ceiling instead of drywall and bring stylish functionality to your new space.