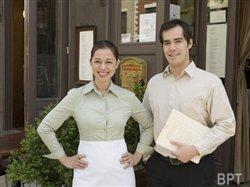 (BPT) – Did you know that when you and your family dine out, you are helping your community's economy and the economy at large? That's because restaurants employ millions of Americans nationwide.
Overall, unemployment remains high as the nation slowly makes its way out of recession. One bright spot in the jobs picture is the restaurant industry, which continues to outpace the national economy when it comes to driving job growth.
Why is that? Because Americans love to dine out. In fact, more than nine out of 10 say they enjoy going to restaurants, and nearly half say it's an essential part of their lifestyle. National Restaurant Association (NRA) research also shows that two out of five consumers say they're not using restaurants as often as they would like. When more people dine out, order delivery and use takeout, restaurants staff up to keep up with demand.
The restaurant industry is currently the second-largest private sector employer, providing career opportunities for more than 13 million people, or one out of every 10 working individuals, according to the NRA's 2013 Restaurant Industry Forecast. Since the employment recovery began in March 2010, restaurants have created more than 701,000 new positions – only the professional services and health care industries have created more jobs during that same time.
The rate of employment growth in the restaurant industry was more than double the overall economy over the last year, and restaurants will continue to be a major driver in job creation into the future. Restaurants are projected to add 1.3 million new positions in the next decade, with the fastest growing job categories being combined food-preparation and serving positions, cooks and supervisors.
From restaurant managers to chefs to servers, restaurants offer a wide range of jobs, often with quick opportunities to rise up the ranks. Restaurants are also a training ground for budding entrepreneurs and even careers in other industries, as half of all Americans have worked in a restaurant at some point in their lives. One-third of adults got their first job in a restaurant, and eight out of 10 restaurant owners started in entry-level positions.
So next time you dine out, you're not only getting a delicious meal and quality time with family and friends – you're doing your part in creating jobs for the U.S. economy.