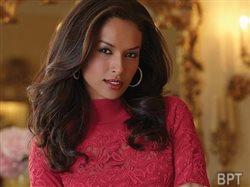 With the holidays just around the corner, excitement is starting to build around the new, bold colors trending for home decor and clothing. Infusing color on a grand scale or in the small details makes your personal surroundings and self-expression extra special when it matters the most.
Whether you're dressing yourself or decorating your home, color is a powerful tool in creating a memorable experience. Show off your passion by wearing a bold hue like red, while cool blues and passionate purples lend to serenity and sophistication. Shimmering metallic in silvers, golds and coppers add pizzazz to every wardrobe and can be a fun festive addition to any look. If that's not enough, a lush emerald (Pantone Color of the Year 2013) is sure to put you in the holiday spirit. You can get inspired by gorgeous metallic and vibrant hues at MidnightVelvet.com.
A fun, festive and easy way to take your look from simple to simply stunning this holiday season is by adding bold, vibrant accessories to your outfits. Whether it's a casual night with your girlfriends, dinner with the family or a holiday party, the right accessories can make any outfit look complete. They are also a great way to introduce color into your wardrobe this holiday season.
You can also update your home this season by adding color through home accents to create memories with your family and friends. Just a few easy updates will have you ready to play hostess and celebrate the holiday season. Whether it is a picture of a single pink rose or a statue rich with color, your family and friends are sure to take notice of your interior styling.
When preparing for the holidays, the first question to ask yourself is, "What colors will inspire me to create lasting memories?" The second question is, "Where do I want to introduce more color into my life?" Inspiration is all around you. The vibrant canvas you find in your own life can feed your imagination with brilliant, jubilant, soothing color.
For more than 25 years, Midnight Velvet has been a unique resource for the style seeker – with hundreds of fresh ideas to add a splash of color to your wardrobe and a color-lift to your home. With the holidays just around the corner, it's the perfect time to shop all the colors of the rainbow at MidnightVelvet.com.