Don't bust your budget: Tips and tricks to stretch those holiday dollars
November 28, 2013 - 3:09 am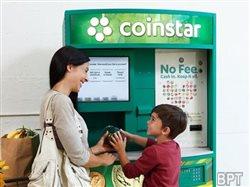 (BPT) – Creating lists, checking them twice – it's a tradition for many families across the country this time of year as they plan and shop for gifts for friends and family. Even with the economy starting to recover, many people will set a budget before tackling their holiday shopping, but two-thirds of those that set a budget will likely go over, according to a recent survey.
People also think they have a little more than $26 in spare change lying under couch cushions, tucked into purses and pant pockets and tossed about on the floor of the car, according to the survey, released by Coinstar. But the average amount customers convert to a no-fee eCertificate or gift card when they cash in their coins at a Coinstar kiosk is $56 – more than double the amount that consumers think they have, which can certainly help extend holiday shopping budgets.
"We hear all the time how surprised customers are by the amount of money they have when they pour their spare change at our kiosks," says Mike Skinner, president of Coinstar. "Converting coins to cash vouchers and no-fee eCertificates or gift cards from well-recognized brands is a great way to stretch those holiday dollars – helping consumers stay within their budgets."
But finding additional money is just one step shoppers can take to make certain they don't overspend this holiday season. Here are some other ways to save:
* When researching gift ideas, check the prices. This can be accomplished easily by online window shopping. For example, if you have three toy ideas for your niece, compare the prices first, and then purchase the toy that is less than the amount you've budgeted for her gift.
* Keep shipping costs in mind. There are many free-shipping deals to be found this holiday season, but if one isn't available for a person on your list, make certain that the shipping cost added to the gift price is less than the amount you budgeted for that person.
* Shop the sales. Your online window shopping ahead of time is a great way to narrow down your list to exactly what you'll buy, keeping yourself within budget. Then watch the holiday sales. If you are able to buy all your items with coupons and discounts, you'll be better off in the budgeting department.
* Don't let sales and discounts encourage you to spend more. If you are able to find a gift item on your list on sale, consider the money saved as exactly that – money saved. Don't be tempted to find another gift item to bring the total of your gift up to your original budgeted amount, because chances are, you'll go over.
With these budgeting tips, and the extra change you find lying around your house converted to a cash voucher or a no-fee eCertificate or gift card at a Coinstar kiosk, you're on your way to a guilt-free January (at least as far as budgeting is concerned).