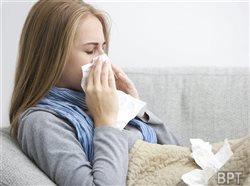 (BPT) – Flu season is officially here, and it may not be long before you or someone you know starts experiencing muscle aches, chills, fever and other flu-like symptoms. Unfortunately, these symptoms can also be caused by other illnesses, like the common cold, and it can be almost impossible to determine whether you have the flu based on symptoms alone. To get the most timely and effective treatment for your seasonal health needs, it is important know exactly what is causing your illness.
The only way to accurately tell if you have the flu is to have your doctor conduct a diagnostic test. These types of tests have been available for many years but the most accurate tests have required sending samples to a lab. That means your doctor cannot access results quickly enough to know what treatment to prescribe while you're still in the office.
Therefore, it's likely that if you've visited your doctor in the past with flu-like symptoms, you were prescribed a treatment without actually getting tested for the flu. This is common. Most people are treated for flu without a formal test. While this may seem harmless, it can lead to patients being misdiagnosed and prescribed treatments that either have no effect on the flu or can actually delay recovery. For example, inappropriately prescribed antibiotics are not only powerless against the flu, but they can also lead to serious antibiotic-resistant infections. It is also important to diagnose and treat flu quickly as studies show that medications that treat the virus (antivirals) are most effective when started within 48 hours of getting sick.
Unfortunately, the treatment of flu based solely on symptoms is widespread. A U.S. Centers for Disease Control and Prevention (CDC) study found that during the 2012-2013 flu season, health care providers under-prescribed antivirals to patients who would benefit from these medications, and overprescribed antibiotics.
15 minute diagnosis: New flu test provides quicker results
This flu season, a new flu test is available that provides lab-quality results in less than 15 minutes – which means that your doctor can make more informed decisions about how to treat your illness in a shorter timeframe. The Alere(TM) i Influenza A & B test was cleared by the U.S. Food and Drug Administration (FDA) in June. The test is currently available in many hospitals and in certain physician offices, and will be more widely available later this flu season.
The Alere(TM) i test provides actionable, lab-quality detection of influenza A and B viruses from nasal swab specimens in under 15 minutes using a molecular technology that identifies their genetic coding.
Take steps to protect yourself against the flu
Besides getting tested, there are other steps recommended by the CDC to help protect you and your loved ones against the flu this and every season:
1. Get vaccinated. Vaccination is the most effective way to prevent the flu and the CDC recommends that everyone 6 months of age and older get a flu shot every flu season. It's especially important for people at high risk of developing serious complications to get vaccinated, including people with certain chronic medical conditions, children younger than 5 years and adults 65 years and older.
2. Stop germs from spreading. Good health habits like covering your cough and washing your hands often can also help stop the spread of flu viruses.
3. Take antiviral medications if infected. If you have the flu, antiviral drugs can make illness milder and shorten the time you are sick.
For more information about the Alere i test and flu testing, visit http://alere-i.com/us/flu-facts.