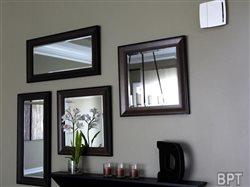 (BPT) – Home truly is where the heart is. After all, it's where you raise the children, entertain friends and family, and relax after many a hard day. Chances are it's also seen its share of wear and tear over the years.
While springtime is traditionally the season for cleaning and clearing clutter, summer provides a great opportunity to go deeper and tackle the more DIY-oriented tasks around the home. The following tips and makeover ideas will help give your home a summer spruce-up, without breaking the bank.
Swap bedding and blankets: Put away the heavy blankets and lighten up the bedroom with fresh new linens in bright, vibrant colors. It's easy to transform the entire look of your bedroom with a new duvet cover or bedspread – for very little cost. Allergy sufferers should go the extra step of seeking hypoallergenic bedding materials as a way to help combat spring and summer allergies.
Add newthrow pillows to sofas: Likewise, adding colorful throw pillows to the sofa and living room furniture can help brighten the room – and mood – of you, your family, and guests. Mix and match pastels for a particularly festive and seasonal look. And don't forget outside furniture – you've waited long enough to enjoy it. New cushions for your outside furniture can bring your patio or deck back to life.
Lighten up drapery: Let the sunshine in. Take down heavy drapes and replace them with lighter curtains for a fresh, clean look.
Add a fresh coat of paint: After a winter spent mostly indoors, it's not surprising if you've gotten tired of looking at the same shades all season long. Painting an accent wall or entire room in a new, lighter color involves a bit more planning and preparation, but the results are dramatic.
Painting often involves removing smoke and carbon monoxide (CO) alarms from the walls. Once the job is complete, instead of reinstalling the same alarm you've had for years, swap it out with a new alarm that offers a modern look and more sophisticated technology. Packing all the power of an advanced photoelectric smoke alarm into a miniature design, the new First Alert Atom alarm weighs less than two ounces. It also features revolutionary micro technology with an advanced smoke entry system. Another ultra-slim option is First Alert's Designer Style 10-Year Alarms, which offers both smoke and CO protection, as well as a sealed 10-year lithium battery.
Update hardware and fixtures: In addition to smoke and CO alarms, don't forget about the other hardware and fixtures attached to your walls and ceilings. This is an ideal time to replace door handles, window pulls, lighting fixtures and switch plates with more stylish alternatives.
Spruce up your entryway: After a harsh winter of snow, ice and salt, your entry door mats have probably seen better days. Cleaning or swapping door mats for new ones is a subtle way to boost curb appeal and bring a sense of freshness and order to your home.
Bring the outdoors in: Houseplants add a bit of greenery to any room and also act as a natural air filter. Now sit back, breathe easy, and enjoy a relaxing summer with your friends and family.