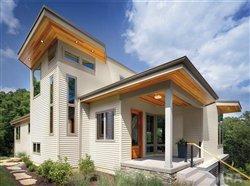 (BPT) – One of the hottest trends in home improvement is remodeling with green or sustainability in mind. Going "green" means using building methods and environmentally friendly building materials that reduce your home's impact on the earth, while enhancing the health of your home for you and your family.
In a nutshell, remodeling your home to make it more green means reducing your home's impact on the environment (using less resources such as water and energy); using building products that are made from sustainable or renewable materials; enhancing the health of your home (improving indoor air quality, removing mold and rot); and using long-lasting, low maintenance building products that don't require paints and chemicals to maintain or won't end up in the landfill after only a few years of use.
"The important thing to keep in mind is that you don't have to do it all at once," says John Gardner, director of marketing for APEX Siding System, which makes sustainable siding and trim. "You can make your home greener over time, project by project, as your budget allows, to increase its efficiency and quality, while reducing your home's impact on our environment."
Here are some tips from Gardner on how to make your home more green:
Go green today. You can start going green today by replacing all of your old incandescent light bulbs with florescent or LED bulbs, or installing rain barrels under your gutters to capture rain water, which you can use to water your flower or vegetable garden, while reducing your water bill.
Audit your home. A home inspector trained in green building practices can help you identify what parts of your home are already green, how energy efficient your home is today, and what improvements you could make so your home runs more efficiently. Consider taking this step before conducting a major remodel.
Experience in green remodeling and building. Hire a remodeler or design/build firm that is experienced in green building techniques or holds a certification from a reputable organization such as from the National Association of Home Builders (NAHB).
Stamp out moisture. Rot and mold caused by moisture is a big problem for many homes because it can compromise the structure of your home and can create an unhealthy living environment. Keep moisture out and increase the air flow of your home with low-maintenance siding such as APEX siding and trim. APEX siding is pultruded-fiberglass siding with Ultrex, a long-lasting, durable material designed with a unique airflow system that reduces the occurrence of moisture and mold problems.
Bring in natural light. New energy-efficient windows can reduce your heating and cooling bills while maximizing natural light to reduce your use of artificial light in your home. Integrity windows from Marvin, for example, exceed federal Energy Star guidelines and are also made of long-lasting Ultrex fiberglass.
Insulate to keep your home warmer and cooler. Make sure the insulation in the ceiling of your home has a minimum R-38 rating (for cold-weather states), and an R-13 rating in the exterior walls of your home. Green leafy trees provide long-term shade during the summer months, and evergreens on the north side of your home block out cold winds during the winter.
Reduce home maintenance. By remodeling your home with higher quality, sustainable building materials, you not only can reduce the time spent maintaining your home, you can reduce your use of paints, household cleaners, and other products for upkeep. For example, choosing siding made with Ultrex, will not rot like wooden siding and will not need to be painted because the color is embedded right into the pultruded-fiberglass material.