Expert parent tips to fuel baby's learning at every growth stage
October 27, 2015 - 3:05 am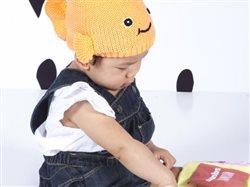 (BPT) – From the moment your baby is born, you want to provide him or her with the love and support needed to reach full potential. Experts agree that play can be an important component in helping even very young children thrive and learn essential life skills.
"Child development is really based on two things: what the child brings to the situation and what the situation brings to the child," says Dr. Don Roberts, a child development expert and Stanford University Professor Emeritus. "One of the fundamental things I tell parents is to interact with your child, talk with your child, play with your child."
Dr. Roberts notes the first three years of a child's life are crucial to his or her development. Every waking moment is a learning opportunity and depending on a child's age, different methods and experiences vary in their effectiveness for supporting a learning environment.
Along with other early childhood development specialists, Dr. Roberts and Genius Brands International worked to develop the Baby Genius "Learn & Grow" Program -with the aim of encouraging a child's natural development. Unlike other toddler products that are age-graded for safety-only, the age-graded line of "products with a purpose" corresponds to growth stages that inspire a child's natural ability. Learn more at www.babygenius.com.
Baby Genius: Safe Haven: Infant to 6 months
Babies go through an incredible transition in the first six months of life. The main goal for parents and caregivers is to ensure that babies feel safe and secure. Even though babies are small at this stage, they still desire interaction and play with parents. Talk with your child, make silly faces, and hold up colorful, yet soothing toys like soft plush animals. Then observe the reaction. In what seems like no time at all, your child will be able to grip objects, recognize you in a room and favor certain toys over others.
Baby Genius: Discoverer: 6-12 months
Babies begin to feel more comfortable with the world around them between 6-12 months of age. Caregivers can support this stage of discovery by starting to read regularly to children. Play simple hand games like Patty-Cake to help your baby learn better body control. Stimulate their senses with safe interactive toys like the Baby Genius 1-2-3 Counting Soft Activity Book. Use body language as well as voice to communicate. Babies in the discovery phase express their needs. For example, when they want to be picked up, they raise may raise their arms; when they want to play, they may smile and coo.
Baby Genius: Proud Explorer: 12-18 months
As babies hit the year mark, they are taking bigger strides toward independence. They are learning to walk, talk, and feed themselves. Interactive toys that use educational music are a hit with these tiny explorers. They are insatiably curious about everything around them — parents can encourage this by following the child's lead and talking about the things they are discovering, even if it is just the drawer full of pans and lids in the kitchen cupboard. Continue to talk — a lot — with your tot; language development is taking off at this age and your conversation helps.
Baby Genius: Curious Learner: 18-24 months
Now officially toddlers, around 18 to 24 months kids are begin to make decisions and show their independence. They want to explore and do things by themselves. Let children explore solo – if they get hung up and frustrated, wait a moment to see if they can solve the problem alone. If not, intervention is good and a great opportunity to explain cause and effect. Curious learners love puzzles, so stock up on easy to solve, interactive puzzles such as the Let's Learn Sounds Wooden Interactive Activity Toddler Puzzle.
Baby Genius: Independent Doer: 24-36 months
As children build confidence they want to be more independent. Parents shouldn't confuse this with defiance; preschool-aged kids are simply learning to be themselves in the world around them. Social skills begin to take center-stage, so plan plenty of playdates with other families. Fantasy play is an important part of developing the skills of imagination — parents can encourage this by stocking up on dress up clothes and other toys that encourage role-playing. Musical toys are a hit, and DVDs featuring fun songs such as the Counting Songs DVD can promote new skills.