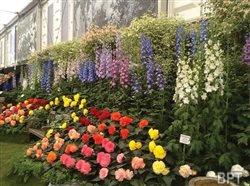 Ralph Waldo Emerson once said "the Earth laughs in flowers," and there's a good chance this thought came to him while he was touring England, a country filled with spectacular gardens. London itself has many beautiful gardens, from royal parks surrounding the palaces to small green spaces maintained by volunteer groups. These gardens help to bring out the beauty of the city's landscaping.
But what really makes London stand out in the world of flowers is the Royal Horticultural Society Chelsea Flower Show, having its 101st showing May 20 to 24, 2014. This is considered a top flower show around the globe. With many different contemporary and artisan garden designs on display, plus a wide array of demonstrations and garden shops, this event is a must-do for anyone with a green thumb or who loves to stop and smell the flowers.
Tauck is offering The Tauck London Event tour to the 101st RHS Chelsea Flower Show. The six-day tour starts May 22, 2014, and includes a day at the show, topped off with a gala evening including a cocktail reception and dinner inside London's historic Guildhall. Tickets for the flower show are hard to come by, and Tauck not only takes care of acquiring them, but also handles hotel arrangements, sightseeing opportunities, on-tour transportation and special entertainment during the week. At the show, wander the acres of planted gardens, visit the "how to" demonstrations, browse the stalls and shops and listen to lectures from the top gardeners in England.
The rest of the event showcases other iconic London-area locations, including a tour of the Tower of London; a trip to Greenwich to see the Maritime Museum and the Royal Observatory; a historic walk through Victorian-era London including a tour of the Foundling Hospital; and a visit to sites that show the rebuilding of London after the World War II Blitz that nearly destroyed the city.
The tour also has several afternoons free, allowing time to visit the many royal gardens or wander into London's smaller gardens laid out perfectly for the enjoyment of locals and tourists alike.
You don't want to miss London in the spring, with flowers blooming in a variety of colors, creating a luxurious perfume in the air. Visit Tauck.com to learn more about the London event.