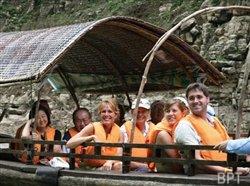 Defining China succinctly is a difficult, if not impossible, task. Perhaps that's what travelers love so much about it: a trip to China can be virtually anything you want it be. The country's incredible range of landscapes, from rice paddies to river gorges, and cultures, from ultra-modern to fiercely traditional, ensure that any visitor will encounter a spellbinding range of people, places and sights. Narrowing down a visit to the essentials, without sacrificing authenticity, can be a challenge, but with the right China tour, you can manage the task.
Expert guidance through China can be an invaluable resource for everything from understanding the context of a work of art to making the best menu selections. Without the concerns of language barriers or the stresses of making arrangements as you go, a China tour allows you to relax and fully enjoy your trip – and get the most out of it. In many cases, tours also present cost savings – Tauck's China tour can save travelers up to 40 percent, compared to the cost of independent travel.
A well-planned China tour will take in all these sights, and in each place, take you behind the scenes, as well as showing you the major attractions.
Shanghai – Seaside Shanghai has been a significant port for centuries, and that role in history has imbued the city with a strong cosmopolitan character. The shining lights of today's Bund trace back to the days when the area bustled with merchants and sailors from around the region and the world. Dine out in top-notch restaurants, walk through calming traditional gardens and delve into the past at the Shanghai Museum.
Yangtze – China's most famous river is a corridor of culture as well as commerce. Dramatic changes have taken place here in recent years; the construction of the Three Gorges dam demanded the relocation of entire villages, many of which had existed for hundreds of years. The dramatic beauty of the landscape is entrancing, and an extended cruise down the river will show you the very best of the region. Tauck's China tour includes a visit to a "relocation village," where you can meet people who were affected by the building of the dam.
Guilin and the Li River – During your China tour as you spend time in Guilin, you'll see some of the region's most arrestingly beautiful countryside. Here, green rice paddies stretch out wide, but are punctuated by massive freestanding limestone karst formations. It's easy to see how the region inspired countless poets and artists. The Li River glides through this unique landscape, and is home to fishermen who still ply their trade the traditional way – using diving cormorants as their helpers.
Xi'an – China's ancient capital, Xi'an, was once the eastern end of the legendary Silk Road, the corridor that stretched through Central Asia all the way to Europe. The Han, Qin and Tang dynasties were all centered here, and the most famous remnant of their artistry and engineering marvels still remains: the amazing Terracotta Warriors. This army of 8,000 life-size model warriors guarded the tomb of emperor Qin Shi Huangdi for more than 2,000 years and is a sight that can't be missed.
Beijing – The modern capital of China blends history and modernity in a delicate balance. While architectural superstars like the Bird's Nest dot the landscape, some of Beijing's fascinating historic neighborhoods are still hanging on. Hutongs (the word translates as "lanes") are a honeycomb of tiny streets and courtyard-style dwellings that will instantly transport you back into Beijing's long history. Tauck's tours of China include a visit with a local family for added insight about how hutong life is changing.
Discovering China is one of the most rewarding experiences you can have as a traveler, and it will certainly count among your most memorable trips. For more information and an ebrochure that includes China tours, visit Tauck online.