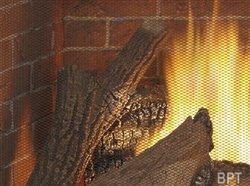 Whether it's to provide heat on cold winter days or to set the mood on romantic spring evenings, a glowing fire creates an appealing home atmosphere during any season. Gas fireplaces are convenient and add real estate value, but recently, more homeowners have become concerned about safety.
The burn risk of glass is one of the primary concerns of homeowners. When a gas fireplace is in use, the glass can get extremely hot. Glass that doesn't have a barrier can be a hazard – even an accidental split-second touch can result in potentially severe burns. The good news is rules and regulations are changing.
"Over the past few years, there was an overall lack of consistency regarding glass safety, and not all gas fireplace manufacturers followed the same safety standards," says Peter Dircks, vice president at Heat & Glo. "At the end of 2012, the industry implemented standards around gas fireplace, stove and insert glass safety."
Effective Jan. 1, 2015, glass safety barriers that meet standards from the American National Standards Institute (ANSI) will be required on any new gas fireplaces, but many companies are taking action now. One company in particular has been leading the charge: Heat & Glo. With a best-practices approach to fireplace safety, the company has included safety barrier screens standard for more than a decade.
These safety barriers provide five seconds of protection for anyone who touches the glass – this brings peace of mind for homeowners, especially those who are parents. "Our safety barrier screens have been 100 percent effective; we have not received a single report of severe burns from a consumer contacting glass with a properly installed safety barrier screen," says Dircks.
What can you do if your home has an existing gas fireplace without a glass barrier? You have a number of options for protecting your family: use a free-standing safety gate to prevent access, purchase a free-standing fireplace screen, or, attach a safety screen similar to what will be required on new models in 2015. Existing Heat & Glo customers with older models that don't have safety screens can get an ANSI-compliant retrofit screen free of charge from the company.
While burns from hot glass are a big concern, fireplace safety doesn't stop there. Modern technology offers numerous options for safer installation and use. Direct Vent gas fireplaces use dual-walled piping to expel 100 percent of combustion exhaust while preserving indoor air quality. Intelligent ignition options are now available, too – like the IntelliFire Ignition which eliminates the need for a standing pilot light. The pilot only ignites when the fireplace is being turned on.
What else does Dircks recommend when it comes to safety and gas fireplaces? "Routine maintenance, just like any other appliance, and some basic awareness around the functioning of the fireplace can make all of the difference," he says. "Reading the owner's manual and following standard operating instructions is important."
With a variety of styles and countless options, adding a gas fireplace increases a home's value approximately $2,950 to $5,900, according to the 2011 Marshall & Swift Residential Cost Handbook. "Gas fireplaces can offer authentic experiences that rival many traditional wood-burning fireplaces – with unmatched convenience and efficiency," Dircks says.
And now with higher levels of safety, more homeowners are confident in their gas fireplace choice. For more information on gas fireplace safety visit www.fireplaces.com.