Gift-wrap a raptor: New dinosaur-themed trip is a perfect gift for kids
December 18, 2013 - 3:25 am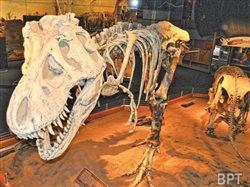 Kids love dinosaurs, and with the new 3-D motion picture "Walking With Dinosaurs" in theaters nationwide for the holidays, parents of precocious paleontologists everywhere are scrambling to find the perfect dino-themed gift to put under the Christmas tree.
For parents seeking something more enriching than yet another plastic T. Rex, a brand new "Walking With Dinosaurs: A Journey Through Time" family vacation package might be just the ticket.
Tauck, a leader in guided luxury tours and cruises, has teamed up with the nature documentary filmmakers at BBC Earth to offer the new five-day dinosaur adventure in and around Calgary, Alberta – an area that's home to some of the world's richest dinosaur fossil beds, not to mention one of the leading dino museums on the planet. The July 17 to 21, 2014 event will draw on the expertise behind the original BBC television series "Walking with Dinosaurs," which reached a global audience of more than 700 million and inspired a generation with a fascination for dinosaurs.
Highlights include:
* Themed daily sightseeing tracks. Guests will divide into small groups of 30 to 35 people for daily themed sightseeing "tracks," ensuring an intimate, interactive experience. Different groups will experience these tracks on different days over the course of the event, so all attendees enjoy the same overall experience.
* Fossil hunting in Dinosaur Provincial Park. Guests will travel with a paleontologist to explore Dinosaur Provincial Park. This UNESCO World Heritage Site has yielded fossils from 40 different dinosaur species, including over 150 complete dinosaur skeletons.
* An exclusive visit to the Royal Tyrrell Museum. With a collection of 140,000 fossils, the Royal Tyrrell Museum is one of the world's foremost institutions devoted to paleontology. Attendees will tour the museum's exhibits, gain insights from a paleontologist, and enjoy a hands-on demonstration revealing how scientists make detailed plaster casts of dinosaur fossils.
* An insider's look at how BBC Earth filmmakers practice their art. Guests will also discover how the filmmakers at BBC Earth draw equally on science, art and technology to showcase the wonders of the natural world.
* Special evening gatherings. Evenings will be highlighted by special dinner events at unique venues, including the Calgary Zoo, the TELUS-Spark Science Centre, the indoor, rooftop Devonian Gardens and the Heritage Park Historical Village.
* Accommodations at the Sheraton Suites Calgary Eau Claire. This four-diamond rated hotel is great for families because it's an all suite property, and popular with children thanks to its heated indoor swimming pool complete with 50-foot waterslide.
Cost of the tour includes airfare, entertainment, sightseeing, activities, admission to attractions, gratuities, ground transportation and most meals. For additional information go to www.tauck.com.
EDITOR'S NOTE:
The 3D movie Walking with Dinosaurs is a major new blockbuster presented by Twentieth Century Fox and Reliance Entertainment in association with IM Global. A BBC Earth and Evergreen production in association with Animal Logic, the film is set for global release in December 2013.
About BBC Earth. BBC Earth is the leading factual brand for BBC Worldwide, the commercial arm of the BBC. The brand exists to inspire audiences globally with new insights, amazing stories and incredible facts that will spark a journey of discovery. BBC Earth works with the world's best filmmakers, creators and innovators to develop a range of new and unforgettable experiences to reach their broad base of fans. The BBC Earth team uses cutting edge technology to create exciting live events and theatric releases, creating top quality products and taking their content to new digital platforms to connect with audiences around the globe.