Howl'oween pet trends and tips
October 14, 2015 - 3:20 am
(BPT) – Are you ready for the spookiest night of the year? While most of us enjoy Halloween with its costumes, candy and celebrations, it can be a nightmare for pets.
"Pets are part of the family and we want to include them in the celebrations, but lack of preparation and undue holiday stress can spoil Halloween for two-legged and four-legged family members," says Petrendologist Charlotte Reed. To ensure a healthy and happy Halloween, Reed highlights relevant holiday trends and shares her top tips.
1. Trendy pet costumes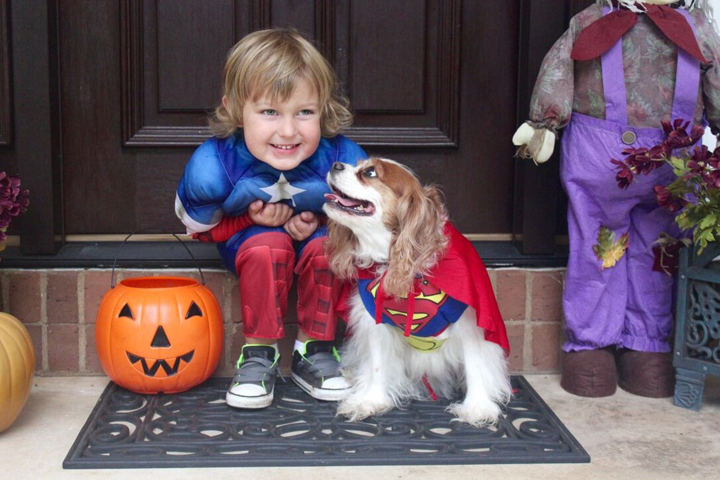 Twenty million American pet owners will dress up their furry friends this year, according to the National Retail Federation. In addition, they will spend $350 million on fashionable and fun costumes. As with kids, make sure pet costumes are safe, comfortable and do not restrict movement. Search for quality and popular pet costumes — such as pumpkins, superheroes and pop culture-inspired characters — at Party City, North America's largest party goods retailer with 900 stores in the United States, Mexico and Canada. Nobody has more Halloween items for less.
2. Beware of toxic treats
Chocolate and candy can be life threatening to pets. Candy wrappers can also cause a choking hazard or painful obstruction, requiring costly surgery. Prevent accidental toxicity and promote pet health by serving By Nature dog food treats, which are safe and Made in the USA certified. The treats are available in chews, strips and twists and feature SuperFusion Advanced Nutritional Blend which offer an optimal combination of high quality proteins for strong muscles, antioxidant-rich superfoods for immune system support and prebiotics fibers for healthy digestion. More than just a snack, they provide a healthy boost during a stressful holiday, or in between meals.
3. Haunting pet odors
Lingering pet odors can turn your home into a haunted house. Don't leave your cat's litter choices up to the holiday spirits, especially if you are entertaining two legged and/or four-legged guests for a monster mash. World's Best Cat Litter uses the concentrated power of naturally absorbent corn so you can get a cleaner litter box using less litter. It offers outstanding odor control, is septic safe — which means you can flush it — and is 99 percent dust free, making clean up even easier. This means your cat uses less litter and you change the box less often. One small bag lasts one cat a month or more, saving you money.
4. Ghoulish events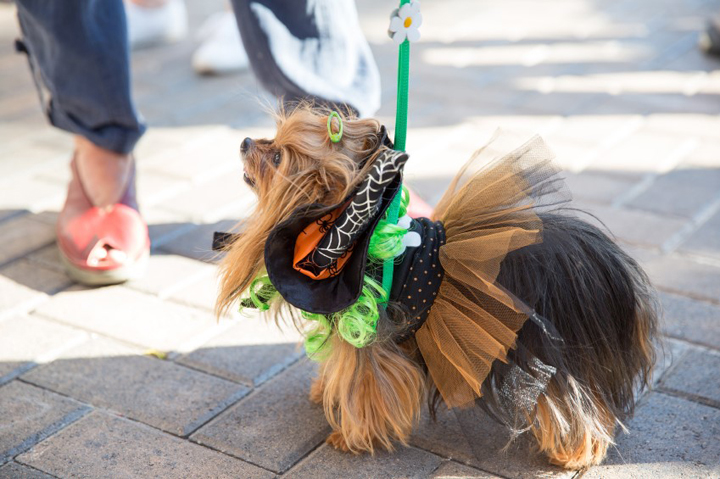 Pets outnumber children in U.S. households, so it's not surprising there are an abundance of Halloween events for our furkids. Be sure to arrive at Halloween events with a clean, parasite-free and vaccinated dog. To avoid spreading illness, don't let your dog drink from community water cauldrons. Instead, bring your own water and water bowl to avoid stomach upset.
5. Capture the holiday spirit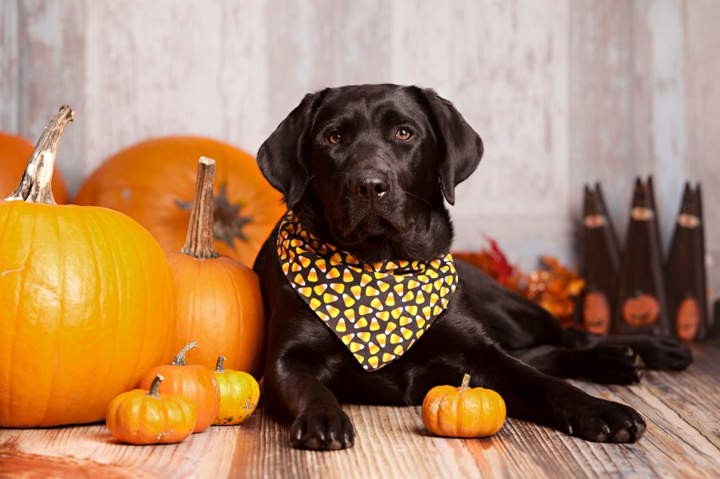 Capture the holiday spirit with a pet themed photo shoot. For pets who do not like to dress up, use seasonal bandanas and themed leashes and collars to help create the ultimate photo shoot. Don't keep the pictures to yourself — follow the pack and share and inspire your family, friends and others with your pet pics, via social media outlets, such as Facebook, Twitter, Instagram and Pinterest.
6. Safeguard pets from holiday, fire dangers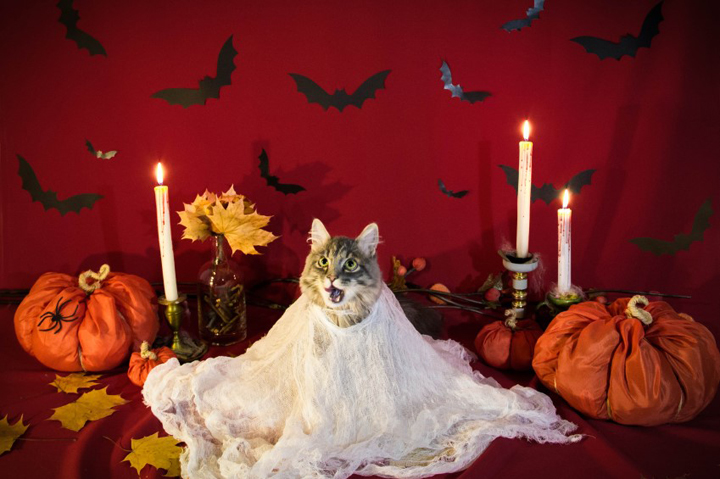 At Halloween, people tend to use candles to decorate jack-o'-lanterns, increasing the risk of fire. Eighty-five percent of candle fires could be avoided if consumers followed three basic safety rules, according to a study by the U.S. Consumer Product Safety Commission. First, never leave a burning candle unattended. Second, never burn a candle on or near anything that might catch fire. Third, keep candles out of the reach of children and pets. To keep your pet safe while you are trick-or-treating, or out of the house any time of the year, use a Leeo Smart Alert. It's a simple device you plug into an electrical outlet and set up by using your Wi-Fi and the Leeo smart phone app. Once installed, the Smart Alert continuously listens for your smoke and carbon monoxide detectors. If they sound, Leeo immediately calls and sends a push notification so you can take quick action to protect your pets and your home.
7. Remove the stink from pet costumes and accessories
With an abundance of community pet parades, charity costume balls and dress up in-store functions, your pet will most likely wear his Halloween costume again. Proper cleaning and storing of pet costumes keeps them safe for later use. To remove the stinky pet odors from costumes and other pet items, turn items inside out and add Zero Odor Laundry (laundry odor eliminator) with your favorite laundry detergent to either machine or hand wash. Zero Odor seeks out and bonds with odor molecules of every kind, completely neutralizing them so they never again cause odor. Once clean, store your pet's costume in a cool, dry place and in a sealed container.
8. End holiday superstitions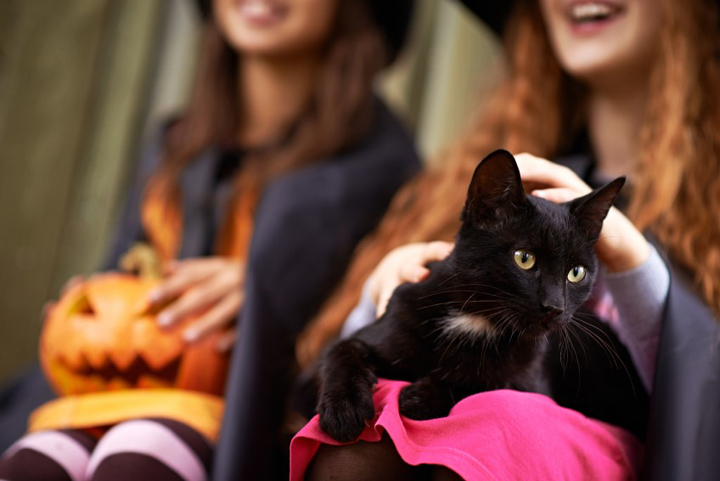 Often associated with Halloween, black pets have long served as objects of superstition. Due to latent superstition, studies show black dogs and cats are much less likely to be adopted compared to other pets with lighter colored fur. So, if you're really feeling the holiday spirit this Halloween, consider adopting a black pet from an animal shelter or rescue organization. By adopting a black dog or cat, you may rescue an animal who may otherwise not have found a loving, fur-ever home.