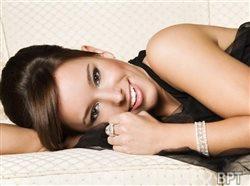 (BPT) – Every year, some items make the list of "hot" holiday gifts, only to turn tepid next year when something trendier comes along (think banana hair clips and leg warmers). Yet one gift category has proven its enduring appeal for thousands of years. Diamond jewelry remains one of the most welcome and meaningful holiday gifts. However, diamond jewelry can get expensive quickly.
No matter how limited your budget, it's possible to find a piece of jewelry that will communicate your feelings and sparkle with the unmatched look of diamonds. Here are tips for choosing a sparkling gift for less than $100:
* Man-made stones can deliver the vibrant look of diamonds at a fraction of the cost. Collections like Bella Luce simulants shine with the look of fine diamonds and gemstones offering believable looks at unbelievable prices.
* Look for pieces that can round out a jewelry wardrobe. For example, if your mother already has quality bracelets and pendants in her collection, consider giving her earrings that will compliment pieces she already has. If your spouse collects rings, consider a tennis bracelet that will pair well with favorite rings.
* Keep everyday wearability in mind. The look of diamonds is timeless and goes as well with jeans and boots as it does with a cocktail dress and heels. Look for classic pieces that enhance the wearer's personal style rather than items that only work with current fashion trends.
* If one piece of jewelry is wonderful, multiples she can wear together are even better! For women with multiple ear piercings, a set of studs is a sophisticated, stylish gift.
* Sterling silver can be a beautiful alternative to costlier white metals, and yellow gold over sterling silver or another durable metal, imparts the luster of solid gold without the expense. The subtle beauty of these metals allows the stunning qualities of man-made stones to take center stage in any piece of jewelry.
* A pendant is always appropriate, no matter the age and tastes of the recipient. Whether she savors a simple solitaire suspended from a delicate strand or the intricacy and depth of a teardrop pendant composed of round and baguette stones, it's possible to find a pendant that matches her personal style.
* Online jewelry sellers can be a cost-effective alternative to your local jewelry shop, and carry a far wider selection of items less than $100 than you could find in virtually any brick-and-mortar retail location. In addition to greater variety and savings, online sellers like JTV also provide easy shipping and secure transactions.
The look of diamond jewelry lasts a lifetime, and this holiday season it's possible to give that joy at a price that will make the giver as happy as the recipient. Visit www.jtv.com to find more sparkling holiday gifts for less than $100.