Look for the seal for safe children's products
January 15, 2014 - 3:06 am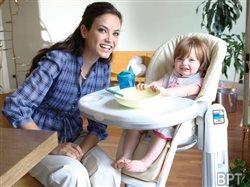 (BPT) – Your children's safety is your top priority. You heard from the experts and you've read the books to ensure you're providing them with the right clothes and the proper food. But what about the baby products they use every day? How do you know they're safe?
The Juvenile Products Manufacturers Association (JPMA), a non-profit association of 250 prenatal through preschool product manufacturers, conducts a certification program to verify the safety of its members' products. JPMA has operated the certification program since 1976 and its membership includes manufacturers who make 95 percent of the prenatal to preschool products in the market. Member companies are located in the United States, Canada and Mexico.
The JPMA Certification Program ensures products meet ASTM standards, state, retailer and Consumer Product Safety Improvement Act (CPSIA) testing requirements. Every year, JPMA Certified Products are sample tested for safety, performance and functionality. This assures parents that these products have passed the most rigorous requirements in the industry and meet the highest safety standards. You can see a full list of the products reviewed and certified at jpma.org/certified.
"JPMA Certification helps to ease new parent worries and make the product selection process easy," says Michael Dwyer, CAE (Certified Association Executive), president of JPMA.
So how do you know if the products you see on the shelf have been certified? Products that meet the certification requirements will carry the JPMA seal. The seal can be found on 23 categories of child-needed items ranging from sleep products such as cribs and bassinets, to high chairs, strollers and bathing products. Having one symbol to look for makes it easy to find the right product if you're overwhelmed by the plethora of choices.
When it comes to raising children, everyone from your next door neighbor to your grandmother will pass on advice about the gear needed at all stages of childhood. Add one more item to your arsenal. The next time you're out shopping for your child, look for items that carry the JPMA seal. You'll know you're buying a product that has been thoroughly tested to ensure it provides the safest experience for your little one. To learn more about JPMA and certified products, visit jpma.org.