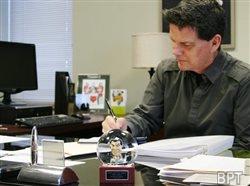 (BPT) – In their 20s and 30s, most men feel invincible. The last thing on a young man's mind is cancer – let alone testicular cancer. At the age of 37, Sean Kimerling, a beloved, Emmy-award winning sports anchor and pre-game announcer for the New York Mets, was living his childhood dream when he was diagnosed. Before the disease was identified, Kimerling experienced pain that he attributed to a potential workout or sports injury. When he eventually saw a doctor, his cancer had already progressed too far. He passed away about 30 days after his diagnosis.
Testicular Cancer is the most common form of cancer in young men ages 15 to 35 – men, like Kimerling, who are in the prime years of their lives. However, any man, regardless of age or race, can develop the disease. All too often, men don't even realize they may be at risk because they are unaware of the facts.
How do you get young men talking about their health and potential risk for male-centric cancers?
With "Man Globes," of course.
Something to talk about
Men – especially young men – are not known to be openly vocal about their health concerns. It is often only with much prodding from mothers, wives and girlfriends that conversations occur and doctors' appointments are scheduled. With women making approximately 80 percent of families' health care decisions, Things Remembered, the leading national retailer of personalized gifts, is tapping into the health care decision-making power of its predominantly female customer base to raise money and awareness for testicular cancer.
The retailer created a line of male-centric water globes, affectionately dubbed "Man Globes," that act as humorous yet educational conversation-starters for men and women. Teaming up with The Sean Kimerling Testicular Cancer Foundation, a non-profit organization dedicated to raising awareness, providing answers and promoting action, Things Remembered is donating $2 of every Man Globe sold to the foundation.
Through this campaign, men who ordinarily feel untouchable can begin to become aware of the symptoms of male-centric cancers and the need to perform regular self-checks.
Awareness saves lives
If caught early, the cure rate of testicular cancer is more than 90. Unfortunately, according to the foundation, "half of all men diagnosed with testicular cancer do not seek medical attention until after the cancer has spread to other areas of the body." Many men are simply unaware of the facts or uncomfortable with self-checks and talking with their doctors.
While a self-check may be uncomfortable for some men – especially teenagers – it is the primary way to stay vigilant in watching for any suspicious lumps or other abnormal issues. And knowing the facts, including what is normal, and what is not, is critical. Symptoms may be caused by cancer or by other conditions, but it is important to follow up with a physician to receive a proper diagnosis.
Realizing it is vital for people to start communicating the facts of men's health issues, programs like Man Globes strive to break down barriers to conversation around these issues and get men and women talking about things they didn't realize they needed to be discussing.
Remembering Sean Kimerling
Shortly after his passing, family and friends fulfilled Sean Kimerling's mission of raising testicular cancer awareness and formed the nationwide foundation in his honor. Ten years later, Kimerling and the foundation continue to save lives.
Survivor Eddie Scannell recently told the foundation, "Sean's story saved my life. I owe him 10 years of growth, of love, of family and friends, of travel and experiences and of being alive. I'm grateful."
Whether it's in using a bit of humor like a Man Globe, or sharing educational information available through organizations like The Sean Kimerling Testicular Cancer Foundation, men – and the women in their lives – are starting to take notice of male-focused cancers thanks to these programs.
In November and December, Things Remembered and the Foundation are hosting a celebrity charity auction of autographed Man Globes and VIP experiences, in addition to other items, through eBay's Giving Works program, with 100 percent of proceeds going to the Foundation.