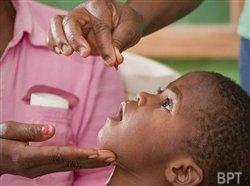 (BPT) – Vitamin A deficiency is a health concern affecting millions of children worldwide, and it is a major underlying cause of child mortality and blindness.
Because of this, Flintstones Vitamins is embarking on a new mission: 10 Million Stronger.
Aligning with the brand's storied heritage of providing children with the opportunity to grow up strong and healthy, Bayer HealthCare, the makers of Flintstones Vitamins, has teamed up with Vitamin Angels, a non-profit organization, to help deliver essential vitamin A to 10 million children worldwide suffering from vitamin A deficiency.
As parents today focus on ensuring their children are global citizens – educating them about the struggles of children around the world and the value of philanthropy – 10 Million Stronger offers a unique opportunity to participate in a charitable initiative while simply using the family computer or tablet – something many parents and children do together every day.
Worldwide, an estimated 190 million children younger than 5 suffer from vitamin A deficiency. While vitamin A deficiency is serious and potentially fatal, it can be prevented. In fact, a donation of just 25 cents will protect one child from vitamin A deficiency for one year by funding two high-dose vitamin A capsules. These vitamin A capsules can reduce mortality in children under 5 by about 24 percent in at-risk populations. It can also help prevent and reverse one of the most severe effects of vitamin A deficiency, xerophthalmia, a disorder of the eye that can lead to permanent blindness.
To kick off 10 Million Stronger, the makers of Flintstones Vitamins have donated $300,000 to Vitamin Angels in its inaugural year. Families can participate by raising awareness and making donations in support of the initiative through the brand's Facebook page at www.facebook.com/FlintstonesVitamins.
So as you and your children log on today, take a few minutes to visit www.facebook.com/FlintstonesVitamins to learn more about 10 Million Stronger, make a donation and help the Flintstones Vitamins community spread the word. With just a few mouse clicks you can teach an important lesson about helping others – and make a difference in the health of a child in need.