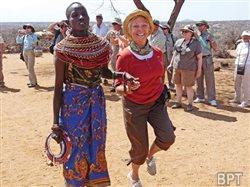 While time alone can be refreshing and liberating, more often, people crave company. That's especially true when it comes to traveling. In addition to providing the comfort and assurance of numbers, traveling with others can be deeply enriching, as we share experiences and view new sights through others' perspectives.
Even if you're single, one doesn't have to be the loneliest number if you opt to travel with a group tour designed to welcome solo vacationers. Group tours ensure many of the hassles of vacationing get handled by someone else. Tour directors take care of hotel accommodations, arrange sightseeing and entertainment, and manage on-tour transportation. Solo travelers who take a group tour can also find camaraderie in journeying with like-minded travelers who share interests.
Connecticut resident Arlene Pressman was uncertain about taking a vacation alone two years after losing her husband. "I wasn't sure how I would feel being alone," Pressman said in a letter to tour operator Tauck. "But I was not alone! The group I traveled with was friendly, fun to be with and included me in everything."
Tauck, a leading tour company that has been accommodating solo travelers for 88 years, points to the benefits of group travel for solos, including:
* Tour directors are solo travelers themselves, so they understand the unique challenges and objectives of those traveling solo.
* Tour directors are knowledgeable professionals well-versed in local customs and traditions, so solos are traveling with someone "in the know."
* Solos won't have to worry about the details, from checking in and out of hotels to handling luggage and overseeing transportation. It's all done by the tour group.
* Tour directors manage the schedule, so solo travelers don't have to worry about making the most of their time on a trip.
* Solo travelers who vacation with a group have the opportunity to meet like-minded people with whom they can form a friendship that endures after the vacation ends.
* Traveling with a group adds a layer of security for anyone traveling alone.
First-time solo travelers may find a European river cruise especially enriching, Tauck professionals point out. Whether you choose to cruise on the Danube, Seine, Rhine or Rhone rivers, a river cruise offers the chance to see the world from the luxurious decks of a cruise ship. And when you disembark, you'll visit some of Europe's most historic, culturally dynamic cities and breath-taking sights, even better, through 2014, Tauck has waived the regular "single supplement" on all Category 1 cabins on each of its river cruise departures. Visit www.tauck.com for a complete list of cruises.