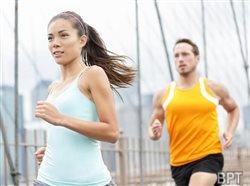 More than 6 million Americans participated in 5K races last year and more are expected to join in this year, according to Running USA. Whether it's for fitness or charity, the first run or the last, a few simple mistakes in preparation can leave those who are doing good feeling pretty bad. To put your best foot forward, avoid these three running faux pas.
Skip a stride.
Proper training is essential to succeed in any run. If you're new to the game, start by developing a plan, one that lets you walk before you run. To help prevent sore muscles and injuries, alternate cold and hot temperatures to major muscles as part of your warm-up and cool-down routine. New technology such as Wahl's Hot-Cold Massage Gel Pack provides three muscle management treatments in one. Use heat before runs to get your blood flowing and loosen up those tight muscles, ligaments and tendons. Afterwards, apply cold therapy to help alleviate soreness and swelling.
Forget to fuel.
Don't let pre-race jitters distract you from getting the nutrition necessary to start and finish the event. Preparation starts 24 hours before the race and begins with hydrating your body with plenty of water and electrolyte-filled sports drinks. Load up on complex carbohydrates and proteins the night before and switch to something easily-digestible and high-energy an hour before the run. Finally, make sure to pack a snack for your post-race celebration. A peanut butter and jelly sandwich or glass of chocolate milk can go a long way toward replenishing your body and staving off muscle fatigue.
Run then done.
Your body just got you through the big race, so it's time to pay back the favor. After the final push, your muscles may be sore and fatigued. Avoid this by applying a little muscle TLC courtesy of some stretching and massage therapy. Massage not only increases circulation, but studies now link it to muscle recovery. New and powerful hand-held massagers offer customized treatment to help you prevent or address muscle pain after finishing the race. And that's what you call a win-win.
Remembering these essentials can help turn a rough 5K running experience into a rewarding one. By taking the time to train, eat properly and treat your muscles afterwards, you are doing yourself and your body a favor. For more information on how to prevent or alleviate muscle aches and pains, visit wahlmassagers.com.