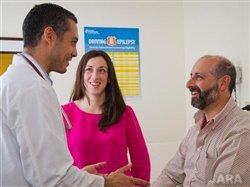 (BPT) – For people diagnosed with Parkinson's disease, the second most common degenerative brain disease after Alzheimer's, a new Web-based service makes it easier to turn a difficult situation into something positive.
Participating in research can be a great way for patients and their families to contribute to speeding a cure.
Claudia Garrido-Revilla, 47, a busy mother of two who lives in Peoria, Ill., near Chicago, was diagnosed with Parkinson's in May 2010. She unexpectedly discovered that a passion for research participation has given her a new sense of purpose. "Completing a clinical trial makes me feel as if I'm doing something proactive toward finding a cure," she says.
Garrido-Revilla is one of more than 10,000 people — with and without Parkinson's disease — who have registered with Fox Trial Finder (www.foxtrialfinder.org). This new website makes it easier than ever for everyday people to find the clinical trials that need someone like them, taking geography and medical history into account, and always safeguarding patient privacy. Thousands more volunteers are needed.
"Participating in clinical research makes you an agent of change," says Michael J. Fox in a statement released by the Parkinson's research foundation he founded, which is behind Fox Trial Finder. "Completing a Fox Trial Finder profile is quick, easy, and it matters."
A critical shortage of volunteers
Research into brain diseases like Parkinson's is moving faster than ever. The Michael J. Fox Foundation for Parkinson's Research (MJFF) alone has invested $300 million in research since 2000, and promising potential drugs are advancing toward Parkinson's patients (an estimated 5 million people worldwide, including 1 million Americans).
But a key challenge in bringing these drugs to market is a critical shortage of volunteers for the clinical trials that are the final stage on the long path to regulatory approval. Research studies urgently need more people with and without Parkinson's disease to participate in the scientific process.
No amount of funding or other resources can make up for a lack of volunteers, notes Dr. Todd Sherer, chief executive officer of MJFF.
"Currently, across all diseases, 85 percent of all clinical trials finish late due to difficulties finding enough participants," says Sherer. "Even more disturbing, 30 percent fail to recruit a single subject. This under-enrollment stalls the drug development process, and new treatments take longer to get to the patients who need them."
Helping everyday people get involved
It is not for lack of patient interest that Parkinson's trials suffer from low enrollment. In fact, according to a recent survey, 88 percent of Parkinson's patients say they are willing to participate in a clinical trial. Unfortunately, fewer than 10 percent ultimately enroll.
MJFF created Fox Trial Finder to make it easier for everyday people to get involved in the research process. The tool is currently active in the United States, United Kingdom, Ireland, Canada and Australia, with plans to expand to Western Europe in 2013.
The tool is user-friendly and volunteers can get started by answering as few as three basic questions (the more information provided, the better the matches will be). After providing basic information such as location and medical history, volunteers immediately see a list of the best potential matches in their area. State-of-the-art security protocols ensure that identity and personal information remain confidential.
Research trial coordinators can also register with the site to search for qualified volunteers for their studies.
Unique technology and the most complete list of trials
"What makes Fox Trial Finder unique from a technology standpoint is that it pairs smart-match technology with two-way, anonymous messaging between potential volunteers and clinical trial teams," says Sherer. "Our goal is to make this process easier for everyone."
By saving a profile, registered volunteers are notified when new studies that match their criteria come online, so there is no need to keep checking back. Furthermore, Fox Trial Finder staff ensures the most up-to-date list of ongoing trials, providing the most opportunities to potential volunteers.
"If we don't do it, who will?"
Deb Faculak, 62, is another Parkinson's patient and registered Fox Trial Finder volunteer. The tool helped her find and enroll in a trial studying a drug to treat dyskinesia — the uncontrollable movements that can be a side effect of levodopa, the best available treatment for Parkinson's.
Says Faculak, "The only way these drugs are going to be approved is to go through these trials, and if we don't do it, who will?"
To register, visit foxtrialfinder.org. For more information, contact support@foxtrialfinder.org.