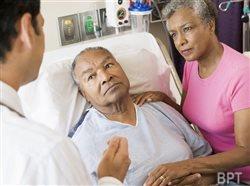 (BPT) – Multidrug-resistant organisms, such as MRSA – also known as "superbugs" – are on the rise, and now, another superbug, which is typically picked up at hospitals and nursing homes, is posing new challenges for public-health officials. Clostridium difficile, commonly known as C. diff, is a potentially life-threatening bacterium responsible for at least 14,000 deaths in the U.S. each year.1
"A C. diff infection takes away your ability to work, travel and participate in daily activities, essentially robbing you of your dignity," said Nancy Caralla. After having C. diff herself and watching her father pass away following a C. diff infection, Nancy founded the C Diff Foundation, which aims to educate and advocate for C. diff prevention, treatments and environmental safety globally. The C Diff Foundation hosts several programs, including a 24-hour hotline to help healthcare providers and patients manage the difficulties of a C. diff infection.
While most healthcare-associated infections are on the decline, the number of C. diff cases continues to grow. In addition to its devastating impact on patients' lives, C. diff is putting a strain on the healthcare industry, resulting in lengthy hospital stays and billions of dollars in costs. The risk of contracting a C. diff infection increases with age, antibiotic treatment and time spent in hospitals or nursing homes, where outbreaks can lead to multiple cases.2
Christian John Lillis, co-founder and executive director of the Peggy Lillis Foundation, named his organization for his mother, a 56-year-old kindergarten teacher whose life was claimed by a C. diff infection. "I had never even heard of C. diff at the time my mother was diagnosed, and by then, it was too late," Christian said. "She was ill for only six days with what appeared to be a stomach virus before my brother and I took her to the hospital. Within 36 hours of her admission, she died."
The CDC recently classified C. diff as one of three most urgent antibiotic-resistant threats facing the nation and requiring aggressive action.1 In addition, the Obama administration is calling for a 50 percent reduction in the incidence of overall C. diff infection by 2020 as a part of the National Strategy for Combating Antibiotic-Resistant Bacteria.3
There currently are no approved vaccines indicated for the prevention of a C. diff infection, however, Sanofi Pasteur is studying an investigational vaccine in volunteers who have been in the hospital at least twice in the past 12 months and have received antibiotics or volunteers who are anticipating hospitalization for upcoming procedures.
"Under normal circumstances, there is a wide variety of bacteria in the intestines of a healthy person," explains William Randall, M.D., one of the lead investigators for the investigational vaccine trial. "Patients who become ill with infections are often treated with antibiotics. These antibiotics get rid of the good bacteria, making patients more vulnerable to infection and allowing for harmful bacteria, like C. diff, to thrive."
"It makes more sense for all involved to try to prevent the illness in the first place, rather than treat it after it develops," said Dr. Randall, who is a practicing physician at PriMed Patterson Woods Family Practice in Dayton, Ohio. "Our research depends on getting volunteers into the study and collecting the required data."
"A C. diff infection can be devastating," said Nancy. "We at the Foundation applaud the efforts of researchers to help develop a C. diff vaccine."
To learn more and find out if you or a loved one is eligible to participate in this preventative vaccine trial, please visit www.cdiffense.org.
1. Centers for Disease Control and Prevention. Threat Report 2013. Centers for Disease Control and Prevention. http://www.cdc.gov/drugresistance/threat-report-2013/. Last Updated September 16, 2013. Accessed October 17, 2014.
2. Centers for Disease Control and Prevention. Frequently Asked Questions about Clostridium difficile for Healthcare Providers. Centers for Disease Control and Prevention. http://www.cdc.gov/HAI/organisms/cdiff/Cdiff_faqs_HCP.html. Last Updated March 6, 2012. Accessed October 17, 2014.
3. The President's Council of Advisors on Science and Technology (PCAST). National Strategy for Combating Antibiotic-Resistant Bacteria. The White House. http://www.whitehouse.gov/sites/default/files/docs/carb_national_strategy.pdf. Last Updated September 2014. Accessed October 17, 2014.