Scouting out the best Black Friday and holiday shopping deals?
November 23, 2013 - 3:09 am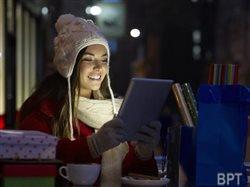 (BPT) – You know the holidays have officially begun when the tinsel and colored lights go up in stores, streets and homes. Thanksgiving Day is now Black Thursday, when consumers – still hungry and primed for the best possible holiday deals – fight the famous tryptophan sluggishness and rush off to the mall not long after the turkey is carved and gobbled.
Does that sound like you? Then it's time to seize the sales. There are mega-deals to score and big savings to brag about!
Last year, shoppers spent an average of $423 each just on Black Friday, which has become the year's busiest shopping day. Some shoppers are planning to pitch a tent outside the mall or their favorite big-box store a day early. But what if there's a better way to get your hands on great deals? What if you're sitting on actual money you can spend … but don't even know about?
If you're among the millions of people who sign up for rewards programs – be they from airlines, banks, co-branded credit cards or retailers – each year, you've probably signed up for more loyalty programs than you can keep up with. Squeezing the most value from each dollar can be tricky when your points are spread out across so many accounts. You can also forget to redeem your rewards amid all the holiday season's hustle and bustle.
But guess what? You can skip the Black Thursday and Friday craziness and get the same satisfaction of a killer deal – all from the comfort of your laptop, smartphone or tablet – by taking a trip to Points.com instead. It's a loyalty wallet that brings together all your favorite loyalty programs and gives you a smarter way to shop for everyone on your list this year.
The hundreds or thousands of miles and points you've earned with your favorite loyalty programs, including American Airlines AAdvantage, Icelandair Saga Club Points and EssoExtra, can be combined and redeemed for holiday gifts in one spot. Forget coupon-clipping or camping out at midnight to score a great deal: shop smarter by tapping into the earned rewards you already have in your digital wallet.
Points.com is like an open loyalty mall that brings all your rewards together so you can keep track of how much you've earned with each program – and see how you can spend these rewards. You can exchange the rewards currencies you've earned for gift cards redeemable at hundreds of top retailers including: Macy's, Best Buy, The Home Depot, Sears, Walmart and even Amazon.com.
Thanks to Points.com, tracking, managing and maximizing your loyalty points has never been easier.
Signing up is quick and easy – you can create an account in one click if you're logged into Facebook. Once you've registered your rewards accounts, you can use Points.com's redemption tool to turn your rewards into holiday gifts for the people you care about.
Some of you may already be pros at cashing in your rewards currencies or may not think you have enough points to make a difference. However, signing up can also help you get more from your rewards through the site's many special promotions.
So visit the website to see all the potential dollars you may not even know you have and use those dollars to delight family, friends and colleagues. If you act now, you'll receive your cards just in time for holiday shopping. And, hey, why not tell your friends? They'll thank you – and possibly trade you some points or use their rewards to give you that gadget, DVD set or pair of shoes you've been craving.
This year, save yourself the hassle – and maybe even an injury – by leaving the Black Friday trample to the less savvy. Hit Points.com to shop from the comfort of your home with points and miles you earned and can now redeem. It's like finding a hundred-dollar bill under the sofa cushions. Now that sounds like an amazing deal.