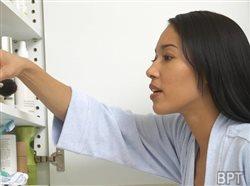 (BPT) – Most spring cleaning chores focus on freshening up your home for the season, but what about your beauty routine? Every woman deserves a bit of "me-time" during spring cleaning season. This year, why not take on a task that's all about making you look and feel beautiful?
"We all have those items in our makeup bag that are past the expiration date, nearly used up, or just out of style," says Teni Panosian, the writer of missmaven.com and beauty expert for the EcoTools Beauty Team. "Spring is the perfect time to cut bathroom beauty clutter, replace overly used beauty tools and add pops of color to your makeup look to start fresh."
To ensure your beauty routine is as fresh and bright as the season, follow these spring cleaning tips:
* De-clutter the bathroom vanity.
Most women have certain beauty items that always sit out on the bathroom vanity. Sort through the clutter and set aside items you don't use daily. Everyday items like your favorite moisturizer or go-to mascara can stay displayed in a nice vanity tray, but all remaining items should be stored under the cabinet until they are needed. Tidy and organize your makeup brushes by using a pouch with lots of pockets, such as the Collector's Brush Roll from EcoTools, a leader in eco-conscious beauty, bath and hair accessories. Made from recycled material, the eye-catching roll provides spaces for all of your favorite makeup brushes, and rolls up for easy, space-saving storage.
* Discard expired or nearly gone makeup.
Compacts with just a bit of powder left in them, nail polish and liquid foundation that have dried out – everyone has makeup leftovers that need to go. Take a few minutes to sort through your collection and discard used-up cosmetics. Pay attention to expiration dates, too. Makeup does not last forever and can harbor bacteria that can lead to skin or eye irritation. Likewise, it is important to replace worn out makeup brushes and other beauty tools.
* Don't forget about your purse.
Spring cleaning doesn't stop at the vanity. Clean out your purse this season, too! When on the go, make sure to bring along brushes that save on space and multi-task, such as 2-in-1 makeup brushes with bristles on both sides. Perfect for travel is the Mini Essentials Set that performs just as well as larger tools but takes up much less space in your travel bag.
* Update your bath essentials.
Spring is the perfect time to replace that bath pouf you've used all winter – they should be replaced every 30 days! Make this a clean habit year-round by setting a calendar reminder to replace your body poufs each month. Relegate shower gels with holiday scents like plum and cranberry to the linen closet, and update your shower gel selection with scents more appropriate for spring, such as light floral scents and bright citrusy aromas.
* Seasonal cleanup pointers.
Remember to clean makeup brushes on a regular basis (once a week depending on usage) with makeup brush cleaner, baby shampoo or gentle dish soap and water. Make sure to lay brushes flat to dry or hang with the bristles facing down to ensure water does not fall in the space connecting the bristles with the handle, causing the glue to dissolve and shedding to occur. Replace heavier moisturizers with lighter, oil-free options that also include sunscreen. Trade in dark lip stains for lighter barely there glosses or balms that are more appropriate for spring.
"Spring cleaning your beauty routine can help you look and feel great all season long," Panosian says. "When you're organized and fresh, it's easy to let your confidence shine through." To learn more about EcoTools, visit www.ecotools.com.