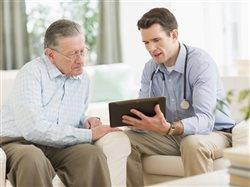 (BPT) – Imagine a type of cancer in which the symptoms mimic many less serious conditions. After years of visiting doctors, you finally get a diagnosis, only to discover that there is very little information available about your disease.
This is unfortunately the experience for many who have gastrointestinal and pancreatic neuroendocrine tumors (also known as NETs), a form of cancer that affects an estimated 112,000 Americans.
Greg, a NET patient located near Houston, Texas, was initially told his unusually high blood sugar was an indication of type 2 diabetes. He began adhering to a better diet and exercise regimen, but was concerned when he lost a surprising amount of weight. It wasn't until Greg had symptoms from a kidney stone that he went to the doctor. A CAT scan showed masses in his liver and pancreas. A biopsy revealed it was a pancreatic neuroendocrine tumor.
Though determined to learn more about this illness to begin his fight, he became frustrated when he realized there was a lack of information available.
"It is terrifying to discover that you have cancer, especially a type that very few people know about," Greg explained. "After waiting for a diagnosis, I wanted to learn everything I could, but I felt that I had nowhere to turn."
Thirty-seven percent of NET patients are dissatisfied with the resources available to them, according to results from a recent survey.
The survey, conducted through collaboration between the Neuroendocrine Cancer Awareness Network (NCAN) and Ipsen, found 99 percent of NET patients feel their disease is not well understood by doctors. Ninety two percent of patients said they are very active in seeking out information about NETs and support, though 98 percent wish there were more resources available to them. Fifty percent of those surveyed said the first place they would turn to when they have a question about their disease is an online resource, versus 28 percent saying they would turn to their healthcare provider.
In response to this need, Ipsen Biopharmaceuticals, Inc. launched KnowYourNETS.com, a website that provides those living with NETs, and their caregivers, access to resources, tools and information about this rare disease.
"Many patients who come to my office have spent years waiting for the correct diagnosis," says Eric Liu, MD, Rocky Mountain Cancer Centers and chief medical advisor for Healing NET Foundation. "Instead of finding relief from the diagnosis, these patients develop a new frustration due to the lack of information available about their disease. There is already a confusing difference in how we name this disease, varying from neuroendocrine tumors (NET) , pancreatic neuroendocrine tumors (pNET) — a rare subset of pancreatic cancer — and the more commonly used term of carcinoid tumor. Access to resources and tips to encourage discussion with doctors about treatment options can provide NET patients with the knowledge needed to help take action against their cancer."
NETs are ranked as the second most prevalent gastrointestinal malignancy (behind colon cancer), yet they are not well understood or recognized.
KnowYourNETS.com is part of a multi-faceted awareness campaign designed to provide people living with NETs with the information and support that they may need to help take control of their disease.
The site contains useful information, such as a discussion guide for patients, frequently asked questions about the disease and tips for making the most of doctors' visits. The site will be updated regularly with additional information and resources.
For more information, tools and tips for living with NETs, visit KnowYourNETS.com. As with all important medical decisions, patients should talk with their physicians about the best options for them. KnowYourNETS.com can provide patients with more tools for having these conversations.