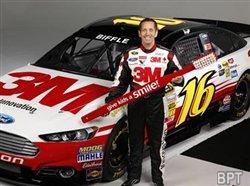 (BPT) – What can a kid do in two minutes? If they want good oral health, they'll spend that time brushing their teeth twice a day, recommends the American Dental Association.
When it comes to racing, NASCAR driver Greg Biffle can do a lot in those two minutes – run three laps in his racecar, do nine pit stops or two victory burnouts!
Race fans of all ages can join Biffle, driver of the No. 16 3M Ford Fusion, to put good dental health on the fast track. With good brushing and flossing habits, a smart diet and regular visits to the dentist, they can have a great smile just like Biffle in Victory Lane.
Biffle is not only making race fans cheer, he's also helping give kids a new reason to smile. Through his work with the American Dental Association's Give Kids A Smile program, he is supporting an ongoing education program for parents and children through dental offices, community events and media. Throughout the year, there will be more than 1,700 Give Kids A Smile events around the country providing dental services to more than 400,000 underserved children.
"The Give Kids A Smile program is great in that it helps thousands of children improve their dental health, helps their ability to learn in school and enhances their lives. We're excited to help share the message about putting good dental health on the fast track. I hope I can inspire kids to brush for two minutes with what I can do in two minutes on the track," said Biffle.
During the 2013 NASCAR season, dental leaders 3M ESPE Dental, Henry Schein Cares, ADA Foundation and Care Credit will be hosting Give Kids A Smile oral health screening events and education events for local children in need in select race markets, and Biffle will even be driving a special No. 16 3M ESPE Give Kids A Smile Ford Fusion for the Michigan race in June.
Biffle and the ADA's Give Kids A Smile program offer the following tips for the race to good dental health:
* The ADA recommends that a child be seen by a dentist as soon as his or her first tooth erupts but at least no later than the first birthday
* Help children maintain a lifelong healthy smile by providing them with a well balanced diet, limiting snacks, ensuring that they brush twice per day and floss once per day, and scheduling regular dental checkups for them
* The ADA recommends replacing toothbrushes every three to four months, or sooner if bristles are worn
* Flossing removes plaque from between teeth, where a toothbrush can't reach
* Many injuries that occur on a playground, or even while skateboarding, can be prevented by wearing a mouthguard
* A dental examination is as important as booster shots and should be a regular part of back-to-school preparation
* A painful tooth or chronic dental problem can lead to difficulty eating, speaking, learning and concentrating
* Good oral health is part of overall health – the mouth is a window into the health of the body
* Frequent snacking or sipping on sugar-containing beverages such as soda, juices, sports drinks – even flavored waters – creates an environment for tooth decay because it exposes your teeth to acid
In addition to following Biffle's tips for a winning smile, race fans of all ages can put themselves in victory lane with him. Just visit www.3MESPE.com/GiveKidsASmile to create a photo with Biffle on pit road or with the race-winning trophy in Victory Lane.
For more smart dental tips, visit www.2min2x.org, www.MouthHealthy.org and www.Facebook.com/GiveKidsASmile.